Drug Development
September 02, 2020
Team Kalkine
What is Drug Development?
Drug development is the procedure of getting a novel treatment, therapy, or a drug, to the market after identification of a lead compound.
Pharmaceutical regulatory authorities play a significant role throughout the process of drug development. These authorities are designed to make sure the safety, efficacy, accessibility & security of approved drugs. Taking an example of the United States, the United States Food and Drug Administration is a regulatory body that is responsible for the approval of the drug candidate post the drug discovery and development process.
What are the Various Stages of Drug Development?
Process of drug development comprises five key stages- Drug Discovery & Development; Preclinical research; Investigational New Drug Application; Clinical Research; and Regulatory Review, Approval & Post-marketing Surveillance.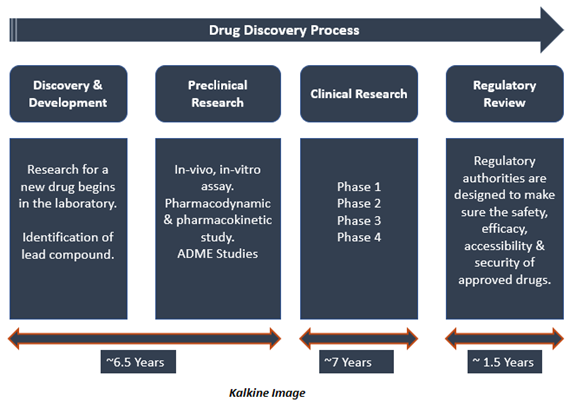 Drug Discovery & Development
Drug discovery is the process of finding new, innovative medication. During the process of drug development, there may be thousands of compounds as potential candidates for development as a treatment or therapy. After the initial assessment, though, only a few compounds show promising activity and call for further study.
After identification of a promising drug compound for development, the researchers conduct experiments to collect information related to the absorption, distribution, metabolism, and excretion (ADME). Researchers will also find the potential benefit, risk, side effects and adverse events along with the mechanism of action of that specific compound.
Preclinical Research
Before assessing a new drug in human subjects, scientists must find out whether it has the potential to cause severe harm, also known as toxicity. Preclinical research is of two types: in-vitro and in-vivo.
The research is designed to provide essential information related to the safety and efficacy of a novel drug candidate before its testing in human volunteers. Both in-vitro and in-vivo models are typically used to provide evidence of the biological effect of a new drug candidate. Preclinical trials are required by regulatory authorities such as the FDA and MHRA before submitting an IND (investigational new drug application), which is needed to move to the clinical research.
In preclinical studies, pharmacodynamics and pharmacokinetics of a novel drug candidate are addressed. It is crucial that the most suitable animal models are used to evaluate initial safety information of drug during the preclinical study.
FDA requires scientists to make use of GLP (good laboratory practices) for preclinical laboratory studies.
Generally, preclinical research is not very extensive. However, preclinical studies must give detailed information on drug dosing as well as toxicity levels. After completion of preclinical testing, scientists review their outcomes and determine whether the drug should be tested in humans.
Investigational New Drug Application
The FDA divides investigational new drugs (INDs) into three different types-
An Investigator IND is submitted by a doctor who initiates as well as investigates. Under the doctor's direction, the investigational drug is administered. An investigator or physician might submit a research IND to study an unapproved or a new drug.
In Emergency Use IND the FDA authorises the use of a new investigational drug in an emergency that does not allow time for submission of an IND in accordance with 21CFR (Sec. 312.23 or Sec. 312.20). It is also applied for patients who do not fulfil the standards of the current study protocol, or if there is no existing approved study protocol.
Treatment IND is for experimental drugs which show promise in clinical testing for severe or immediately life-threatening diseases while the final clinical work is conducted, and the FDA review takes place.
After submission of the IND, the investigator or sponsor must wait for thirty days before starting any clinical research. During this one month, the FDA review the IND for safety to make sure that research subjects will not be subjected to any unreasonable risk.
The IND application should comprise information in three areas, including animal pharmacology & toxicology studies, manufacturing details, along with the information related to clinical protocols & study investigator.
Clinical Research
Several types of clinical research are done depending on what research is going on. Some types of clinical research are-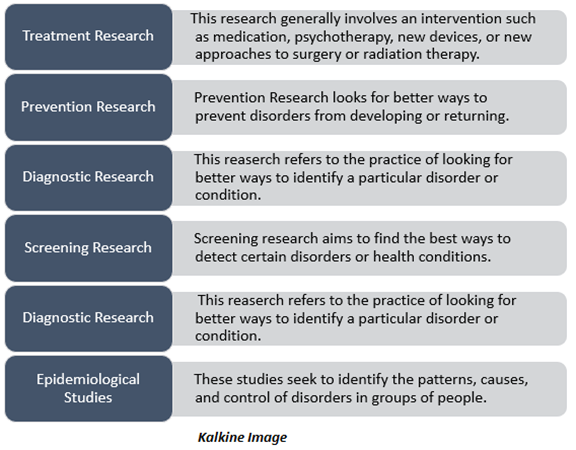 When clinical research is used for evaluation of any medication or device, it is conducted in four clinical trial phases-
Phase 1 Clinical trials- In Phase 1, researchers test an investigational drug or treatment in a small group of volunteers for the first time. Safety and efficacy of the drug are evaluated in this phase with the identification of side effects.
Phase 2 Clinical trials- In this phase, an experimental drug is given to a larger group of subjects to see if it is effective and to evaluate its safety further.
Phase 3 Clinical trials- The experimental study drug or treatment is given to large groups of people. Researchers confirm the effectiveness of the new drug, monitor side effects, compare it to commonly used medications, and collect information that will permit the experimental drug or treatment to be used safely.
Phase 4 Clinical trials- Phase 4 clinical trial comprises post-marketing studies that are organized after approval of a drug or therapy for use by the FDA. Post-marketing studies provide some additional information, including the risks, adverse effect and best use associated with the treatment.
To Know More About Clinical Trials Click Here.
Regulatory Review, Approval & Post-marketing Surveillance
Suppose a drug manufacturing company has evidence from its preliminary tests, preclinical and clinical research that the innovative drug/treatment is safe and effective for its intended use. In that case, the drug developer may file an application for the marketing of the drug.
FDA approval for a medicine/drug means that the Center for Drug Evaluation and Research (CDER) has reviewed the information on the effects shown by the new drug, and during the review, the drug provided benefits outweighing its known risks for the intended population.
If clinical trials provide vital information on the safety and efficacy of a drug, it is not possible to have complete information related to the safety of a drug at the time of approval. Hence, the FDA reviews reports of problems with prescription and over-the-counter (OTC) drugs. Based on these reports, the FDA decides to add cautions to the dosage or the usage information of the drug, along with some other measures related to serious issues or adverse effects.
Drug development is a time, and knowledge-intensive process and several healthcare companies outsource the entire process, or parts of it, to organizations known as Contract Manufacturing Organizations (or CMOs). Click here to learn about one such Australian player, Sypharma.