Summary

Money is limited but not the stocks.
Brokerage commission and fee must be considered.
Fractional shares segment getting grabs from small investors.
How can one buy stock with a US$500 budget? Apple, Google, Boeing, Walmart, and Facebook are big companies today, but they started small. Their stocks may be expensive today, but they were cheap once. Still, US$500 is not a small amount. You would still be able to own a handful of big growth stocks and perhaps even a bag full of promising penny stocks if decided wisely.
Why buy stocks when you have only US$500?
Why stocks? Although there are plenty of options to invest US$500, stocks are the only option for small investors to beat inflation with regular small savings or a long-term investment.
Saving becomes investment only when saved money grows more than inflation. Money kept in bank fixed deposits are not investments. These are savings. Equity, or as we say it, 'Stock' is an option that can beat inflation and create wealth in the long term.
Money is limited but not stocks
With US$500, one has the choice to buy varied types of stocks available, such as penny stocks, blue-chip stocks, dividend stocks, and exchange-traded funds (ETFs). In addition, one can also purchase fractional shares from a stock exchange.
From a layperson's perspective, penny stocks are not the only choice if one has little money. There is no such thing as 'affordable buy' in the stock market.
Penny stocks, as well as bluechip stocks, can be purchased with the same amount of money. For example, you can buy 5,000 penny stocks worth US$0.10 each with US$500 or 10 bluechip shares of US$50 each. But, of course, the investor would take the final call on where to invest.
Penny stocks are available for under US$5, and you can buy numerous stocks for US$500. Penny stocks are new companies with low market capitalization. These facts make these stocks risky for investment. Liquidity is one such concern; however, these stocks also have a great potential to give higher returns to investors.
Also Read: Are Penny Stocks High Risk?
Pix credit: Pixabay. The NASDAQ Composite Index has risen around 42 percent in the last 1 year.
Also Read: How Can I Trade On The New York Stock Exchange?
On the other hand, bluechip stocks are the most reliable, tried, and tested stocks in the market that have faced many ups and downs of the economic cycles. Having been able to withstand the tests of time, these are safe bets to put in your US$500. For example, NASDAQ 100, which comprises 100 bluechip companies of the U.S., gave around 41% return in the past year.
Dividend stocks are also a wise option to invest your money. Dividend stocks are companies that distribute a part of their profit to shareholders periodically. Often, these stocks are favorites of retirees and people who need regular income. However, while choosing such stocks, dividend yield should not be the only criteria. Financials and bottom lines are important too.
Exchange-Traded Fund or ETF is another good option to invest your money with minimum risk. These are like mutual funds but are listed on the exchange. ETF can be traded on the brokerage platforms throughout the day at a prevailing rate, unlike mutual funds. These have low costs compared to mutual funds. There are also sectoral and theme-based ETFs in the market.
ETFs invest in companies listed on exchanges like the S&P 500, the Dow Jones Industrial Average, and the NASDAQ Composite Index. The S&P 500 is an index of 505 large-cap U.S. stocks. Most of the U.S. ETFs track Standards & Poors 500 index, NASDAQ 100, and Russell 1000. S&P 500 has given about 35% returns in the past one year.
Also Read: US Stocks Retreat, Weighed Down By Bluechip Stocks
A fractional share is another option that recently grabbed the eyes of the populace. Fractional shares are a part of the share and not the one full share. Earlier, fractional shares would get credited in the investor's account after stock split, merger, acquisition, and dividend reinvestment. Now, few trading platforms have started services for fractional share trade. These are comparatively new, and the brokerage charge is low, thus attracting young investors.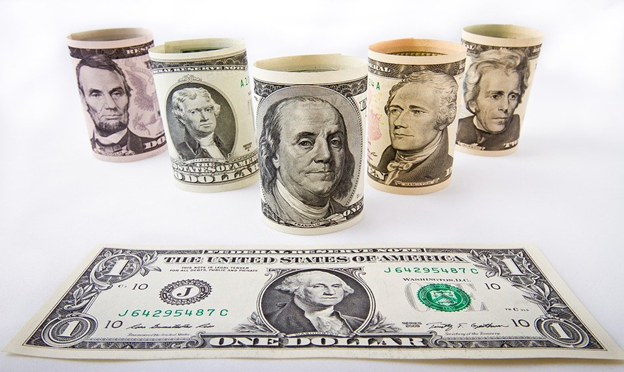 Source: Pixabay
Also Read: Is It Good To Invest In US Stocks?
Brokerage commission and fee must be considered
There are many brokerage firms available offering online trading facilities. The critical point to consider here is the commission and fee these brokers are charging. The more fee and commission is, the less will be the actual return.
For selecting an online discount brokerage firm, one should analyze the fixed fee charges (like US$ 10 for each trade) and commission charge in percentage for trading. Of course, any fee or commission charged for trading reduces the return. So, one must keep in mind to minimize this expense by selecting the best offer available in the market.
E*Trade, Vanguard, TD Ameritrade are some of the platforms that charge low or zero commission and minimum deposit. Robinhood, Fidelity Investment, and Charles Schwab are among them.
Also Read: What Is The Difference Between NYSE and NASDAQ?
A person buying ten stocks for US$500 will pay more fee and commission compared to the one who invests in only 2 or 3 shares.
Online brokerage firms offering trading platforms have different charge structure for various trades such as intra-day, delivery, options and futures. However, primarily delivery-based transactions are the low-cost ones.
How to buy in the stock market?
After deciding on the brokerage firm and the amount, an investor needs to analyze the companies' financials before pressing the BUY button. Give stocks sufficient time to grow, and they will give back more than one invested.