Benchmark US indices gave up gains from the earlier session to end in negative territory on Thursday, September 15, after a flurry of economic data failed to ease concerns over Fed's upcoming move against curbing inflation.
The S&P 500 fell 1.13 per cent to 3,901.35. The Dow Jones was down 0.56 per cent to 30,961.82. The NASDAQ Composite lost 1.43 per cent to 11,552.36, and the small-cap Russell 2000 fell 0.72 per cent to 1,825.23.
The US retail sales rose unexpectedly last month, as Americans have raised their spending on motor vehicles and went out for dining more amid a sharp decline in gasoline prices. However, the demands declined in August due to the aggressive rate hikes by the central bank.
US retail sales surged 0.3 per cent in August, the Commerce Department report of September 15 showed, following a decline of 0.4 per cent in the prior month. Excluding gasoline, the retail purchases rose 0.8 per cent last month.
In addition to that, the number of Americans filing for fresh claims of unemployment benefits decreased to its lowest level in over three months. The US weekly unemployment benefits claims fell from 218,000 to 213,000 last week, the Labor Department reported on September 15.
The healthcare and financials sectors were the top gainers in the S&P 500 index on Thursday. Nine of the eleven segments of the index stayed in the negative territory, with the information technology and energy sectors declining the most.
Shares of Adobe Inc. (NASDAQ: ADBE) lost more than 16 per cent in the intraday trading on September 15, after the technology company unveiled its plan to acquire the digital design startup, Figma. Meanwhile, the company posted a 13 per cent YoY growth in its third quarter fiscal 2022 revenue.
Humana Inc. (NYSE: HUM) added more than eight per cent in the intraday session on Thursday after the healthcare insurance released its latest quarter financial results while raising its annual guidance. The Louisville, Kentucky-based company said that it expects that Covid-19 would no longer affect its performance.
In the healthcare sector, UnitedHealth Group Incorporated (UNH) increased by 2.59 per cent, AbbVie Inc. (ABBV) added 2.12 per cent, and Bristol-Myers Squibb Company (BMY) soared by 1.86 per cent. CVS Health Corporation (CVS) and Elevance Health Inc. (ELV) advanced 1.27 per cent and 3.20 per cent, respectively.
In financial stocks, JPMorgan Chase & Co (JPM) jumped 1.51 per cent, Bank of America Corporation (BAC) gained 1.92 per cent, and Wells Fargo & Company (WFC) surged 1.94 per cent. Morgan Stanley (MS) and The Goldman Sachs Group, Inc. (GS) rose 1.22 per cent and 1.32 per cent, respectively.
In the technology sector, Apple Inc. (AAPL) decreased by 1.89 per cent, Microsoft Corporation (MSFT) declined by 2.71 per cent, and Nvidia Corporation (NVDA) fell by 1.52 per cent. Broadcom Inc. (AVGO) and Oracle Corporation (ORCL) plummeted 2.08 per cent and 2.66 per cent, respectively.
Futures & Commodities
Gold futures were down 2.08 per cent to US$1,673.45 per ounce. Silver decreased by 2.00 per cent to US$19.177 per ounce, while copper fell 1.26 per cent to US$3.4752.
Brent oil futures decreased by 3.56 per cent to US$90.75 per barrel and WTI crude was down 3.84 per cent to US$85.08.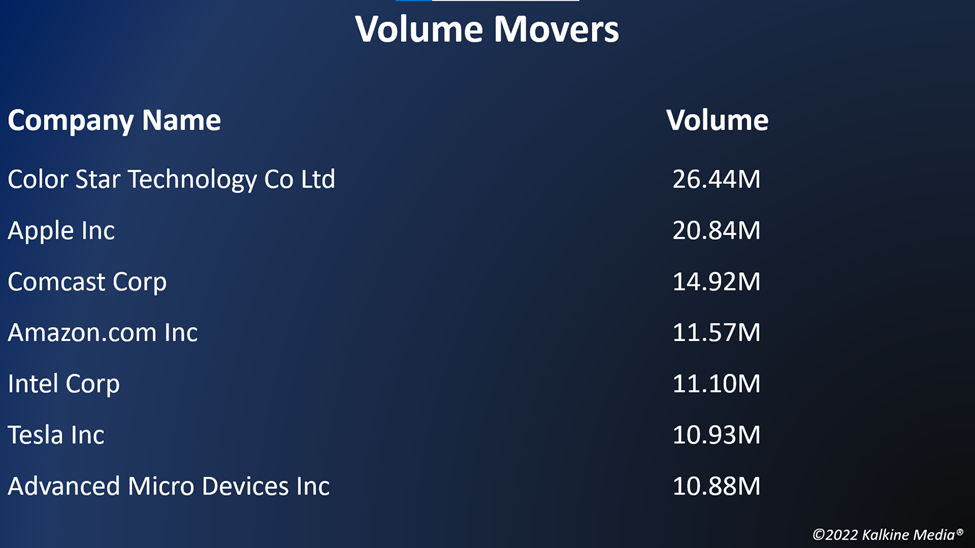 Bond Market
The 30-year Treasury bond yields were up by 0.15 per cent to 3.474, while the 10-year bond yields rose 1.08 per cent to 3.449.
US Dollar Futures Index increased by 0.04 per cent to US$109.415.