US stocks closed the session lower on Friday, September 30, while S&P 500 index marked its sharpest September fall since the global financial crisis. The investors are treading cautiously amid the recent volatile trading in the market.
The S&P 500 fell 1.51 per cent to 3,585.62. The Dow Jones was down 1.71 per cent to 28,725.51. The NASDAQ Composite lost 1.51 per cent to 10,575.62, and the small-cap Russell 2000 fell 0.61 per cent to 1,664.72..
The S&P 500 and Nasdaq notched three consecutive quarters of declines, marking their longest streak since the Great Recession. On the other hand, the Dow Jones Industrial Average noted its longest streak of declines in the last seven years.
The commitment of the Federal Reserve to keep increasing their policy rates and the rising costs have weighed on the investors' confidence lately. The investors are keeping a distance from the risk-bet assets amid a flurry of macroeconomic headwinds dampening the overall sentiment of the market.
On Friday, September 30, the real estate sector was the only gainer in the S&P 500 index. 10 of the 11 segments of the S&P 500 index stayed in the negative territory. The information technology and consumer discretionary sectors were the bottom movers.
Shares of Carnival Corporation & plc (NYSE: CCL) plummeted more than 23 per cent in intraday trading on September 30, after the company reported its third-quarter earnings results, which might have come below the analysts' estimates.
The leading apparel and footwear retailer, Nike, Inc. (NYSE: NKE) lost over 12 per cent the intraday session on Friday, September 30, after the company reported its first quarter fiscal 2023 earnings results. Notably, the company reported a YoY drop in its net income.
In the real estate sector, Equinix, Inc. (EQIX) rose 1.33 per cent, Public Storage (PSA) gained 1.85 per cent, and Welltower Inc. (WELL) surged 1.58 per cent. Digital Realty Trust, Inc. (DLR) and VICI Properties Inc. (VICI) ticked up 2.34 per cent and 1.50 per cent, respectively.
In technology stocks, Apple Inc. (AAPL) decreased by three per cent, Microsoft Corporation (MSFT) plunged by 1.94 per cent, and Broadcom Inc. (AVGO) retreated by 1.36 per cent. ASML Holding N.V. (ASML) and Cisco Systems, Inc. (CSCO) dropped by 2.91 per cent and 1.40 per cent, respectively.
Futures & Commodities
Gold futures were up 0.11 per cent to US$1,670.45 per ounce. Silver increased by 1.68 per cent to US$19.027 per ounce, while copper fell 0.55 per cent to US$3.3992.
Brent oil futures decreased by 2.16 per cent to US$85.30 per barrel and WTI crude was down 1.90 per cent to US$79.69.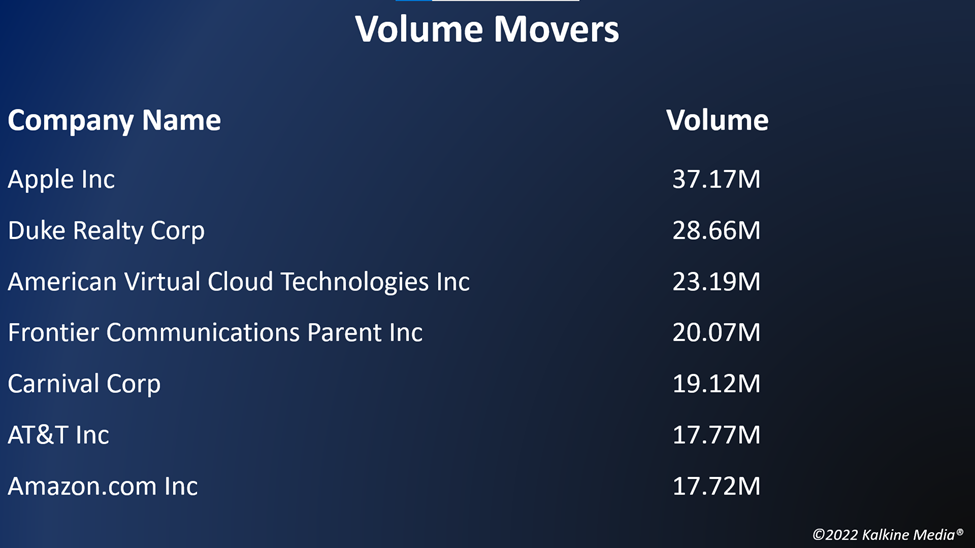 Bond Market
The 30-year Treasury bond yields were up 2.27 per cent to 3.777, while the 10-year bond yields rose 2.02 per cent to 3.823.
US Dollar Futures Index decreased by 0.11 per cent to US$112.082.