Highlights:

Nike, Inc. (NYSE: NKE) lost over 11 per cent from its stock price on Friday, September 30.
The company reported its first-quarter fiscal 2023 earnings results on September 29.
Nike's revenue grew four per cent YoY in Q1 FY23.
Stocks of the leading footwear and apparel retailer, Nike, Inc. (NYSE: NKE) appear to have come under pressure in the morning trading on Friday, September 30, as seen by the slump in its price. It was among the bottom movers on Friday morning.
The price of NKE stock declined more than 11 per cent in the morning trading hours on Friday, a day after the company announced its Q1 FY23 earnings results.
Let's explore the latest quarter earnings of the firm while taking a look at its recent stock performance:
First quarter fiscal 2023 earnings results of Nike, Inc. (NYSE: NKE)
Nike, Inc.'s revenue was US$ 12.68 billion in Q1 FY23, compared to US$ 12.24 billion in Q1 FY22. On a YoY basis, its total revenue noted a growth of four per cent.
Exploring its revenue in detail, the company generated revenue of US$ 12 billion from NIKE Brand in Q1 FY23, while its converse segment revenue rose two per cent YoY to US$ 643 million.
However, the Beaverton, Oregon-based retail company's net income fell 22 per cent YoY to US$ 1.46 billion in Q2 FY23, compared to US$ 1.87 billion in the year-ago quarter.
The diluted EPS of the firm plunged 20 per cent YoY to US$ 0.93 apiece in the latest quarter.
Nike now anticipates its annual gross margins to fall in the range of 200 to 250 basis points while expecting the highest decline to be in Q2.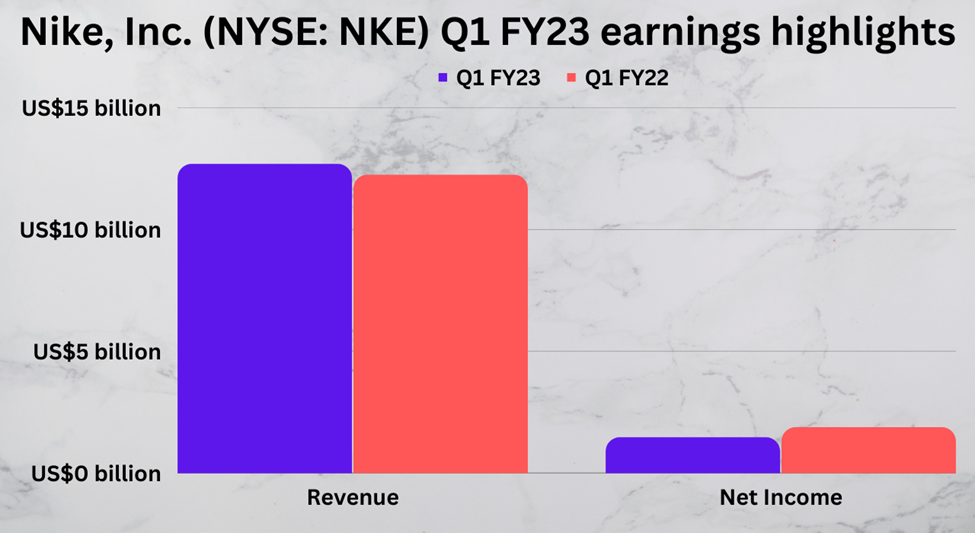 Source: ©Kalkine Media®; © Canva Creative Studio via Canva.com
Bottom line:
The price of NKE stock decreased by 11.52 per cent at 9:59 am ET on September 30, to trade at US$ 84.35, while its trading volume was over 13.40 million during drafting.
The dividend yield of the apparel and footwear retailer was 1.24 per cent. The stock price of the US$ 131.79 billion market cap company, which is among the worst performing stock of the Dow Jones Industrial Average, plunged over 49 per cent YTD and nearly 42 per cent YoY.
In the current quarter through Friday, September 30, the NKE stock slipped 17 per cent. Notably, it reached its 52-week low of US$ 94.4801 on Thursday, September 29, 2022.
Like many other retailers, the retail firm also came under pressure due to the strong dollar and other market turmoil in recent days.