Benchmark US indices rallied for the second-consecutive day on Friday, February 25, after Russia agreed to high-level talks with Ukraine the day after the military raids began.
The S&P 500 surged 2.24% to 4,384.65. The Dow Jones climbed 2.51% to 34058.75. The NASDAQ Composite jumped 1.64% at 13,694.62, and the small-cap Russell 2000 was up 2.06% to 2,037.11.
President Vladimir Putin on Friday said Moscow is ready for high-level talks with Kiev in a swift turn of events amid growing international pressure to halt military action in Ukraine.
The announcement brought optimism to the market. Stocks across the board rallied after the news. The global pressure was building up against Putin to return to the negotiation table.
The EU said it would freeze Putin's assets for the attack. The US rolled out additional measures targeting banks and high-net-worth officials, vowing to step up the sanctions.
Oil prices and Treasury bond yields fell after their recent spike.
Basic materials, utility, and consumer staples sectors were the top movers on S&P 500. All 11 stock segments of the index closed in the green. Technology, communication services and consumer discretionary sectors were the bottom movers.
Shares of Block, Inc. (SQ) rose more than 25% on upbeat quarterly results. Its gross profit grew by 47% to US$1.18 billion in the fourth quarter.
E-commerce company Etsy, Inc. (ETSY) stock jumped over 16% in intraday trading after posting strong results. Its consolidated revenue increased by 16.2% YoY in the fourth quarter.
Foot Locker, Inc. (FL) stock fell nearly 30% after quarterly results. It reported a 6.9% sales growth in the fourth quarter but expects lower sales in 2022.
Cybersecurity company Zscaler, Inc. (ZS) stock fell more than 15% a day after reporting quarterly earnings in the extended-hours trading. Its revenue grew 63% in the second quarter.
In the material sector, Linde Plc (LIN) stock jumped 4.16%, Sherwin Williams Company (SHW) increased by 3.40%, and Ecolab Inc. (ECL) surged 2.64%. Freeport-McMoran Inc. (FCX) was up by 5.96%, and Air Products and Chemicals Inc. (APD) rose 2.06%.
In the utility sector, Duke Energy Corporation (DUK) stock surged 3.23%, Southern Company (SO) rose 3.36%, and Dominion Energy (D) increased by 3.19%. Exelon Corporation (EXC) rose 3.05%, and American Electric Power Company Inc. (AEP) increased by 3.36%.
In the technology sector, Apple Inc. (AAPL) stock jumped 1.27%, Microsoft Corp. (MSFT) stock rose 0.84%, and Nvidia Corporation (NVDA) surged 1.59%. Broadcom Inc. (AVGO) and Cisco Systems, Inc. (CSCO) increased by 1.35% and 2.38%, respectively.
The global cryptocurrency market was up 2.04% to US$1.75 trillion, as per coinmarketcap.com at 3:59 pm ET. Bitcoin (BTC) price surged 1.76% to US$39,037.78 in the last 24 hours.
Also Read: What is OMI crypto? How its cash-for-gems feature works?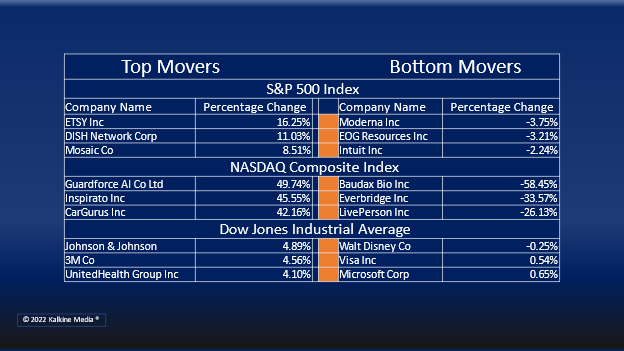 Also Read: Why FTX donating cash to every Ukrainian?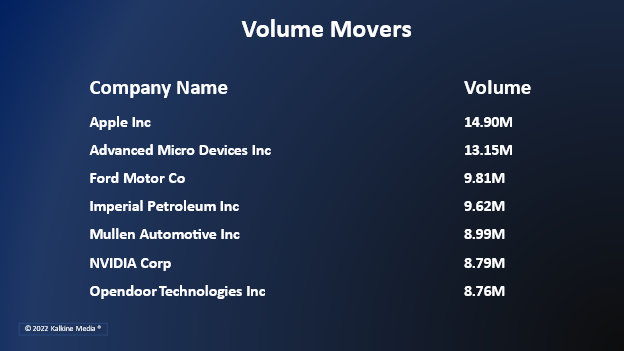 Also Read: Why is Gala (GALA) crypto rising?
Futures & Commodities
Gold futures declined 1.86% to US$1,890.50 per ounce. Silver futures decreased by 1.69% to US$24.270 per ounce, while copper futures jumped 0.79% to US$4.4912.
Brent oil futures decreased by 0.68% to US$94.77 per barrel and WTI crude futures were down by 0.70% to US$92.16.
Bond Market
The 30-year Treasury bond yields decreased 0.49% to 2.282, while the 10-year bond yields were down 0.26% to 1.967.
US Dollar Futures Index declined 0.58% at US$96.550.