Benchmark US indices started the week on a positive note on Monday, September 12, as the investors awaits the key inflation data that would be released by the Labor Department on September 13.
The S&P 500 rose 1.06 per cent to 4,110.41. The Dow Jones was up 0.71 per cent to 32,381.34. The NASDAQ Composite added 1.27 per cent to 12,266.41, and the small-cap Russell 2000 rose 1.23 per cent to 1,906.09.
All three indices marked their four consecutive sessions of gains while advancing to their two-week highs on Monday. All focus would be on the CPI data, a key gauge for inflation, that would provide clarity on how Federal Reserve would move with their monetary support.
Last week, many Federal Reserve officials, including Fed Chair Jerome Powell, affirmed that they would stick to aggressive monetary plans to fight the multi-decade high inflation.
While the comments have boosted possibilities over another 75 basis point hike at Fed's September 20-21 meeting, the investors appear to have shrugged off the concerns, while taking advantage of the beaten-down stock prices.
On Monday, September 12, all 11 segments of the S&P 500 index stayed in the green. The information technology, consumer discretionary, and energy sectors were the top gainers in the index on Monday.
Shares of Bristol-Myers Squibb Company (BMY) added more than four per cent in the intraday trading after the pharmaceutical firm received FDA approval for its psoriasis treatment, Sotyktu.
Gilead Sciences, Inc. (GILD) also witnessed a similar percentage growth to BMY, after the biotech firm said that it had settled a patent case with five drugmakers related to its HIV therapeutics.
In the technology sector, Apple Inc. (AAPL) added 3.85 per cent, Broadcom Inc. (AVGO) soared 1.27 per cent, and Oracle Corporation (ORCL) jumped 1.59 per cent. Cisco Systems, Inc. (CSCO) and Accenture plc (ACN) advanced 1.38 per cent and 1.58 per cent, respectively.
In consumer discretionary stocks, Amazon.com, Inc. (AMZN) climbed up 2.39 per cent, Tesla, Inc. (TSLA) surged 1.58 per cent, and Alibaba Group Holding Limited (BABA) was up 2.81 per cent. Nike, Inc. (NKE) and JD.com, Inc. (JD) rose 1.29 per cent and 2.28 per cent, respectively.
In the energy segment, Exxon Mobil Corporation (XOM) gained 1.19 per cent, Chevron Corporation (CVX) increased by 1.62 per cent, and ConocoPhillips was up 2.16 per cent. PetroChina Company Limited (PTR) and BP p.l.c. (BP) ticked up 6.01 per cent and 1.39 per cent, respectively.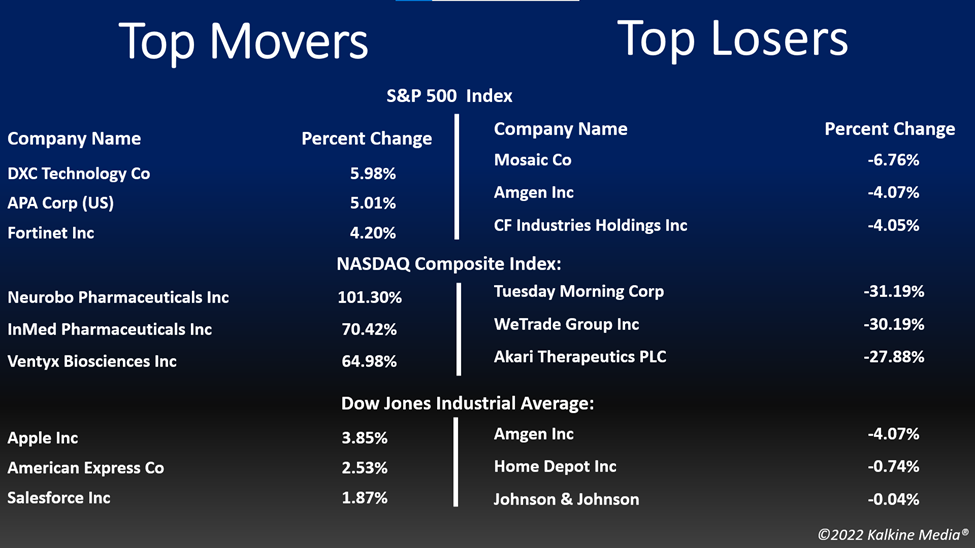 Futures & Commodities
Gold futures were up 0.44 per cent to US$1,736.25 per ounce. Silver increased by 5.29 per cent to US$19.760 per ounce, while copper rose 1.33 per cent to US$3.6155.
Brent oil futures increased by 1.48 per cent to US$94.21 per barrel and WTI crude was up 1.38 per cent to US$87.99.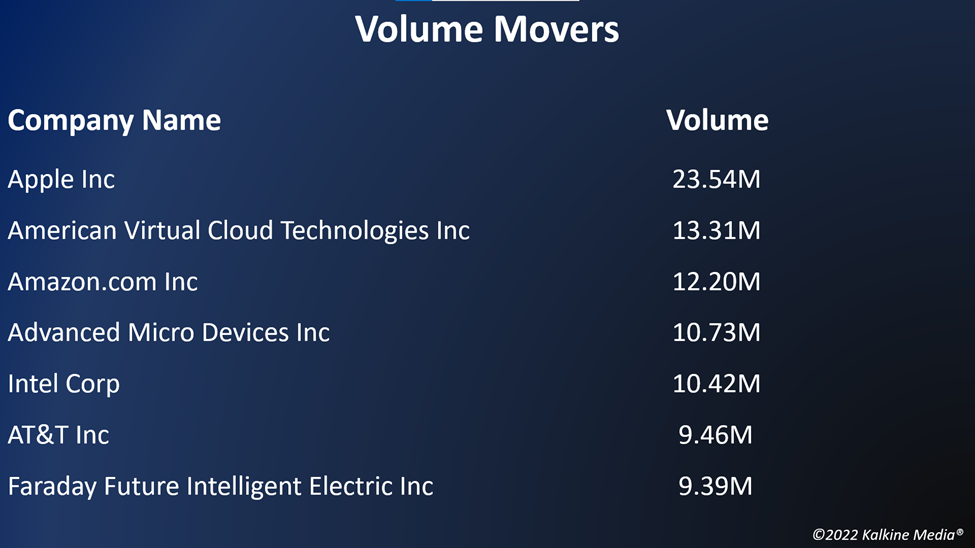 Bond Market
The 30-year Treasury bond yields were up by 1.39 per cent to 3.504, while the 10-year bond yields rose 0.99 per cent to 3.354.
US Dollar Futures Index decreased by 0.60 per cent to US$108.080.