Wall Street indices closed the session in red on Wednesday, August 17, after minutes from the Federal Reserve's July meeting provided insights on the central bank's interest rate hike plans.
The S&P 500 fell 0.72 per cent to 4,274.04. The Dow Jones was down 0.50 per cent to 33,980.32. The NASDAQ Composite lost 1.25 per cent to 12,938.12, and the small-cap Russell 2000 fell 1.64 per cent to 1,987.31.
Minutes from Fed's July meeting indicated that the central bank is still keeping a close watch on the elevated inflation and current labor market condition, which would put them on track to continue raising the interest rates.
However, the officials also suggested that the pace of the rate hike would depend on the upcoming data that would shed some light on the health of the economy. In addition, they also indicated that it would gradually slow down the pace of their hawkish moves once the inflation comes under their two per cent target.
In economic news, the US retail sales remained unchanged in the previous month due to a decline in gasoline prices, the Commerce Department report showed on August 18. In June, retail sales rose 0.8 per cent. However, excluding gasoline prices and auto sales, the spending ticked up 0.7 per cent MoM in July.
The energy sector was the top mover in the S&P 500 index on Wednesday. Seven of the 11 segments of the index stayed in the negative territory, with materials and consumer discretionary sectors declining the most.
Shares of Lowe's Companies, Inc. (LOW) added 0.56 per cent in the intraday trading session after the company reported strong quarterly earnings results that may have topped the market expectations.
On the other hand, another leading retail firm, Target Corporation (TGT) lost 2.84 per cent, after the company posted a sharp decline in its quarterly profit. The company also said that it is planning to move cautiously in the ongoing year as consumers trimmed their spending on discretional items.
Blue Water Vaccines, Inc. (BWV) skyrocketed over 202 per cent in intraday trading, after the biotechnology firm said that it is planning to explore the potential for developing a novel monkeypox vaccine on Wednesday.
In the energy sector, both Exxon Mobil Corporation (XOM) and Chevron Corporation (CVX) added 0.83 per cent, while PetroChina Company Limited soared 2.58 per cent. ConocoPhillips (COP) and Equinor ASA (EQNR) advanced 1.26 per cent and 1.15 per cent, respectively.
In materials stocks, BHP Group Limited (BHP) lost 2.45 per cent, Rio Tinto Group (RIO) decreased by 2.16 per cent, and The Sherwin-Williams Company (SHW) fell 1.87 per cent. Vale S.A. (VALE) and Ecolab Inc. (ECL) plummeted 2.65 per cent and 1.17 per cent, respectively.
In the consumer discretionary sector, Amazon.com, Inc. (AMZN) plunged by 1.85 per cent, Alibaba Group Holding Limited (BABA) slipped by 3.12 per cent, and Starbucks Corporation (SBUX) dropped by 1.17 per cent. JD.com, Inc. (JD) and Booking Holdings Inc. (BKNG) slumped 1.99 per cent and 1.01 per cent, respectively.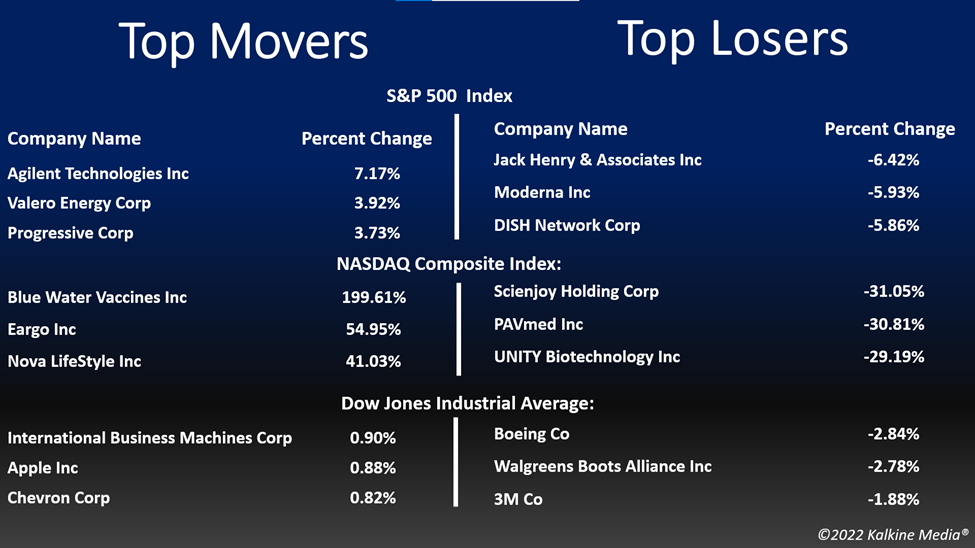 Futures & Commodities
Gold futures were down 0.63 per cent to US$1,778.40 per ounce. Silver decreased by 1.68 per cent to US$19.747 per ounce, while copper ticked down 1.00 per cent to US$3.5882.
Brent oil futures increased by 1.25 per cent to US$93.49 per barrel and WTI crude was up 1.59 per cent to US$87.91.
Bond Market
The 30-year Treasury bond yields were up 1.33 per cent to 3.156, while the 10-year bond yields rose 2.64 per cent to 2.899.
US Dollar Futures Index increased by 0.17 per cent to US$106.567.