Benchmark US indices rebounded on Tuesday, January 11, after the Federal Reserve chairman Jerome Powell said to take aggressive measures to keep the inflation in check during his confirmation hearing today.
The S&P 500 rose 0.92% to 4,713.07. The Dow Jones increased 0.51% to 36,252.02. The NASDAQ Composite was up 1.41% to 15,153.45, and the small-cap Russell 2000 was up 0.91% to 2,190.94.
Interest rates will be increased more if there is a need, said Mr. Powell while reiterating that interest would likely remain at historically low levels. He added that the supply chain constraints would also reduce this year, supporting the inflation level to stay within the limit.
Stocks opened at a low further went down during the hearing and surged only after the clear stance of the Federal Reserve. Information Technology traded higher after the dip in the early session.
Apple Inc. (AAPL) stock rose more than 1.1%, and Meta Platforms, Inc. (FB) stock gained more than 1.2% intraday.
This week has started with earnings release, and some big financial companies are lined up for Friday, including JPMorgan Chase, Wells Fargo, and Citigroup.
Eight sectors out of all 11 sectors of the S&P 500 remained in green on Tuesday. Energy, Consumer Discretionary, and Information Technology sectors were the top gainers, whereas Consumer Staples, Utilities, and Real Estate sectors remained the bottom movers.
Tesla, Inc. (TSLA) stock rose over 0.50% intraday after China Passenger Car Association (CPCA) data showed Tesla's 70,847 China-made vehicles sale in December, the highest monthly rate since it started manufacturing vehicles in Shanghai in 2019.
Illumina, Inc. (ILMN) stock surged over 14% intraday after the company announced late on Monday its preliminary results with consolidated revenue of approximately US$4.517 billion, a 39% increase year-over-year.
Albertsons Companies Inc. (ACI) stock fell more than 7% intraday even after posting higher than expected third-quarter sales and profits and raising its full-year guidance.
In the Energy sector, Exxon Mobile Corporation (XOM) surged 3.70%, Chevron Corporation (CVX) jumped 2.20%, and ConocoPhillips (COP) rose 2.32%. EOG Resources Inc. (EOG) was up 3.96%, and Schlumberger N.V. (SLB) increased by 3.67%.
In the Consumer Discretionary, Amazon.com Inc. (AMZN) climbed 2.38%, Home Depot Inc. (HD) increased by 0.54%, and Lowe's Companies Inc. (LOW) rose 0.37%. Target Corporation (TGT) and Bookings Holdings Inc. (BKNG) surged 0.38% and 1.83%, respectively.
In the Consumer Staples Sector, Walmart Inc. (WMT) fell 0.63%, Procter & Gamble Company (PG) slid 1.75%, and Coca-Cola Company (KO) was down by 0.56%. Pepsico Inc. (PEP) decreased by 0.56%, and Costco Wholesale Corporation (COST) declined by 0.06%.
The global cryptocurrency market was up 4.15%, at a market capitalization of US$2.00 trillion, as per coinmarketcap.com at 2.25 pm ET, Tuesday. Bitcoin (BTC) price jumped to US$42,761.29 with a 3.05% gain in the last 24 hours.
Also Read: Turo Inc IPO: Car-sharing firm eyeing $100M debut on NYSE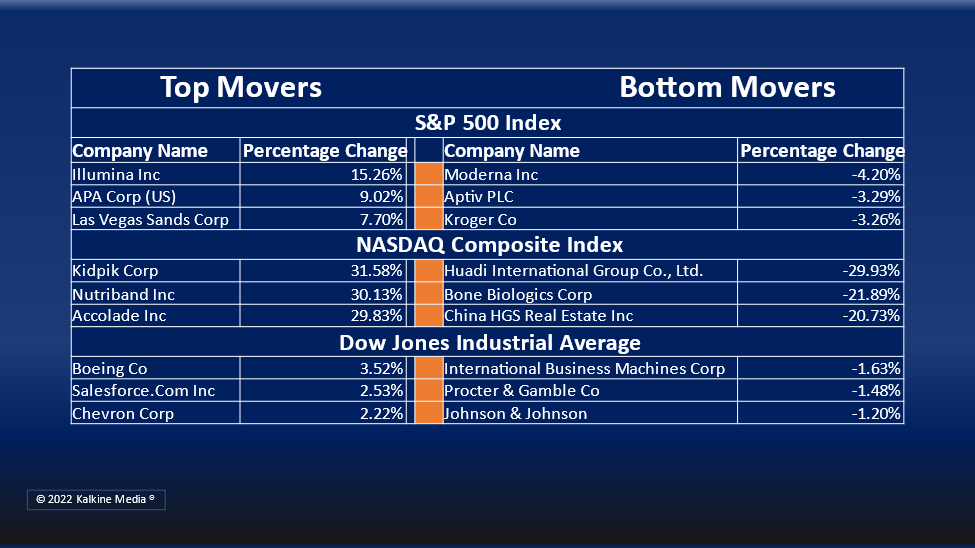 Also Read: Top 5 US semiconductor stocks to watch in 2022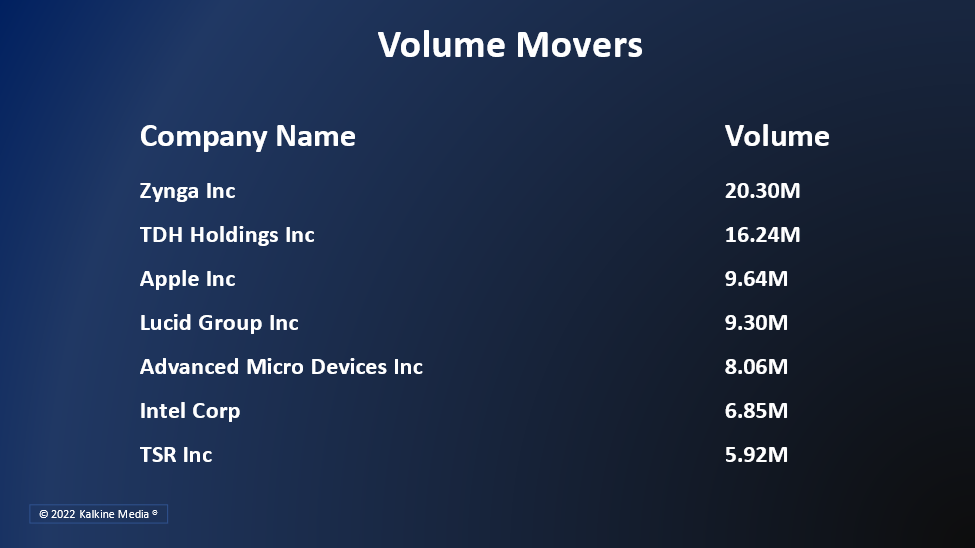 Also Read: What is Stellar crypto? XLM token's 24-hour trading volume spikes 83%
Futures & Commodities
Gold futures climbed 1.31% to US$1,822.45 per ounce. Silver futures increased by 1.67% to US$22.837 per ounce, while copper jumped 1.84% to US$4.4315.
Brent oil futures increased by 3.44% to US$83.65 per barrel and WTI crude futures were up 3.98% to US$81.34.
Bond Market
The 30-year Treasury bond yields decreased 1.36% to 2.080, while the 10-year bond yields were down 1.80% to 1.748.
US Dollar Futures Index declined 0.40% at US$95.610.