Highlights

Kusama is a scalable network of specialized blockchains.
On Thursday, Kusama (KSM) declared onboarding Turing network as its 32nd Para chain on its platform.
KSM has a total supply of 9.65 million.
On Thursday, March 31, Kusama (KSM) declared onboarding the Turing network as its 32nd para chain on its platform. The Turing network will bring its Web3.0 payments and infrastructure to the Kusama network.
Founded in 2019, Kusama is a scalable network of specialized blockchains. Gavin Wood, the founder of Polkadot and co-founder of Ethereum, has established Kusama using almost the same codebase as Polkadot.
The network is built using Substrate, a web app development framework that allows software developers to create decentralized systems.
Kusama (KSM) rose 3.64% to US$192.98 at 4:32 am ET Thursday after the updates.
What Is Kusama (KSM)?
Kusama calls itself Polkadot's wild cousin because of being an interoperable blockchain. Kusama is the experimental blockchain platform designed to provide developers with an interoperable and scalable framework.
Developers use the platform for testing, innovating, and deploying their own blockchain on the Kusama network. They often stick with Kusama for their final products rather than shifting to Polkadot.
Also Read: Why did Stargate Finance (STG) rose over 98% in a week?
The platform offers low barriers to entry for deploying para chains, low band requirements for validators and is mainly used by startups for experimentation. Parachains are project-specific, custom blockchains integrated within the Polkadot (DOT) and Kusama (KSM) networks.
On Kusama, the projects get access to the scalable and interoperable sharded network with features not even available on the Polkadot network yet.
Also Read: What is Saito blockchain & its crypto?
Kusama is funded by grants from Web3 Foundation that is focused on supporting and stewarding technologies and applications in decentralized web software protocols.
The platform uses a nominated proof-of-stake (NPoS) consensus system instead of using an energy-intensive proof-of-work (POW) scheme.
Unlike other existing blockchains, Kusama is primarily aimed at the developers intending to launch their bold and ambitious projects quickly.
Also Read: Why is SafePal (SFP) crypto gaining attention?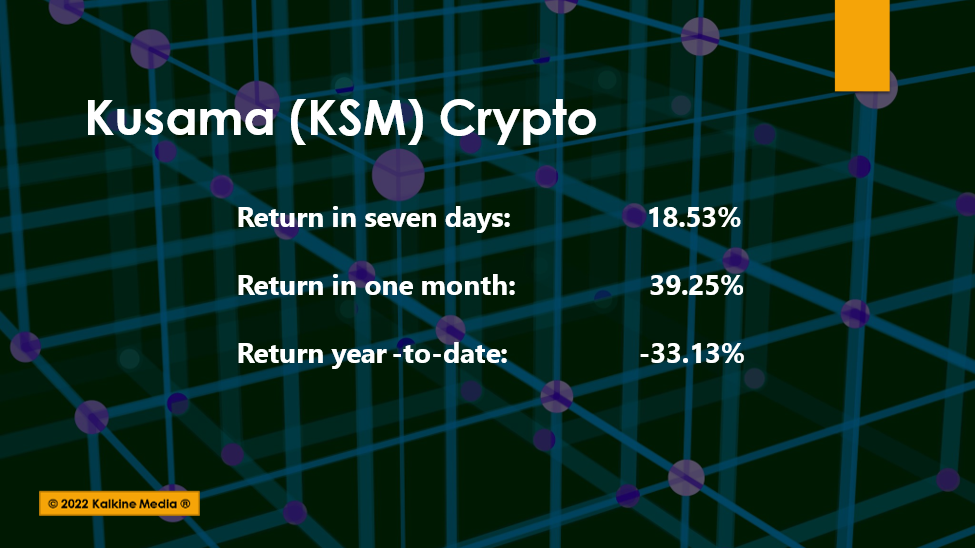 Data Source: coinmarketcap.com
Also Read: Why is BitTorrent acquirer TRON (TRX) crypto rising?
KSM Token details:
KSM is Kusama's governance token. In the case of Kusama, the governance is decentralized and permissionless. This means that the KSM token holders or para chain token holders can vote on their respective governance proposals, such as upgrades and changes to the protocol etc.
Also Read: What is BORA (BORA) crypto and why is it rising?
KSM's current market capitalization is US$1.63 billion. Out of the total supply of 9.65 million, its circulating supply is 8.47 million KSM. KSM/BTC, KSM/ETH, and KSM/USDT are the most liquid trade pairs.
Its 24 hours volume rose 34.55% to US$97.8 million. The token is available for buy, sale and trade on CoinTiger, FTX, Binance, Bybit and OKX crypto exchanges.
Also Read: Why is Helium (HNT) crypto changing its name?
Bottom line:
The crypto market is risky with no adequate regulations in the space. Hence, investors must be wary of investing in digital assets without exercising due diligence and caution.
Risk Disclosure: Trading in cryptocurrencies involves high risks including the risk of losing some, or all, of your investment amount, and may not be suitable for all investors. Prices of cryptocurrencies are extremely volatile and may be affected by external factors such as financial, regulatory, or political events. The laws that apply to crypto products (and how a particular crypto product is regulated) may change. Before deciding to trade in financial instrument or cryptocurrencies you should be fully informed of the risks and costs associated with trading in the financial markets, carefully consider your investment objectives, level of experience, and risk appetite, and seek professional advice where needed. Kalkine Media cannot and does not represent or guarantee that any of the information/data available here is accurate, reliable, current, complete or appropriate for your needs. Kalkine Media will not accept liability for any loss or damage as a result of your trading or your reliance on the information shared on this website.