Highlights

Velas is an Ethereum Virtual Machine (EVM) blockchain. It claims to execute 75,000 transactions per second (TPS).
Its products include Velas Account, Velas Vault, Velas Wallet, and Staking.
VLX token is used for payments and supporting proof-of-Stake consensus.
The Velas (VLX) token has been trending after its recent updates.
On June 1, Velas shared its recent developments during an Ask Me Anything (AMA) session.
The blockchain said it appointed Ali Rafi as the head of Velas Network AG's Motorsports and Metaverse division. Velas AG is a major partner of Ferrari in the Formula 1 championship and a title sponsor of Ferrari's Esports team.
Last month, the VLX token was listed on Huobi Global and BitForex crypto exchanges. Velas also said that one could purchase the token from Velas Wallet.
Velas is also a partner of the NFT Art Day event in Zurich, Switzerland, on June 12.
What Is Velas (VLX)?
Velas is an Ethereum Virtual Machine (EVM) blockchain. It claims to process 75,000 transactions per second (TPS) for almost free, with high security.
The Velas blockchain is a fork of Solana with embedded EVM integration.
The EVM supports all smart contracts and dApps built on the Ethereum stack.
The Velas mainnet was launched in 2019. The network has over 100 nodes and 138 validators. As per its website, it has staked more than 741 million VLXs, with over 1300 stakers.
Also Read: What is Synthetix (SNX) crypto? Will it continue rising?
The company seeks to build a self-governed, decentralized future with disruptive technologies. The open-sourced blockchain ecosystem will combine both centralized and decentralized solutions for offering products and services.
According to the whitepaper, its mission is to improve people's lives worldwide.
Also Read: Is layer-1 blockchain Vite (VITE) crypto rising on Binance.US listing?
Velas was founded by Alex Alexandrov in Switzerland in 2019. He is also a founder of CoinPayments, a cryptocurrency payment gateway.
Besides this, Alex is also consulting the FBI, Europol, and various national governments on cybersecurity, blockchain, technology, and AI implementation. The Velas team includes cryptographers, engineers, researchers, mathematicians, and business leaders.
Also Read: Why is SKALE Network (SKL) crypto rising?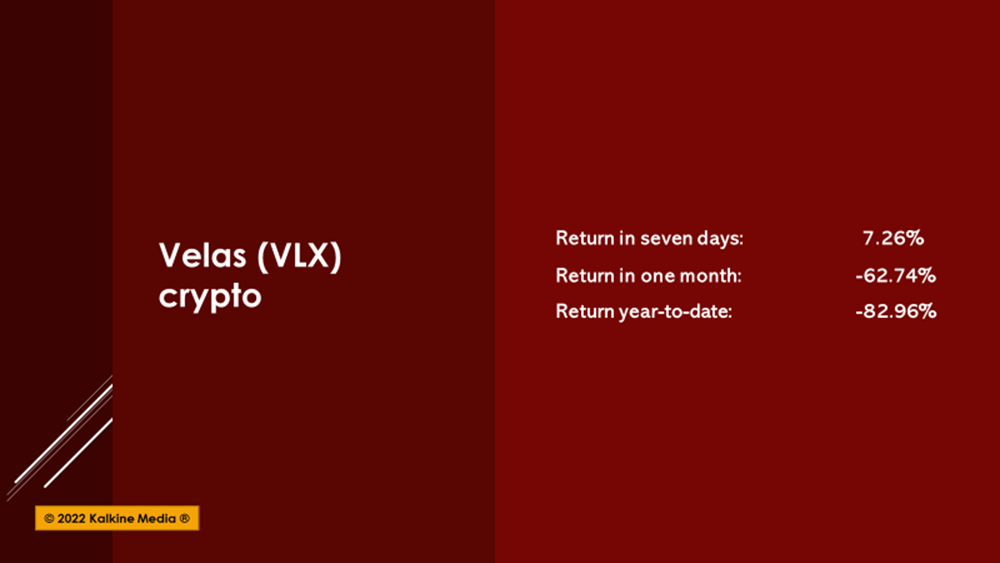 Data Source: coinmarketcap.com
Also Read: Why is Celsius (CEL) crypto falling?
Velas products:
Velas' products include Velas Account, Velas Vault, Velas Wallet, and Staking.
Velas Account is a password-less solution. It offers convenient interactions through blockchain apps while maintaining user security. Velas Vault is for storing private keys and secrets. Furthermore, Velas Wallet is a multi-currency wallet for 'Staking' functions.
Also Read: What is Ontology (ONT) crypto and why is it rising?
VLX token:
The token is used for payments and supporting proof-of-Stake consensus. On Friday, its price rose 0.66% to US$0.06423, and the trading volume surged 11.56% to US$5 million at 8:08 am ET. The token's supply is US$2.3 billion, with a similar about of circulating supply.
Also Read: Solana (SOL) crypto drops after outage; know more here
Bottom line:
The token can be traded on Bitget, CoinTiger, KuCoin, DigiFinex, and BingX crypto exchanges.
Risk Disclosure: Trading in cryptocurrencies involves high risks including the risk of losing some, or all, of your investment amount, and may not be suitable for all investors. Prices of cryptocurrencies are extremely volatile and may be affected by external factors such as financial, regulatory, or political events. The laws that apply to crypto products (and how a particular crypto product is regulated) may change. Before deciding to trade in financial instrument or cryptocurrencies you should be fully informed of the risks and costs associated with trading in the financial markets, carefully consider your investment objectives, level of experience, and risk appetite, and seek professional advice where needed. Kalkine Media cannot and does not represent or guarantee that any of the information/data available here is accurate, reliable, current, complete or appropriate for your needs. Kalkine Media will not accept liability for any loss or damage as a result of your trading or your reliance on the information shared on this website.