Highlights

Oxygen (OXY) is a DeFi prime brokerage service protocol.
Oxygen Light, a more straightforward, cheaper, and faster way to borrow digital assets, is aimed at all users, even with minimal crypto knowledge.
OXY is its native token, supporting full interoperability between Solana and Ethereum.
Finance is involved in everyone's life, and this sector consists of commercial banks, investment banks, brokerage firms, and audit firms.
Even cryptocurrencies and blockchain technology are becoming mainstream, and some protocols promote decentralized finance (DeFi) services to challenge traditional financial services.
Cryptocurrencies keep getting added into the ecosystem every day, and in this article, we will talk about Oxygen (OXY) crypto that came into existence in 2020.
The token appears to have gathered traction on March 18 after it announced Oxygen Light, which is reportedly a simpler, cheaper, and faster way to borrow digital assets.
The OXY crypto traded up by 20.07% at US$ 0.4004 per token at 7:15 am ET Friday. On Oxygen Light, one can borrow digital assets to trade with leverage or get liquidity and generate passive income.
Oxygen Light is started with six assets on which yield can be generated, and simultaneously, these may be used as collateral. These are SOL, BTC, ETH, SRM, USDC, USDT. Later, more assets will be included, according to the company.
Also Read: Why is The Sandbox (SAND) crypto gaining attention?
Its liquidity programme design is under the final phase. The details of which will be announced soon. In the Oxygen ecosystem, longer-term borrowers and lenders will be rewarded through Oxygen Light, and OXY holders will be given preferential rates.
It plans to go for a formal security audit of Oxygen Light in the next two months to ensure protection from theft, freezing of funds etc.
Also Read: Why is Casper (CSPR) crypto gaining attention?
What is Oxygen Protocol (OXY)?
Oxygen is a DeFi prime brokerage service protocol. It is built on the Solana network and powered by the on-chain infrastructure of Serum. The protocol company is based in Switzerland and has more than 15 experienced developers in the team.
Alex Grebnev and Viktor Mangazeev are the co-founders of Oxygen. Alex has worked with Goldman Sachs and Merrill Lynch before Oxygen. Viktor has a technology background, having worked as CIO with many large companies before.
Also Read: Why is Nano (XNO) crypto soaring?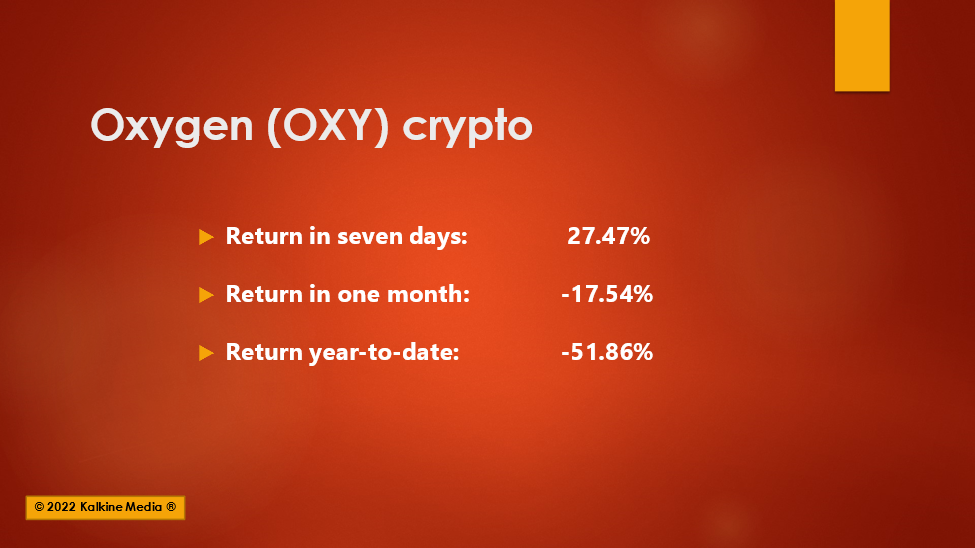 Data Source: coinmarketcap.com
Also Read: Why is ShibaDoge (SHIBDOGE) rising today?
OXY Token details:
Its token OXY is available for use as SPL (native) token and ERC-20, supporting full interoperability between Solana and Ethereum.
With 969 holders, its current market capitalization is US$17.7 million. Its total value locked (TVL) currently is US$6.37 million.
Also Read: What is Wrapped Bitcoin (WBTC) crypto and why is it rising?
The token volume rose 144.93% to US$1.32 million in 24 hours. Its circulating supply is 44.3 OXY, and the total supply is 10 billion OXYs.
FTX, Kraken, Hotcoin Global, Gate.io, and MEXC are the crypto exchanges where it is available for purchase.
Also Read: What is Internet Computer (ICP) crypto and why is it rising?
Bottom line
Oxygen's mission is to create finance without Wall Street, aimed at institutional traders and power users. The protocol's vision is to create a DeFi market with fair borrowing and lending rates and more sophisticated financial services sets for people worldwide.
Hence, Oxygen_Light is designed so that all users can use it even with minimal crypto knowledge.
The Crypto market is a volatile space that makes it difficult to understand. Besides, there have been many scams lately. Thus, the investor must exercise caution before investing in the cryptocurrency market.
Risk Disclosure: Trading in cryptocurrencies involves high risks including the risk of losing some, or all, of your investment amount, and may not be suitable for all investors. Prices of cryptocurrencies are extremely volatile and may be affected by external factors such as financial, regulatory, or political events. The laws that apply to crypto products (and how a particular crypto product is regulated) may change. Before deciding to trade in financial instrument or cryptocurrencies you should be fully informed of the risks and costs associated with trading in the financial markets, carefully consider your investment objectives, level of experience, and risk appetite, and seek professional advice where needed. Kalkine Media cannot and does not represent or guarantee that any of the information/data available here is accurate, reliable, current, complete or appropriate for your needs. Kalkine Media will not accept liability for any loss or damage as a result of your trading or your reliance on the information shared on this website.