Highlights

Flow is a decentralized, developer-friendly, layer-1 blockchain.
The ecosystem has a native currency, FLOW, used as a payment method and a reserve asset for the Flow economy.
There are a total 1.37 billion of FLOWs in supply. 
The Flow blockchain managed to grab eyeballs recently, with different projects coming to use the platform. Besides, Binance.US is set to list Flow, for which deposits are open now. The Flow (FLOW) token surged 0.97% to US$4.68 at 11:36 am ET on Wednesday.
In the past week, Increment Finance launched the fully permissionless decentralized exchange (DEX) on Flow, VIV3 upgraded their Flow NFT Marketplace, and the Australian Football League (AFL) announced launching their official NFTs on the Flow blockchain. 
The token is trading 8.08% higher than its all-time low of US$4.33 in January this year, as per coingecko.com. The token touched its all-time high price in April 2021 at US$42.40 and is approximately 89% down from that level.
What is Flow?
Flow is a fast, decentralized, developer-friendly blockchain. It is the layer-1 blockchain created by CryptoKitties, Dapper Wallet, and NBA Top Shot. Dapper Labs is the original creator behind Flow Blockchain. It has some big names as its investors, such as Google Ventures, Samsung, Venrock, Andreessen Horowitz, Union Square Ventures, and founders of Dreamworks, Coinbase, Zynga, Reddit, etc. 
The Flow blockchain has been created to power the new generation of apps, games, and digital assets. It is designed, keeping mainstream blockchain adoption in mind. It builds usability improvement into the protocol layer.  
Also Read: Bitgert (BRISE) crypto rally continues, returns 290% gains YTD
Flow enables developers to build crypto and crypto-related businesses. Smart contracts on Flow blockchain work like Lego blocks to power various apps. It serves people belonging to different fields, ranging from sports fans to complex businesses, and with critical requirements, says its whitepaper.
Flow's ecosystem comprises top entertainment brands, development studios, and venture-backed startups. Warner Music, NBA, UFC, Ubisoft, Animoca Brands, Sumo Digital, Binance, Circle, Opensea, and many other next-generation startups are partners in the Flow ecosystem. 
Also Read: Pi Network (PI) crypto: What do we know about its price?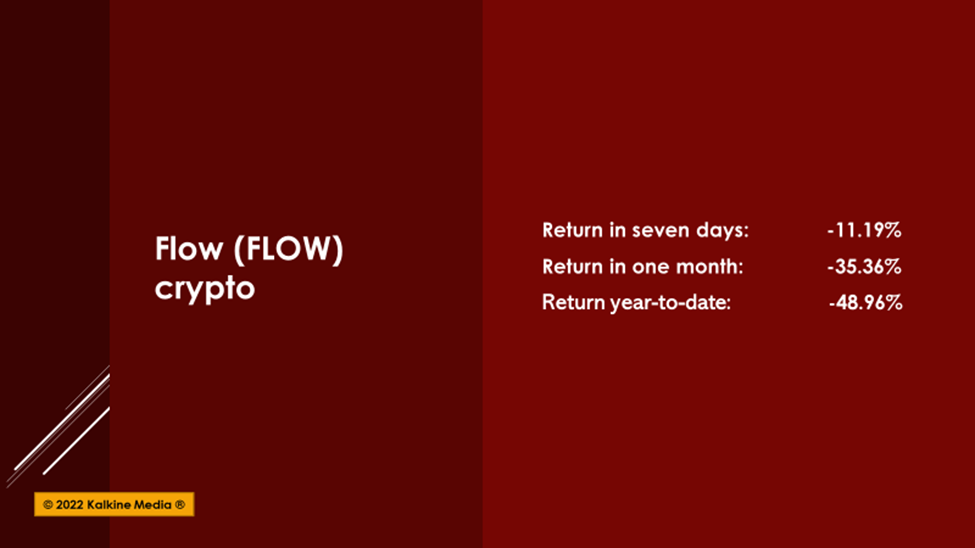 Data Source: coinmarketcap.com
Also Read: Will Quant (QNT) crypto see a price boost after website launch?
FLOW Token:
The ecosystem has a native currency, FLOW. The native token is used as a payment method and a reserve asset for the Flow economy.
The users, validators, and developers use it to participate in the network and earn rewards. It is also used to participate in future protocol governance and pay the fees. 
Also Read: Is Petoverse (PETO) crypto the new big name in the metaverse industry?
FLOW token's current market capitalization is US$1.69 billion. Out of the total supply of 1.37 billion, there are 362.79 million FLOW tokens in circulation.
The token can be purchased from Binance, FTX, MEXC, OKX, and other crypto exchanges.
Also Read: Why is L-1 blockchain Fantom (FTM) crypto rising?
Bottom line:
The token saw a rise in trading volume by 20.91% to US$51.5 million in 24 hours. The crypto market is highly volatile, and the investor must exercise due diligence before treading the field of digital assets. 
Risk Disclosure: Trading in cryptocurrencies involves high risks including the risk of losing some, or all, of your investment amount, and may not be suitable for all investors. Prices of cryptocurrencies are extremely volatile and may be affected by external factors such as financial, regulatory, or political events. The laws that apply to crypto products (and how a particular crypto product is regulated) may change. Before deciding to trade in financial instruments or cryptocurrencies you should be fully informed of the risks and costs associated with trading in the financial markets, carefully consider your investment objectives, level of experience, and risk appetite, and seek professional advice where needed. Kalkine Media cannot and does not represent or guarantee that any of the information/data available here is accurate, reliable, current, complete, or appropriate for your needs. Kalkine Media will not accept liability for any loss or damage because of your trading or your reliance on the information shared on this website.