Highlights

Vite (VITE) is a layer-1 Directed Acyclic Graph (DAG)-based smart contract blockchain.
The VITE coin is used for transactions, smart contract executions, staking and voting.
The coin will start trading on the Binance.US crypto exchange on June 2.
The Vite (VITE) coin's price and trading volume rose after listing on the Binance.US crypto exchange. The deposits are already open, but trading and withdrawal would start from June 2. VITE's initial trading pair on Binance.US would be VITE/USD and VITE/USDT.
But that's not the only reason for the coin's price rise. One more update may have boosted its gains. The zero-fee blockchain said on Twitter that the multichain decentralized exchange ViteX built on Vite would use the trading pair VICAT/VITE for "market-making as mining" from June 3. It would also give users rewards for using the trading pair.
Also Read: Why is Everdome (DOME) crypto gaining attention?
Ranked 698th based on its market cap by Coinmarketcap, the VITE coin was up 5.27% to US$0.03056 at 9:57 am ET on Wednesday after the updates. It was also a 445% up from its all-time low of US$0.00560382 in March 2020, according to CoinGecko.
Vite and its products:
Vite is a layer-1 Directed Acyclic Graph (DAG)-based smart contract blockchain. It optimizes scalability, security, and transaction speed with zero or minimal transaction fees. The Vite Network allows users to develop dApps, such as games, payment networks etc.
Vite's products include ViteX, a decentralized exchange, and Vite App, a multipurpose mobile application offering asset management facilities through its wallet and dapps, such as Vite-based games.
Vite Pay is its payment solution, and VitePlus is an enterprise blockchain application.
Also Read: Why XCAD Network (XCAD) token's trading volume surged over 100%?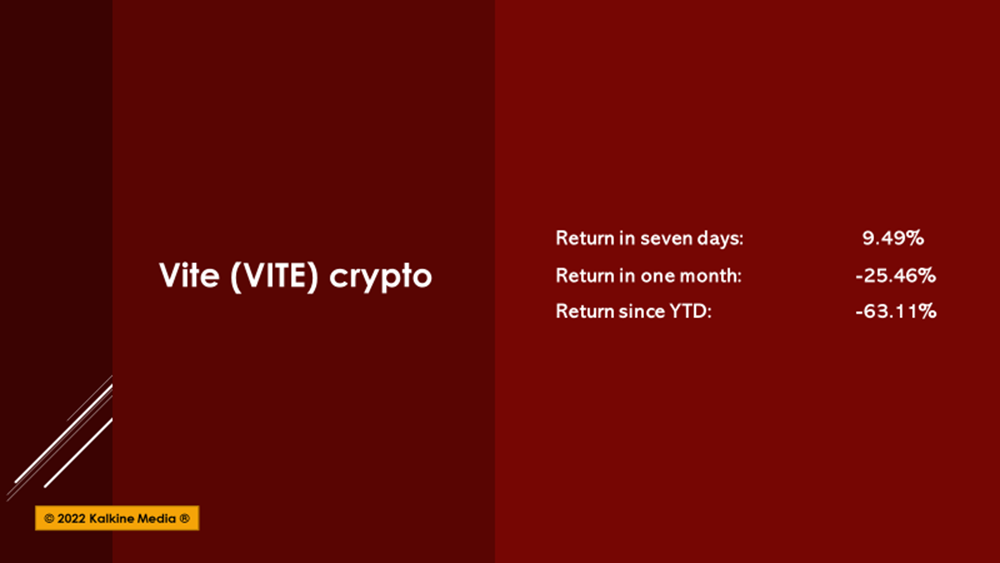 Data Source: coinmarketcap.com
Also Read: What is Synthetix (SNX) crypto? Will it continue rising?
VITE Coin:
The VITE coin is the Vite blockchain's currency used for simple transactions, smart contract executions, staking and voting on the network.
VITEs' total supply is 1.03 billion, and the current circulating supply is 508 million. Its market capitalization is US$15.5 million with 2,220 token holders. Interestingly, there were only two active holders in the last 24 hours, as per Coinmarketcap. The crypto exchanges offering VITE coins include Binance, BitMart, OKX, Bitrue, Hotbit, and Pionex.
Also Read: Is Cardano (ADA) crypto rising on Iagon's Ethereum-Cardano bridge news?
Bottom line:
As the digital infrastructure improves, more projects are linking themselves with Web3. Experts foresee rapid expansion of the Web3 concept to different domains.
Risk Disclosure: Trading in cryptocurrencies involves high risks including the risk of losing some, or all, of your investment amount, and may not be suitable for all investors. Prices of cryptocurrencies are extremely volatile and may be affected by external factors such as financial, regulatory, or political events. The laws that apply to crypto products (and how a particular crypto product is regulated) may change. Before deciding to trade in financial instrument or cryptocurrencies you should be fully informed of the risks and costs associated with trading in the financial markets, carefully consider your investment objectives, level of experience, and risk appetite, and seek professional advice where needed. Kalkine Media cannot and does not represent or guarantee that any of the information/data available here is accurate, reliable, current, complete or appropriate for your needs. Kalkine Media will not accept liability for any loss or damage as a result of your trading or your reliance on the information shared on this website.