Summary

The country's continental shelf contains a large amount of recoverable petroleum reserves
BP predicts the global oil consumption to drop by 50 per cent by 2050
Focus on the stocks of BP, RDSA, And TLW
A new report from the Oil and Gas Authority (OGA) was released on 14 September 2020. It shared the details of Britain's oil and gas reserves at the end of December 2019. It has found out that there are between 10 to 20 billion barrels of unfinished petroleum resources in the UK continental shelf.
The report also suggested that the country's pending petroleum reserves can last for more than twenty years, using the recent production estimates.
While supply seems to be abundant if these OGA estimates are taken into consideration, the oil demand side is not going as strong, both in the UK and across the world. For instance, the International Energy Agency (IEA) has forecasted the oil demand recovery to substantially slow down during H2 2020, with fears of a second wave rising across the whole world. This is expected to make the economic growth sluggish once again.
In fact, recently the British oil major BP had also predicted a very bleak outlook for the global oil demand. The company added that it seemed that the era of fast growth in the demand for oil is almost over and the global oil usage may never return back to pre-corona levels. BP has predicted the global oil consumption to sharply drop to half of the current levels by the year 2050. This outlook scenario will be driven by rising efficiency levels and usage of electric vehicles.
Further, the OPEC (Organization of Petroleum Exporting Countries) has recently downgraded its crude oil market outlook for 2021 by more than 1 million bpd to reach 28.2 million bpd owing to dwindling oil demand. The leading oil consortium with 23 members had added a global supply of 0.8 million barrels per day for the month of August 2020. The next OPEC meeting is due on 17 September 2020 when it will take a call on continuing with the ongoing production cuts undertaken to sustain oil and gas prices.
Oil prices are trading below the level of $ 40 for a barrel of oil at London, which is worrisome for the oil producers.
However, a different perspective is also being held by few. For instance, Ed Morse, global head – commodities research at Citigroup said that his firm was bullish over the future prospects of the global oil & gas sector. He added that the Brent crude is projected to reach a level of $ 60 per barrel by the end of the year 2021. The firm expects biggest push to be coming from gasoline and petrochemicals.
Also Read: Oil prices have been highly volatile in recent times
Let us now take a closer look at few prominent oil and gas stocks listed at the LSE – BP, RDSA, and TLW.
BP plc
British Petroleum (LON: BP) is an international oil & gas firm headquartered at London, UK. The oil major recently announced that it had entered the wind power market by buying a stake in Equinor ASA for more than 1 billion US dollars.
The company wants to take on more wind energy projects across the US. BP aims to reach a renewable power production capacity of 50 gigawatts in a decade's time.
Also Read: BP Plc Marks Debut to Offshore Wind Market in A Strategic Partnership
The company had to cut more than 10,000 jobs in the month of June 2020 as a result of the devastating coronavirus pandemic.
During August 2020, BP announced a major office restructuring plan that would require it to move out of almost half of its total commercial property space. Close to 50,000 of the company staff would be encouraged to work remotely or in a more flexible work environment, a company release had stated.
Stock performance: The company stock (LON: BP) was trading at GBX 257.65 on 15 September 2020 at 9.47 AM, up by 0.21 per cent from the previous day's close of GBX 257.10. At that time, the company's market capitalisation was worth £ 52,099.74 million. The year to date return was negative at 46.53 per cent. The earnings per share was 0.20. The stock price was trading at a high of GBX 504.10 on 6 January 2020 and crashed to a low level of GBX 233.70 on 18 March 2020 with the onset of the Covid-19 pandemic that crashed the demand for oil and gas.
Royal Dutch Shell plc
Shell (LON: RDSA) is an Anglo-Dutch global oil & gas firm with its headquarters at the Netherlands. Recently, the oil giant started production at its Fram gas field located at the UK North Sea. The investment for the project was made as long as two years ago. Shell owns a 32 per cent stake in the field while the rest is held by Exxon.

Stock performance: The company stock (LON: RDSA) was trading at GBX 1,080.20 at the London Stock Exchange on 15 September 2020 at 9.58 AM, up by 1.41 per cent from its previous close of GBX 1,065.20. At that time, its market capitalisation totaled £ 43,686.40 million with a year to date return of minus 52.79. The stock's earnings per share was recorded as 1.97. The stock price was trading at a high of GBX 2309 on 6 January 2020 and crashed to a low level of GBX 970.80 on 18 March 2020, due to the damaging effects of the Covid-19 pandemic on the global economy.
Tullow Oil plc
Tullow Oil plc (LON: TLW) is an exploration company for oil & gas and was founded at Tullow in Ireland from where it derives its name. The company's half-yearly results were recently released for the period of January to June 2020.
2020 Half-Yearly Results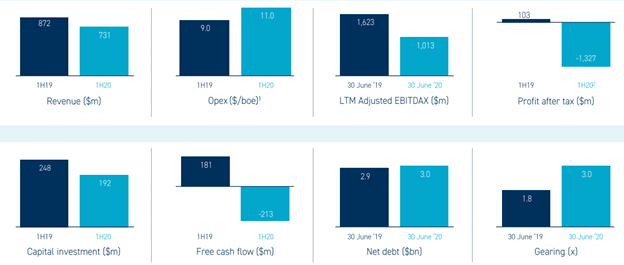 (Source: company website)
The company earned a revenue of 731 million US dollars for H1 2020 (H1 2019: 872 million dollars). Profit after tax was negative for the six-month period ending 30 June 2020 (-1327 million dollars).
Stock performance: The company stock (LON: TLW) was trading at GBX 15.45 on 15 September 2020 at 10.03 AM, up by 1.48 per cent from its previous close of GBX 15.23. At that time, the company's market capitalisation was recorded to be £ 214.95 million. It had a negative year to date return of 74.48 with a negative earnings per share of 1.21.
To sum up, the global oil and gas industry faced one of the most challenging times in its entire history after the coronavirus pandemic struck the world. The demand suffered heavily while the producers had to drastically cut back on their production levels. Few firms like BP have been proactive and are revisiting their overall strategy to adapt quickly to the changing scenario led by dynamic market forces. While the oil consumption has risen gradually and so have the oil prices post re-opening of economies after lockdown restrictions were eased, but the future still looks uncertain till a vaccine is found.
---
Disclaimer
The website https://kalkinemedia.com/uk is a service of Kalkine Media Ltd, Company Number 12643132. The article has been prepared for informational purposes only and is not intended to be used as a complete source of information on any particular company. Kalkine Media does not in any way endorse or recommend individuals, products or services that may be discussed on this site. Our publications are NOT a solicitation or recommendation to buy, sell or hold the stock of the company (or companies) or engage in any investment activity under discussion. We are neither licensed nor qualified to provide investment advice through this platform.
With Bank of England reducing the interest rates to a historic low level, the spotlight is back on diverse investment opportunities.
Amidst this, are you getting worried about these falling interest rates and wondering where to put your money?
Well! Team Kalkine has a solution for you. You still can earn a relatively stable income by putting money in the dividend-paying stocks.
We think it is the perfect time when you should start accumulating selective dividend stocks to beat the low-interest rates, while we provide a tailored offering in view of valuable stock opportunities and any dividend cut backs to be considered amid scenarios including a prolonged market meltdown.


CLICK HERE FOR YOUR FREE REPORT!