Summary

British outsourcing company Serco announced a raised profit outlook and increased its guidance by £15 million to around £200 million for 2021 due to high demand for its covid-19 services in the country.
Serco's shares jumped by around 4 per cent in trading today and were among one of the highest risers on the FTSE 250 index.
The group also reported a contract win for its joint venture with French energy company Engie, called Vivo Defence Services.
UK-based outsourcer company Serco Group Plc (LON: SRP) shares jumped over 3 per cent in today's trading session after the group announced a raised 2021 profit outlook.
The group raised its profit guidance by £15 million to around £200 million as it expects greater demand for its covid-19 related services in the UK. The development was prompted by the group's four key divisions reporting a solid trading performance for the first 5 months of 2021, which fell either within prior expectations or ahead of their budgets.
It also reported its testing and tracing contract volumes remained strong and were expected to increase in H2 2021.
SRP runs a significant part of the NHS test and trace service and about 25 per cent of the testing sites in the UK. It also runs about 50 per cent of the tier 3 contact tracers.
Contract win
The group also announced that Vivo Defence Services had been awarded a major UK defence contract for the UK's built estate, the Defence Infrastructure Organisation today. Vivo Defence Services is SRP's joint venture with French energy and services company, Engie.
It will include offering asset and facilities management services to two regions in the UK, namely the South West and Central regions of the UK. The UK Ministry of Defence contract will also include the running of 19,000 buildings spread across 200 sites in the country.
Serco's Vivo contract is valued at around £900 million and will span over an initial seven-year period. The seven-year time span will also include indexation. The contract also has the option to extend it by one-year each for a maximum additional period of three years.
Since it is a joint venture, Serco will accrue about half of the profits from the contract. The group said the contract would not materially impact its profit outlook for the year.
Also Read: British Outsourcer Serco Looking for Acquisition to Beat the Market Blues
Market reaction
Serco Group's shares were trading at GBX 140.60, up by 3.61 per cent on 14 June at 14:00 HRS GMT+1. Meanwhile, the Industrials Sector Index was trading at 7,034.28, up by 0.34 per cent.
The FTSE 250 index, which it is a part of, was trading at 22,740.13, up by 0.03 per cent. Serco was among one of the highest risers on the FTSE 250 index.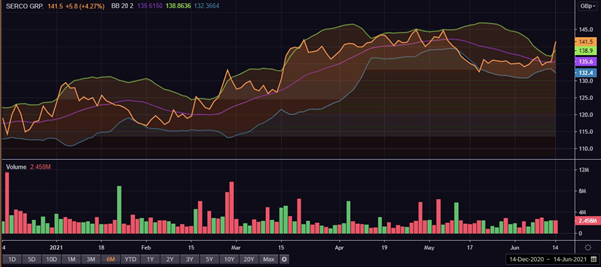 (Image Source: Refinitiv)
The company's market cap stood at £1.632 billion, and its year-to-date return was at 17.82 per cent.
Also Read: Serco share prices rose after Britain extended Test and Trace contract