Summary

The Company expects to show a drop in the FY21 underlying Group EBITDA levels as compared to FY20.
It had gained a positive occupancy momentum in the US since the end of Q1 FY21.
IWG had a net debt of £293.8 million as of 31 March 2021.
IWG PLC (LON: IWG) is the industrials stock listed on the London stock exchange. IWG's shares have generated a return of around 14.66% in the last 12 months. IWG is listed on the FTSE 250 index.
Company Overview
IWG PLC is a UK-based co-workspace operator which provides real-estate solutions for the business. Moreover, the Company has a proven track record of delivering the best real estate solutions for businesses for the last 30 years. Furthermore, IWG provides locations ranging from an hour's coworking to multi-year office space leases.
Trading Update (as of 07 June 2021)
Prolonged impact of the Covid-19 pandemic – The Company had anticipated FY21 underlying Group EBITDA to fall lower than the levels achieved during FY20. Moreover, IWG is witnessing significant trading improvements driven by positive occupancy momentum in the US since the last first-quarter trading update.
Unprecedented demand for flexible work products – IWG had shown strong demand for flexible work products as many enterprises adopt hybrid working. Moreover, it had demonstrated accelerated progress in lucrative partnerships as many potential partners remained keen on working with the Company and grow the platform.
Q1 FY21 Financial Performance – The open-centre revenue went down by around 16.1% at constant currency during Q1 FY21 from an equivalent period of FY20. Moreover, the Q1 FY21 total revenue had shown a relatively larger drop of 20.9% at constant currency to £528.3 million during Q1 FY21. IWG had shown an improvement in net debt as it remained at £293.8 million as of 31 March 2021, while it was £351.1 million as of 31 December 2020. On the liquidity front, it had adequate liquidity of £811.6 million as of 31 March 2021.
One Year Chart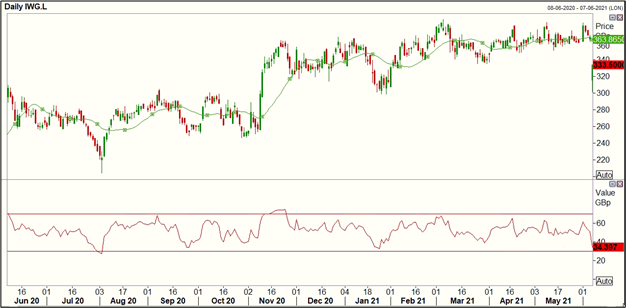 (Data Source: REFINITIV)
IWG shares were trading at GBX 333.50 and were down by close to 9.00% as of 07 June 2021 at 01:10 PM GMT. The 14-day RSI stood at ~34.40, while the 20-day simple moving average was around GBX 363.87. IWG's 52-week Low and High were GBX 204.60 and GBX 387.60, respectively. The market capitalization of IWG is approximately £3.69 billion.
Business Outlook
IWG had raised concerns regarding the overall occupancy as it remained lower than the anticipated levels due to the prolonged impact of the Covid-19 pandemic. However, occupancy in US markets had reached the pre-Covid-19 levels as lockdown restrictions eased down. Overall, the Company remained confident regarding a strong recovery in 2022 driven by a strong financial position and sufficient liquidity to fund day-to-day operations.