UK Market: The UK market was in a mixed mood on Tuesday after the country got its third prime minister this year. At around 1:20 pm GMT+1, the blue-chip FTSE 100 index was down 0.78%, while the mid-cap-focused FTSE 250 was up 0.50%. This came after Rishi Sunak gave his inaugural speech as the UK PM outside 10 Downing Street. Sunak pledged to keep economic stability at the heart of his government's agenda.
HSBC Holdings PLC (LON: HSBA): Shares of the leading banking and financial services provider slipped nearly 7% after it reported the results for the third quarter. The lender posted better-than-expected profits, but they were overshadowed by the rise in bad debt provisions.
Whitbread PLC (LON: WTB): Shares of the hospitality company and the owner of Premier Inn jumped more than 0.3% even as the company warned that inflationary pressures would eat into its margins.
Genuit Group PLC (LON: GEN): Shares of the piping systems manufacturers slipped more than 5% but recovered later after it warned that its profits for the year would be at the lower end of analysts' expectations.
US Markets: The US market is likely to open in green, as indicated by the futures indices. S&P 500 future was up by 44.59 points or 1.19% at 3,797.34, while the Dow Jones 30 future was up by 1.34% or 417.06 points at 31,499.62. The technology-heavy index Nasdaq Composite future was also up by 0.86% or 92.90 points, at 10,952.61. (At the time of writing – 8:51 am ET).
Shares of the beverage maker Coca-Cola (KO) jumped 2.9% in the premarket trading session after it posted estimate-beating third-quarter earnings and sales. The company also raised its outlook for the full year.
Shares of the automaker General Motors (GM) soared 4.4% in the premarket trading session after its expectations-beating profits for the third quarter. The company also said that the supply chain restrictions are easing, which has helped it to raise the inventories on dealer lots.
European Indices Performance (at the time of writing):
FTSE 100 Index One Year Performance (as on 25 October)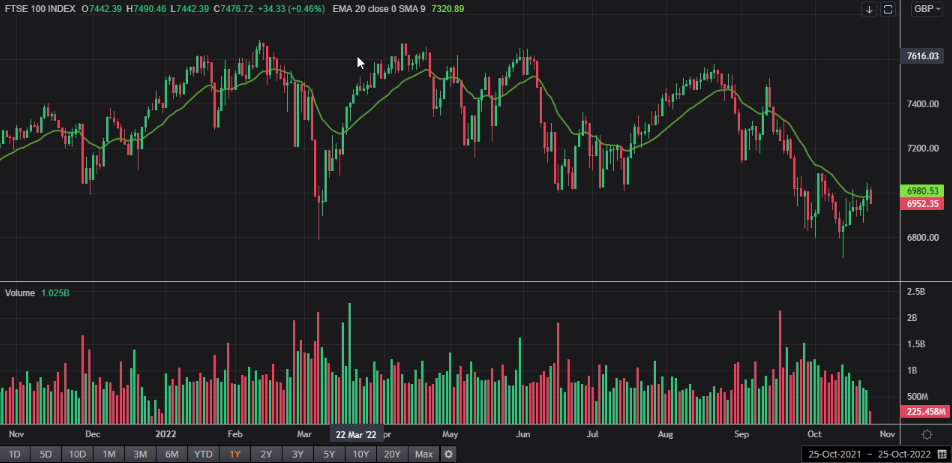 (Source: Refinitiv)
Top 3 Volume Stocks in FTSE 100*: Lloyds Banking Group plc (LLOY), HSBC Holdings Plc (HSBA), Glencore Plc (GLEN)
Top 3 sectors traded in green*: Real Estate (1.25%), Consumer Cyclicals (0.01%)
Top 3 sectors traded in red*: Financials (-2.13%), Basic Materials (-1.57%), Energy (-1.33%)
London Stock Exchange: Stocks Performance (at the time of writing):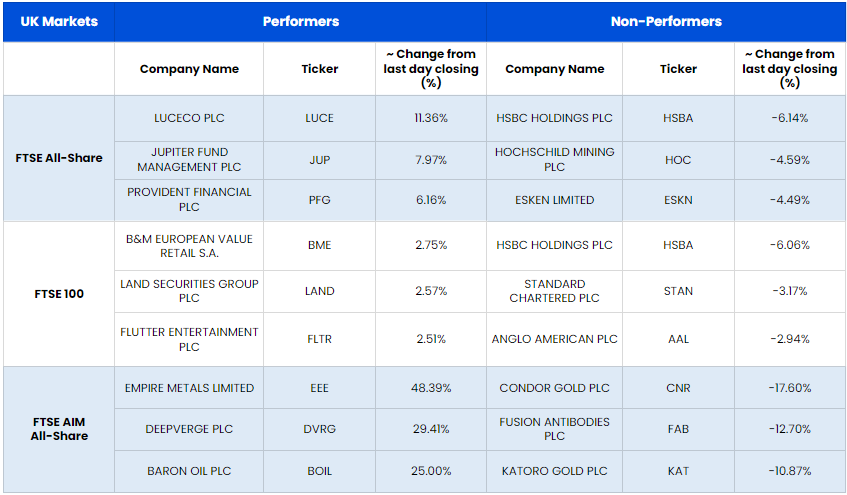 Crude Oil Future Prices*: Brent future crude oil (future) price and WTI crude oil (future) price were hovering at $90.35/barrel and $84.02/barrel, respectively.
Gold Price*: Gold price was quoting at US$1,645.45 per ounce, down 0.52% against the prior day's closing.
Currency Rates*: GBP to USD: 1.1324; EUR to USD: 0.9866.
Bond Yields*: US 10-Year Treasury yield: 4.163%; UK 10-Year Government Bond yield: 3.7235%.
*At the time of writing