US Market News: The major indices of Wall Street traded on a mixed note as investors waited for the critical inflation data to be released tomorrow. Among the gaining stocks, MGM Resorts International (MGM) shares grew by around 1.71% after Bernstein upgraded the Company to "outperform". ViacomCBS (VIAC) shares went up by around 1.54% after the Company planned to revamp its Paramount Pictures unit. Among the declining stocks, Virgin Galactic (SPCE) shares went down by about 2.48% after the Company delayed the first commercial research space mission. TransUnion (TRU) shares dropped by around 2.21% after the Company announced a deal to purchase Neustar for approximately USD 3.10 billion in a cash deal.
UK Market News: The London markets traded in a green zone supported by the banking stocks. Moreover, the crude oil price jumped boosted by top producers raising the demand forecast for the next year.
Primark owner Associated British Foods shares dropped by about 2.21% after the Company posted the weaker-than-expected sales for the fourth quarter at Primark stores. Moreover, the Company had raised the full-year guidance.
FirstGroup shares rose by around 3.06% after the Company had reported encouraging year-to-date trading performance and revealed plans to return significant amount to the investors.
Global cues to watch out amid surging Covid cases
Ascential had completed the acquisition of content optimisation business, OneSpace, in a lucrative deal. Furthermore, the shares increased by around 0.77%.
WH Smith shares grew by around 4.02% after US activist investor Causeway Capital became the biggest shareholder in the retailer Company.
European Indices Performance (at the time of writing):
FTSE 100 Index One Year Performance (as on 13 September 2021)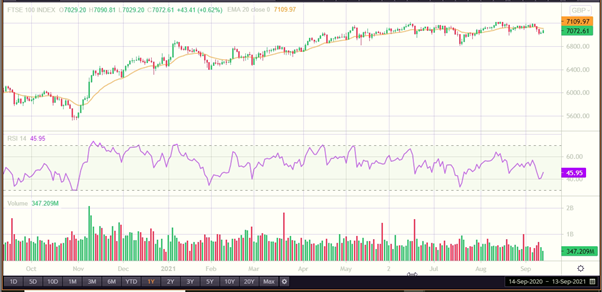 1 Year FTSE 100 Chart (Source: Refinitiv)
Top 3 Volume Stocks in FTSE 100*: Lloyds Banking Group PLC (LLOY); Barclays PLC (BARC); Glencore (GLEN).
Top 3 Sectors traded in green*: Energy (+2.12%), Utilities (+2.01%), Financials (+1.05%).
Top 2 Sectors traded in red*: Healthcare (-0.75%) and Technology (-0.24%).
London Stock Exchange: Stocks Performance (at the time of writing)
Crude Oil Future Prices*: Brent future crude oil (future) price and WTI crude oil (future) price were hovering at $73.41/barrel and $70.36/barrel, respectively.
Gold Price*: Gold price was quoting at US$ 1,794.25 per ounce, up by 0.12% against the prior day closing.
Currency Rates*: GBP to USD: 1.3832; EUR to USD: 1.1802.
Bond Yields*: US 10-Year Treasury yield: 1.319%; UK 10-Year Government Bond yield: 0.7445%.
*At the time of writing