According to a report by Bulb Energy Limited, a challenger energy company, 10 million homes across the United Kingdom are stuck on to the most expensive deals as they are paying their energy bills via standard variable tariffs. The research by the company shows that due to this, consumers in the country have lost nearly £2.2 billion in savings on energy bills this year alone, compared to the price they would have paid if they had switched to a cheaper available deal. The research further reveals that over the course of a year, consumers on standard deals with the Big Six energy suppliers - British Gas, EDF Energy, E.ON, Npower, Scottish Power, and SSE - will pay £220 more, indicating the failure of the government to switch consumers towards better energy plans using free market.
Standard variable rate tariff or standard energy plan refers to the default tariff applicable if consumers have not chosen a new plan when fixed-term tariff contract ends. These tariffs are often more expensive than a fixed-term tariff and can go up and down with the market; as a result, these plans are the first to be impacted when the energy companies announce an energy price rise. These are sometimes referred as evergreen tariffs as there is no set end date and consumers are free to switch to a new deal at any time without facing a penalty as they do not have to pay an exit fee.
The government of former Prime Minister Theresa May passed a bill in July 2018 that effectively put a tariff cap on the 11 million customers on default tariffs, which is to be reviewed twice a year. While Citizens Advice gave a positive response to the cap as a potential way to curb runaway energy costs, energy efficiency measures were advocated by Energy UK, the industry trade body, who said the cap could interfere with competition. Today there is growing number of suppliers in the market, and while the share of the market captured by the big six had declined from 95 per cent in 2012 to 73 per cent of all British domestic electricity and gas in Q1 2019, the energy market is still dominated by these firms. Over the years, the number of suppliers has increased drastically, though few players have started to exit the market as well.
(Source: Ofgem analysis of distribution network operator (DNO) and Xoserve reports)
Representing an increase of more than 20 per cent on the 2012 price, the average price of a standard variable tariff from the largest six suppliers for a typical dual fuel consumer is £1,254 a year or £104.50 a month. However, the difference between the average price of standard variable tariff from the six largest suppliers and the cheapest tariff in the market increased to £408 as the cheapest tariff fell by £27 to £846 from June to July 2019. As suppliers have released cheaper fixed tariffs due to a decline in wholesale costs and standard variable tariff being priced at the level of the cap, the difference between the basket of the ten cheapest tariffs increased from £356 to £364. The analysis of these statistics shows that as consumer pay standard variable tariffs, they have lost around £2.2 billion in savings on energy bills.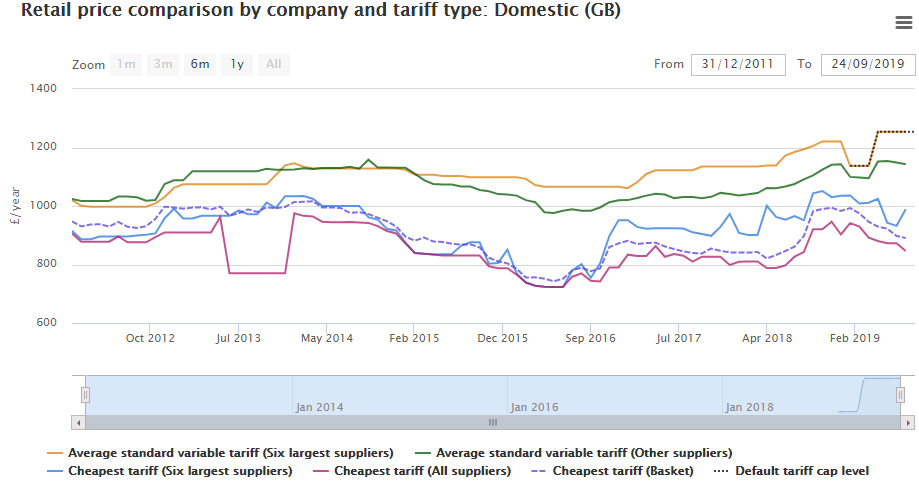 (Source: Energylinx (Until May 2017) & Energyhelpline (June 2017 onwards))
To protect consumers from being overcharged and ensure they pay fairer prices for their energy, Ofgem introduced price caps in January 2019. However, as can be seen in the graph, 'Big Six' are consistently setting their standard tariffs at the maximum allowed, treating the cap as a target and not a limit, though prices are lower than they would be without the price caps. Even though much cheaper tariffs are available in the market, they are vastly under-consumed, and charges for energy quickly matches the limit of the cap, ensuring that the standard variable tariffs are nearly always set by the big six companies at the maximum amount allowed.
When the energy market was privatised, the government hoped that a competitive market would be established, and consumers would switch to save money, but the data suggests that not enough people are willing to change supplier. As suppliers offer a mixture of tariffs to attract or retain customers, consumers are expected to make a choice of a supplier based on preferences, but customers stick to the same supplier and end up paying hundreds of pounds more. A report by the Competition and Markets Authority (CMA) in 2016 showed that British consumers were unnecessarily over-paying up to £1.4 billion a year for their energy supply as a result of not switching, meaning that they are losing out for not being on the best available deal.
Experts have found that reasons for low levels of switching is not the extra time and effort required to switch, but due to limited access to the internet, concern over potential hassle, a lack of knowledge of savings and distrust that bills will not rise again after switching. Moreover, people are putting off moving suppliers as they have had to face a long wait to get a refund or have received incorrect bills, indicating that switching is not as seamless as it is made out to be. Additionally, this is a classic lesson on behavioural economics which shows that the nature of the default option strongly impacts consumer behaviour and there are high chances that they would stick with their default option, without making an effort to change it.
However, there are indications that switching is increasing as gas and electricity switches reached a record high in the month of April 2019. Ofgem said switching began to increase in 2014, and in the twelve months to June 2019, the number of domestic switches for gas was 8 per cent higher, and for electricity, it was 11 per cent higher than the previous year. However, it is clear that the government should encourage consumers to look for a cheaper option by undertaking awareness programmes or entice them into choosing a different supplier.
Is it The Right Time to Invest in Energy Stocks?
In the last one year, the crude oil has come under severe strain, with Crude Oil WTI Futures falling considerably from its high of around $75 to decline to a low of $45, before settling in the range of around $55. Even though the macro environment of the world – with worries over US-China trade dispute and the risk that simmering tensions between Iran and the Western governments could threaten to disrupt the flow of traffic through the Strait of Hormuz – seems conducive for a price rise, other factors at play have stemmed the rise. These include increasing possibility of a slowdown in the world economy, which can reduce the demand for oil around the world, and expansion in global oil supplies by shale gas industry in the US. Moreover, consumers and governments are increasingly switching to renewable and environment-friendly sources of energy. What can investors expect from this and is this a good time to invest in energy sector stocks?
Energy stocks have underperformed the broader market in the last year. While the FTSE 350 Oil & Gas has declined by 8.6 per cent over the year, the FTSE 100 has remained flat with a gain of 0.43 per cent. However, this does not reflect a change in the fundamentals of the industry, suggesting that these stocks are undervalued and thus offer investors a good chance to enter the market with a long-term horizon. The industry had recovered from the slump seen in 2014 when the oil prices touched an all-time low, and shale gas producers have also become less aggressive and seem to show a conciliatory tone.
In order to drive the demand for energy, the need for growth in the world economy can't be discounted. Though warning alarms bells are being sounded by economists regarding a potential downturn in the future, governments and concerned authorities around the world seem to have taken note of this and have sprung into action in the last some time. Recently, the European Central Bank adopted a more dovish monetary stance, which is expected to support the European economy and might push other central banks to follow a similar policy. This augurs well for the future demand for oil.
Recently, Prince Abdulaziz bin Salman bin Abdulaziz al-Saud was appointed as the new energy minister of Saudi Arabia, and he has indicated that the country would continue to co-operate with OPEC and its allies to further support the oil prices by extending production cuts. OPEC+, which includes Russia, has shown continued commitment to prop up the prices of oil and ensure the downfall seen earlier is not repeated. While companies remain cautious, and capital expenditures have not yet recovered in sync with prices in 2018, companies have adapted and streamlined their operations to withstand better to any future pressure, which ensures sustainable growth. Moreover, companies are increasingly investing more in renewable sources of energy, potentially opening new avenues for future growth.
The right opportunity to invest in well-placed stocks has been offered to investors by the recent slump in energy stocks, indicating an attractive time to invest in the energy sector. Investors should focus on stocks that provide lucrative dividend yield and operates an integrated model which better cushions them against any future downfalls. These include Royal Dutch Shell PLC (RDSA), BP PLC (BP), Tullow Oil PLC (TLW) and many more.
With Bank of England reducing the interest rates to a historic low level, the spotlight is back on diverse investment opportunities.
Amidst this, are you getting worried about these falling interest rates and wondering where to put your money?
Well! Team Kalkine has a solution for you. You still can earn a relatively stable income by putting money in the dividend-paying stocks.
We think it is the perfect time when you should start accumulating selective dividend stocks to beat the low-interest rates, while we provide a tailored offering in view of valuable stock opportunities and any dividend cut backs to be considered amid scenarios including a prolonged market meltdown.


CLICK HERE FOR YOUR FREE REPORT!