A crystal oscillator supplier that has proven its resilience and has maintained its margins. The company has also navigated different market conditions faced over the years. While improving its EBITDA margins from 2.9% in FY15 to 10.4% in FY20, the company has delivered sustainable growth and registered a CAGR of 10.41% in gross profit over FY14-FY20. The company's major advantage throughout this pandemic was its customer base. The telecommunications segment is a major part of the company's operations, and because of COVID-19, the reliance on remote communications, reliable telecommunications infrastructure and higher network capacities has increased significantly. The stock of this company has witnessed an increase of ~50% in the span of 3 months while, in the time frame of past 6 months, the stock rose by ~90.24%.
Rakon Limited (NZX: RAK)
Investment Summary:
With the global manufacturing operations largely back to normal, the company seems to be well-placed for rest of FY 2021.
XMEMS™ technology would continue to be developed as well as commercialised and would be more important for longer-term future.
Telecommunications segment witnessed a robust growth, with revenue increasing by 15% in USD terms on the YoY basis.
Rakon Limited is the market leader in the supply of crystal oscillators to the telecommunications, global positioning as well as space & defence markets. The company has three manufacturing plants and 6 Research and Development (R&D) centres. Asia is the biggest market of the company and contributed ~51% of the total revenue in FY20.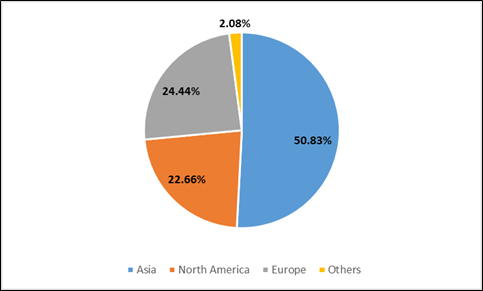 Key Data (Source: Company Reports)
Over the period of five years that is from FY16 to FY20, the company has grown its net income to $4.0 million from a loss of $1.7 million. During the same period, operating income increased to $3.5 million from $1.2 million. The company registered CAGR of 30.68% per cent over the period of FY16 to FY20 in the operating income. The strong growth over the past years is an example of the company's desire for innovation.
Continued Growth in Telecom Sector
For the full-year ended 31st March 2020, the company reported revenue of $119.0 million, up by $5.0 million or 4%, with telecommunications segment increasing by $11.6 million. This was offset by declines of $3.4 million in space & defence and $1.6 million in global positioning. Gross profit stood at $52.0 million, in line with the previous year. Underlying EBITDA stood at $14.8 million as compared to $13.3 million in FY19. FY2020 included favourable impact amounting to $3.1 Mn from adoption of IFRS 16 Leases.
Net debt stood at $7.9 million, up $0.2 million on the previous year and it included a final payment of $2.1 million for the acquisition of the remaining 51% interest in Rakon India.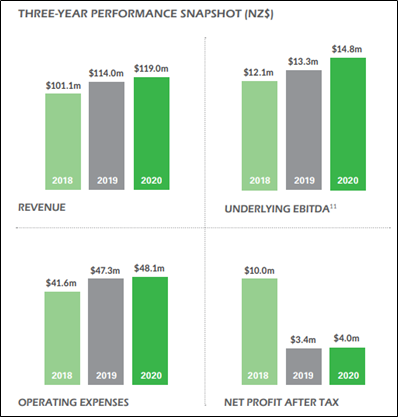 Financial Summary (Source: Company Reports)
Telecommunications
The telecommunications segment is the major contributor to the company's revenue, contributing ~55% to the top-line. In FY20, the telecommunications segment grew strongly, with revenue up 15% in USD terms y-o-y. The 5G segment added 43% of this growth and new 5G products indicated 150% y-o-y growth, mostly out of the NZ plant.
Outlook: The future of telecommunications segment happens to be positive with all 3 mobile operators in China deploying 5G networks, and the ongoing demand for stable, reliable, as well as greater capacity communications networks highlighted by COVID-19.
Space and Defence
The company's space revenue declined by 13% in USD terms, mainly due to the phasing of long-term multi-year projects. The prior year also contained a significant initial order for products going into the first Low Earth Orbit (LEO) satellite network in China. Although overall revenue was lower, European space business increased with some of the company's traditional geostationary satellite business coming back during the year. The defence segment lost some of the gains from the last 2 years, with USD revenue falling 15%.
Outlook: Current bookings suggest some revenue growth in both defence and space, also Rakon India won new contracts for delivering the local Indian market as well as good forward orders for Space OCXOs used in the US satellite application. Meantime, progress continues to be made in the New Space LEO market, but it will take some time for this revenue to grow.
Global Positioning
Revenue from global positioning decreased by 25% in USD terms, mainly because of one customer where high-volume, low-margin business declined. The industrial high precision Global Navigation Satellite System (GNSS) segment was flat, with gains made in 1H offset by lower 2H, the latter being affected by trade issues between the US/China.
Outlook: The company's market share is growing in the high precision sub-segment for low g-sensitivity products, and this movement is likely to be continued. In the high-volume sub-segment, competitive pressures from global positioning module makers in Asia are likely to increase price pressure; however, with the company's alliance with low-cost manufacturer Taiwan-based Siward Crystal Technology Co. Limited, there are expectations that RAK will remain competitive.
Total Revenue by Market Segment (Source: Company Reports)
Consistent Growth Supported by Launch of New Products
During FY20, the company introduced various new products and variants of existing products and also witnessed an increase in the orders for 5G offering. During the year, the company released XMEMS™, a key quartz-based technology for the future products. The company stated that customers are demonstrating preference for the quartz-based products over silicon-based competition, with higher shares awarded to Rakon from the leading Tier One telecommunications customers.
Key Point to Consider
The company is exposed to a number of risks like credit risk, liquidity risk and market risk. The exposure of credit risk arises from cash and cash equivalents, trade receivables and derivative financial instruments. However, the exposure of liquidity risk arises from borrowings as well as other liabilities.
The stock price of the company ended the session at NZ$0.390 per share on September 11, 2020. The company is having a market capitalisation of ~$89.33 million.
The sole motive of an investor is to grow his/her capital over a period to meet financial goals. In pursuit of this, investors are in a constant hunt for stocks that have capital appreciation potential and those that pay dividends, which one can reinvest to further increase the rate of return. Dividends can also be seen as an incentive for an investor to hold the stock for a longer duration of time, especially when the overall market enters a bear phase, or the underlying invested company goes through business troughs and peaks.
Stocks that have high dividend yield are considered to be a safe bet, but to take a blanket call just on dividend yield would be naive, as there is more to be analyzed to make a sound judgment on the ability of the business to keep paying a dividend over long periods.
Companies over time, increase dividend payout, and in the long term, an astute investor can reap high rewards by picking good dividend stocks, across sectors, thus diversifying and reducing the volatility of one's portfolio. Investors in New Zealand can reap the benefit of dividend imputation credit and further increase their overall return on investment.
So, how should one pick a dividend stock? How to invest in stocks that have the wherewithal to not only pay a dividend but also increase dividend payout over the years?
With Kalkine, you will find answers to these questions, as we conduct a detailed analysis of companies based on quantitative and qualitative parameters.
Sound dividend stocks are investors' delight. They provide the benefits of capital appreciation and the joy of constant income despite the market volatility.
CLICK HERE FOR YOUR FREE REPORT!