Highlights

Investors are always on the outlook to add some lower-priced investments to their portfolios.
Me Today to conduct a special meeting in mid-March for seeking approvals for share placement.
Marlborough Wine Estates Group posts an impressive HY22 performance, owing to a jump in its branded premium wine sales.
Penny stocks, also termed as microcaps, though risky and volatile, often allure new and small-time investors to them.
Being cheaply priced, these stocks do not put a burden on pockets and, at the same time, carry the potential to outperform their larger peers by rewarding their shareholders with impressive returns.
Keeping this in mind, let us walk through four popular NZX-listed penny stocks worth considering this year.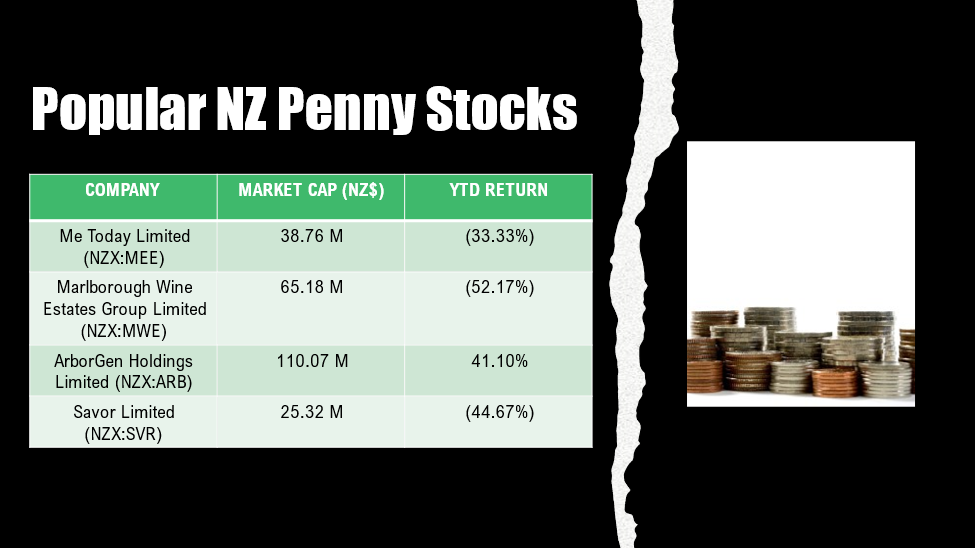 Source: © 2022 Kalkine Media® data source- Refinitiv
Me Today Limited (NZX:MEE)
Me Today Limited will hold a special meeting of its shareholders on 18 March through an audioconference only.
The said meeting has been scheduled to seek approvals pertaining to the placement of additional share capital worth NZ$6 million so as to lessen cashflow pressure on the company.
At the closing bell, on 7 March, MEE gained by 1.96% at NZ$0.052.
Do Read: Which 5 attractive NZX penny stocks ended in green?
Marlborough Wine Estates Group Limited (NZX:MWE)
Marlborough Wine Estates Group Limited has recently released its HY22 financial results, wherein its gross profit and sales revenue jumped by 172% and 35%, respectively, mainly on account of the growth of branded premium wine sales as well as its distribution network.
Also Read: MWE, DGL- 2 NZ wines stocks that can be looked at this weekend
The Group continues to focus on international market expansion and distributing quality wines across all its markets through its global distribution partners.
At the closing bell on 7 March, MWE jumped by 4.76% at NZ$0.220.
ArborGen Holdings Limited (NZX:ARB)
ArborGen Holdings Limited has revised its FY22 market guidance of US GAAP EBITDA to be between US$9.5 million to US$10.5 million, owing to disruption caused by transportation issues and labour shortages.
Meanwhile, ARB aims to deliver the highest Mass Control Pollinated sales this year across the US.
At the closing bell on 7 March, ARB declined by 2.13% at NZ$0.230.
Related Read: ARB, BIT, ARV, BGP- 4 NZX gainers and losers of the day
Savor Limited (NZX:SVR)
Savor Limited, in its Annual Shareholder Meeting, which was held online, has passed resolutions related to the election of Ryan Davis and Louise Alexander as Directors of SVR.
Must Read: Do 5 NZX penny stocks have the potential to turn into multibaggers?
Another resolution was passed for appointing EY as the Company's auditor and empowering its directors to determine the auditor's remuneration.
At the closing bell on 7 March, SVR rose by 1.22% at NZ$0.415.
Bottom Line
A thorough technical analysis and in-depth research are recommended while investing in the share market and picking desired stocks.