Highlights

Penny stocks trade at a low price and have a low market capitalisation.
These stocks are risky as their share prices keep fluctuating.
Bremworth, Wellington Drive, Move Logistics have performed well in FY21.
Penny stocks are low priced and have a low market capitalisation. These stocks can turn a small investment into a treasure but are also considered highly risky and speculative in nature.
Amid this backdrop, let's have a look at how these 5 NZX stocks are performing.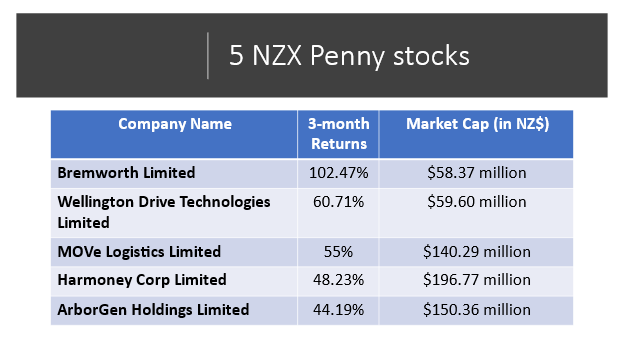 Image source: © 2021 Kalkine Media New Zealand Ltd, Data source- Refinitiv
Bremworth Limited (NZX:BRW)
New Zealand wool carpet and rug business, Bremworth Limited reported increasing sales of wool carpet, a return to profit and robust cashflows in its preliminary FY21 results. The Group's NPAT increased to $1.7 million in the period after BRW reported a loss of $21.5 million in previous year.
The Group exited the synthetic carpet market in May 2021. It also launched a different brand strategy in the second half of 2021 to create demand for Bremworth-branded products and the New Zealand wool carpet category.
Despite the COVID-19 pandemic refusing to die down, the Group plans to return the business, begin a new approach and steer the economic recovery in the period FY21 to FY23.
On 16 September, BRW ended the trading session at $5.78, down 0.34% from its previous close.
Wellington Drive Technologies Limited (NZX:WDT)
A leading IoT company that provides energy-saving, electronically commutated (EC) motors, Wellington Drive, reported an EBITDA surplus of $1.83 million and a revenue of $30.6 million in H1 of 2021, up by $0.2 million and 49.2% on pcp.
ALSO READ: Which are 5 NZX stocks with the highest monthly returns?
The Group also launched Connect™ Monitor in March 2021 and has plans to launch Connect™ Network in November. WDT expects EBITDA earnings to be in the range of $3.5 million to $4.5 million.
On 16 September, WDT ended the trading session at $5.78, down 0.34% from its previous close.
Move Logistics Limited (NZX:MOV)
Transport and logistics provider, Move Logistics, reported a 6% increase in revenue to $353.2 million and a 7% rise in EBITDA to $61.3 million for FY21. The Board was refreshed in July 2021 with more experienced executives in the leadership team.
Consumer demand, government spending, as well as private and public investment, could propel demand in construction and infrastructure. The Group has undertaken a business review for 90 days to define a clear strategic path and reset the business.
On 16 September, MOV ended the trading session at $5.78, down 0.34% from its previous close.
Harmoney Corp Limited (NZX:HMY)
Online personal lender, Harmony Corp announced resilient results for FY21 despite the impact of the COVID-19 pandemic. The Group grew its loan book to more than $500 million after introducing LibraTM 1.7 in Australia in February this year and LibraTM 1.8 in New Zealand in June 2021.
RELATED ARTICLE: Are these 5 NZX dividend stocks apt for retirement?
There was a substantial recovery in originations in the second half of the year. Growing new loan originations, low arrears and strong margins are important lead statistics for receivables and revenue growth in FY22.
On 16 September, HMY ended the trading session at $5.78, down 0.34% from its previous close.
ArborGen Holdings Limited (NZX:ARB)
ArborGen is engaged in the forestry genetics business. The group reported a strong FY21 despite COVID-19-related problems and posted a record EBITDA of $5.4 million. However, it witnessed a 10% drop in seedling sales to 391 million units.
GOOD READ: How are NZX dairy stocks coping with Delta outbreak?
The Group now has orders for over 90% of ARB's seedlings sales plan for the current year.
The Company targets an EBITDA between US$13 to $14 million in FY22 with global carbon markets providing significant growth prospects.
On 16 September, ARB ended the trading session at $5.78, down 0.34% from its previous close.
Bottom Line
These stocks have an optimistic growth outlook with the market looking more positive than before. However, any unexpected events related to COVID-19 can hinder growth of these companies.
(NOTE: Currency is reported in NZ Dollar unless stated otherwise)