Highlights

Penny stocks trade at a low price and are associated with small companies.
WDT has projected revenue growth of nearly 25% to US$60 million in FY22.
ARB expects US GAAP EBITDA between US$11.3 million to US$11.7 million for FY22.
Penny stocks are those stocks that trade at a very low price, usually below $1 and are offered by the companies that have low market capitalisation. There are several penny stocks that can be picked by investors but only a few stocks turn out to be favourable for investors.
Investors can hold many shares due to super low prices of shares. However, penny stocks are highly risky and speculative.
On this note, let's skim through the performance of these 3 penny stocks trading under NZ$1.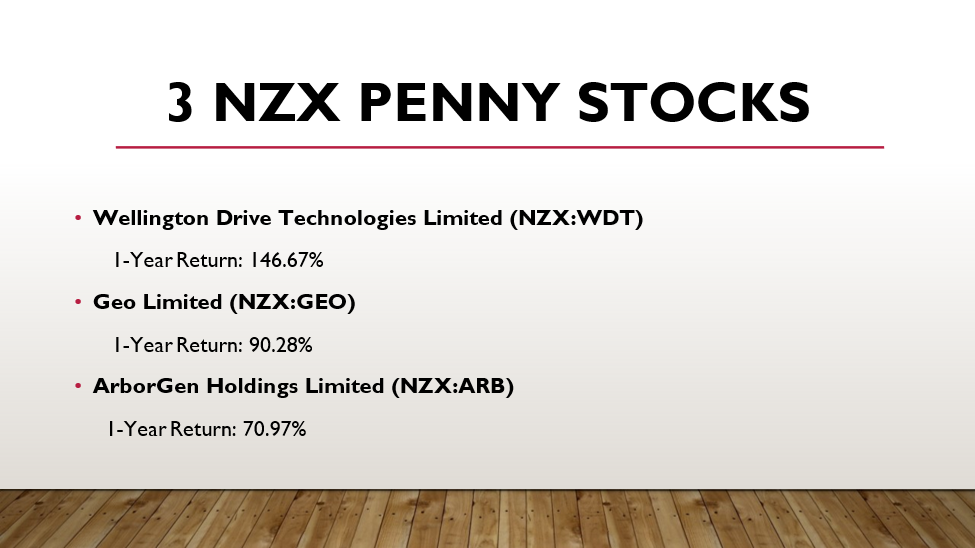 Image source: © 2021 Kalkine Media®, Data source- Refinitiv
Wellington Drive Technologies Limited (NZX:WDT)
Wellington Drive shares have generated a 1-year return of 146.67%,
The Group notified on 15 December that it expected revenue to be nearly US$47 million and an EBITDA of roughly $3.9 million for FY21 despite being affected by production constraints and escalated costs.
RELATED READ: Which are the 4 fastest growing NZX stocks to explore in 2022?
WDT's redesigning of key products and adding capacity to its Vietnam factory by its manufacturer can help in fulfilling customer demand in FY22. Revenue is also likely to keep growing in FY22 with a projected growth of nearly 25% to US$60 million.
WDT ended the day 2.78% in green to close at $0.185.
Geo Limited (NZX: GEO)
Geo's shares have delivered a return of 90.28% in the past 1 year.
The Group reported that its EBITDA loss reduced by 36% to $0.8 million and operating & investing cash outflows improved by 11% to $1.3 million in FY21. Geo registered a 286% rise in new customers and a 107% increase in new customer ARR in H2 of FY21.
ALSO READ: Why to explore 5 NZX technology stocks ahead of 2022?
Geo recently completed both its second-tranche placements approved by shareholders in November along with another placement that happened in October. This concluded its capital raising of $7 million.
Geo is aiming for 40-50% ARR growth on increasing marketing expenses and expanding partner channels in FY22.
GEO ended the day 0.74% in green to close at $0.137.
ArborGen Holdings Limited (NZX:ARB)
ArborGen shares have delivered a return of 70.97% in the past 1 year.
ArborGen reported a 59% rise in its revenue in the US and Brazil at $4.6 million and a net loss of $0.5 million, excluding its ANZ business in H1 FY22.
DO READ: Which are 5 best NZX dividend stocks for 2022?
The Company completed the sale of its Australia and NZ businesses to ArborGen ANZ Limited Partnership for $22.25 million on 30 November. As part of the sale process, the Board issued 254,629 RSU's for its GM of ANZ operations, Mr G Mann on completing the transaction.
ARB expects US GAAP EBITDA between US$11.3 million to US$11.7 million for FY22, subject to the COVID-19 situation in the US and supply chain impact.
ARB ended the day 6% in green to close at $0.265.
Bottom Line
Penny stocks may appear tempting, but investors should consider factors like the company's growth path, revenue trajectory, etc., before making any investment.
(NOTE: Currency is reported in NZ Dollar unless stated otherwise)