Highlights

National Party and Labor government have come together to work on creating new housing density rules.
New rules will permit people to build homes of up to 3 storeys without any resource consent.
Proposed changes can raise concerns regarding the condition and suitability of new houses being built.
For more than a decade, New Zealand has been mired in a housing crisis. Its two largest cities, Wellington and Auckland, feature among the world's most expensive housing markets.
On 19 October, the Labour administration and the National Party jointly announced steps that will allow Kiwis to develop up to 50% of their property and build three-storey houses without the requirement for municipal approval.
This is in contrast to district designs which generally only allow two-story residences.
The legislation will increase housing supply in Auckland, Tauranga, Wellington, Christchurch, and greater Hamilton.
Let's cast a glance at how these 3 REITS are faring amid the announced housing plans.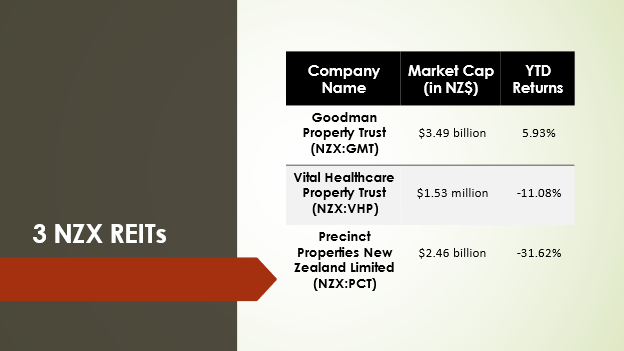 Image source: © 2021 Kalkine Media, Data source- Refinitiv
Goodman Property Trust (NZX:GMT)
According to Goodman Property's draft valuation assessment, GMT's property portfolio will earn over $500 million in the first half of 2021.
RELATED READ: Would 5 NZX REIT stocks thrive with boost in housing supply?
According to GMT's CEO, the analysis showed strong property fundamentals and rising investment for warehouses and logistics industry assets. The portfolio revaluation will provide 36cpu to GMT's Net Tangible Asset backing.
On 22 October, GMT ended the trading session at $2.5, down 0.4% from its previous close.
Vital Healthcare Property Trust (NZX:VHP)
On 19 October, NorthWest Healthcare Properties Management, Vital's manager, announced the opening of the $25 million unit purchase plan (UPP). The UPP is part of a $140-million capital raising strategy, with VHP aiming to undertake $115 million placement of new units.
DO READ: How are NZ banks faring in October post OCR increase?
VHP reported on Wednesday that 39,655,172 units had been allocated.
On 22 October, VHP ended the trading session at $2.93, up 0.34% from its previous close.
Precinct Properties New Zealand Limited (NZX:PCT)
On 21 October, Precinct announced that its upcoming annual meeting would be held online only considering present restrictions on gatherings and health and the safety of PCT's stakeholders and people.
ALSO READ: Why to consider 4 NZX infrastructure stocks before 2022?
Details on online participation have been given in a virtual guide and users will need the latest version of Chrome, Safari, Firefox or Edge.
On 22 October, PCT ended the trading session at $1.625, down 0.61% from its previous close.
Bottom Line
As per PwC modelling, new restrictions will result in the construction of 48,200 to 105,500 additional houses over the next five to eight years.
Though increasing density is a good step that will also help in reducing greenhouse gas emissions, concerns may be raised on the condition and suitability of new houses being built.
(NOTE: Currency is reported in NZ Dollar unless stated otherwise)