Summary

Impact of coronavirus pandemic and subsequent shutdowns on the housing market has now begun to show.
June 2020 QV HPI (House Price Index) showed that property values fell by 0.2% and were down in 4 of the 6 main centres.
While listings and demand to buy are at usual levels, agent appraisals have begun to diminish for winter season.
Market resilience would depend on returning kiwis and tourists who would feed buyer and tenant demand, low-interest rates, and reduced unemployment.
Tough times might be ahead for homeowners who could come under financial pressures when government wage subsidy and mortgage holiday ends.
Though NZ became successful in moving down COVID-19 alert levels much earlier than other countries of the world, the housing market has now begun to reflect the impact of COVID-19 induced shutdowns.
Housing market impacted by COVID-19
As per June CoreLogic QV HPI (House Pricing Index) this year, the ill effects of coronavirus, and subsequent economic shutdowns on the property market are becoming evident. The property values fell 0.2% as per index results and were down in 4 of the 6 main centres.
Queenstown witnessed the greatest plunge in values in June by 2.1% due to its substantial dependency on the severely hit tourism industry. Tauranga and Christchurch were 2 main centres to witness values hold up, though the rise was of meagre 0.2% each. Nelson, Napier, and Rotorua experienced modest growth in property values in June.
June numbers reflected Dunedin property values to fall by 0.9%, which is the largest decline of the main centres and a reversal in fates for the student city after dependably robust annual value growth of over 20% earlier in 2020. There was a halt in arrival of foreign students to the nation, and domestic students were studying from home due to which rental demand was affected.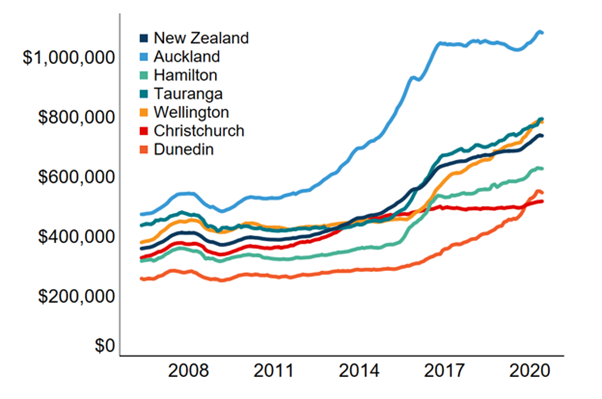 Source: CoreLogic
Future outlook of the property market
Of late, listings and buyer demand seem to be coming back to a level of seasonal normality. Demand for property stays elevated, suggesting better presence at open homes while agent appraisals have begun to diminish for winter.
Though for sale, listings have witnessed a slight lift in June, a pause is expected in winter season. Further, upturn in consumer sentiment combined with low-interest rates are factors that weigh towards a positive outlook. Negative interest rates remain unlikely at least until next year, and only if economic environment deteriorates. However, mortgage interest rates of 2% are a real likelihood in 2021.
Lower affordability because of robust growth in property values, as well as the current rise in property investor activity are some of the aspects to be taken into consideration for the future outlook though the local economy, improved by the building of new hospital offers cause for optimism in longer duration.
Further, rental listings are expected to stay at levels below that were observed in prior years, indicating a readiness amongst property investors to hold a property unfilled in COVID-19 period, expecting things to get better.
Strict lockdown measures and policy support by the government, combined with a downward revision in unemployment predictions, have softened the impact of coronavirus. The emphasis remains on how the coming months would unfold when homeowners roll off their adjusted loan payment plans and the government ends its wage subsidy program. The housing market is also expected to rely on people returning or visiting the nation over the next few months that will feed demand.
Fletcher Building Limited (NZX:FBU)
Fletcher Building manufactures, distributes, and sell materials for the building industry including wood fibre-based products, cement, plasterboard, etc, and operates primarily in New Zealand and Australia.
Shares of FBU have provided return of 9.2%, from a low point of $3.15 on 23 March to $3.44 on 13 July. On 14 July, FBU was at $3.35, down by 2.62% from its last close.
As per an update dated 1 July, Fletcher had been contracted to build the motorway between Puhoi and Warkworth by the contractor- Northern Express Group (NX2), with a new planned opening date decided as mid-May 2022, which was a consequence of positive discussions about how to cope with the effects of coronavirus shutdown with Fletcher.
The agreement includes payment of $85 million to FBU to cover cost delays and related impacts resulting from 5 weeks coronavirus shutdown. The motorway was scheduled to open at the end of 2021, but COVID-19 Alert Level 4 lockdown in April caused almost 5 weeks of the earthmoving season to be lost.
Fletcher notified on its intention to cut around 1k workforce in May indicating a wave of reductions in pay and working hours. Further, leaders at top positions with financial stake in the Company have been pro-shareholders.
Fletcher spent US $300 million in share buyback in 2019, which increased the value of shares for remaining shareholders including shares held by a large number of senior executives and board members. The $300 million funds could have been utilised for unforeseen events in the future. The Company suspended its on-market share buyback program in March 2020.
Fletcher acknowledged about $67.7 million in wage subsidies from the government. However, Ross Taylor, Chief Executive of Fletcher, stated that FBU would refuse any further government assistance due to its strong independence.