Source: Peshkova, Shutterstock
Summary

NZ has announced the opening of quarantine-free flights to Australia from 4th week of April 2021.
Travellers must download NZ COVID Tracer app and follow necessary precautions.
With opening of the Trans-Tasman route, the NZ tourism sector is looking for an economy boost amid the pandemic.
Jacinda Ardern, New Zealand's Prime Minister, on 6 April announced the opening of 2-way flight routes to Australia w.e.f. from 18 April 2021 from 11:59 pm onwards.
The move was welcomed by the Aussie government. However, flyers have been warned in case, of any hindrance and have been asked to prepare beforehand, considering the uncertainties hovering around COVID-19.
All the travellers are required to wear masks on flights and have been mandated to download and use NZ COVID Tracer app. Flyers would also be undergoing random temperature checks upon arrival to Aotearoa. Also, Ardern warned that any Australian with cold/flu-like symptoms would not be allowed to board the flight.
Air NZ has already scheduled daily flight routes to Auckland, Melbourne, and Sydney. Qantas and Jetstar are expected to follow the same in the coming few days.
With the opening of the Trans-Tasman bubble, travellers across both countries are elated, as they would be able to visit their family and friends, which otherwise was kept on hold for almost a year.
Moreover, this will provide a boost to the nation's tourism sector, which was hard hit by the lockdowns and restrictions. It is anticipated that this move would inject about $1 billion in the NZ economy.
Source: © Coki | Megapixl.com
With this backdrop, let us now turn towards the 4 NZX stocks related to the travel and tourism sector.
Air New Zealand Limited
Air New Zealand Limited (NZX:AIR) is pleased with the NZ government's announcement of the opening of the trans-tasman bubble from 19 April 2021.
The Company was expecting the news for past few days and had hence called back its crew of 330 members and speeding up with their trainings. It is also decking up its airports and lounges in anticipation of the flyers.
The airline will now be resuming flights to 9 regions in Australia and the flight tickets are on sale now.
With the opening of the Trans-Tasman flight routes, New Zealand is hoping for a revival in its tourism sector, which was earlier put on hold because of the pandemic.
On 7 April, Air New Zealand ended the day's trading session, down by 0.82% at $1.810.
Auckland International Airport Limited
Auckland International Airport Limited (NZX:AIA) had recently provided a monthly update on its traffic. In February 2021, AIA witnessed a decline of 71% in its total passenger volumes. Due to the non-operation of flights and closure of the country's borders, international passengers decreased by 96.9%.
Further, domestic flights were severely impacted with the lockdowns and restrictions being imposed again across the nation in the month of February. As a result, a decrease of 41.4% was seen in the domestic flyers segment.
On 7 April, Auckland International Airport ended the day's trading session, down by 0.65% at $7.700.
Tourism Holdings Limited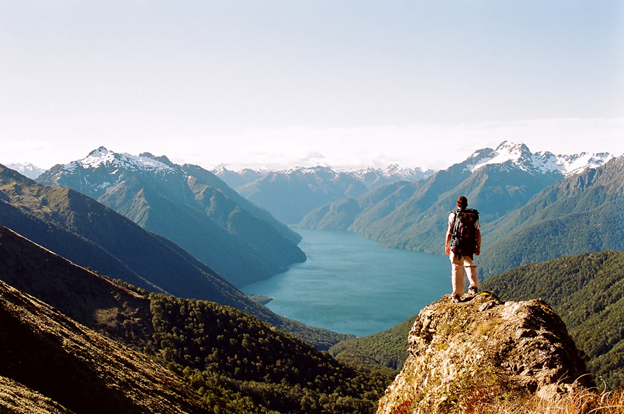 Source: © Hugoht | Megapixl.com
Tourism Holdings Limited (NZX:THL) is an international tourism operator that made acquisition with Grant Brady, its JV partner, to take up the remaining 50% stake in Action Manufacturing (Action).
It is pointed out that Action is Aussie's prime quality vehicle specialiser and had previously functioned as a JV partner between THL and Grant Brady's Alpine Bird Manufacturing.
The acquisition of Action was valued at $9 million purchase price, which shall be paid by THL by way of issuing 3,260,870 ordinary shares, worth $7.5 million to Alpine Bird Manufacturing, and rest of the money is expected to be paid in cash.
Rob Campbell, THL Chair, opined that Action has huge growth prospects in the country and is an integral part of THL's 'Build – Rent – Sell' model.
On 7 April, Tourism Holdings ended the day's trading session, down by 2.21% at $2.660.
Serko Limited
Serko Limited (NZX: SKO) is a major online travel booking and expense management company. With easing out of restrictions and lifting of lockdowns, the Company saw a rise in its transaction volumes with about 68% as compared to the ones recorded in March 2019.
With businesses coming back to normal, SKO anticipated travel transactions by March 2021 at 40%-70% of pre-Covid times.
With the spread of inoculation programmes across the nation and the opening of Trans-Tasman flights, Serko is hopeful of upwards trends in its travel volumes and enhanced business operations in future.
On 7 April, Serko ended the day's trading session, down by 3.29% at $6.760.
(NOTE: Currency is reported in NZ Dollar unless stated otherwise)