Summary

The economic progress of any country is determined by its industries.
Industrial stocks are poised for growth and are generally good dividend payers.
NZX10 index comprises the top 10 largest companies listed within New Zealand.
The industrial sector is the backbone of the country. It comprises those companies which produce/manufacture machinery, equipment and supplies used in construction, manufacturing or defence industries. These companies are known as industrial stocks.
Some of the most common examples of industrial services are as mentioned below: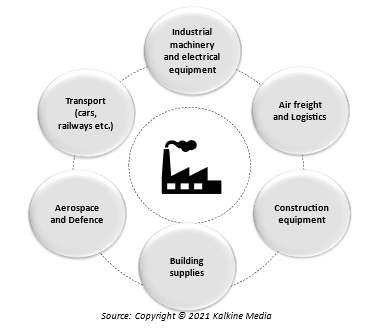 Why should one invest in industrial stocks?
Poised for growth: Industrial stocks drive the economy. When the country's economy progresses, industrial stocks, too, continue to gain strength. Therefore, it is easy to find high-growth stocks in this sector.
Easy to read: Industrial stocks being cyclical, are directly related to growth. Hence, when the economy is flourishing, industrial stocks too are booming, and vice-versa. Therefore, this direct relationship between the country's economic development and industrial stocks makes it easier for new investors to plan their entry and exits.
Dividend payers: Industrial stocks house many dividend-paying stocks. And it is the dream of investors to invest in dividend stocks and earn income from them.
Source: Copyright © 2021 Kalkine Media
NZ industrial sector: a major contributor to the country's GDP
As per reports, in 2017, the industrial sector's contribution to New Zealand's GDP was 20.43%. Other sectors like agriculture and services sector contributed 5.81% and 65.18%, respectively.
Some of the top NZ companies operating in the industrial sector include:
A peek into some of the top NZ industrial companies
Let us quickly cast a glance at some of the best and most lucrative industrial companies operating in the Kiwi land.
Auckland International Airport Limited (NZX:AIA; ASX:AIA)
With a market capitalisation of more than NZ$11 billion, Auckland International Airport Limited is the prime gateway to New Zealand and is the 3rd busiest international airport in Australasia. The wider purlieu of AIA comprises commercial office space, world-class business park, warehouse, hotels, and leisure facilities, etc.
On 15 June, Auckland International ended the trading session up by 0.67% at NZ$7.48.
Read: Weekend wrap-up: Look at the 6 most traded NZX stocks today
Rakon Limited (NZX:RAK)
Headquartered in Auckland, Rakon Limited operates as a leading manufacturer across the globe for timing solutions and frequency control products.
The Company reported a power-packed performance in FY2021. Driven by 5G momentum and sustained growth in telecommunications earnings, RAK posted a revenue of $128.3 million and an NPAT of NZ$9.6 million during the said fiscal year.
On 15 June, Rakon ended the trading session flat at NZ$0.89.
Recommended Read: Earnings Season: 5 NZX Stocks Declare Results
Scott Technology Limited (NZX:SCT)
Established in Dunedin, Scott Technology Limited is famous for its automation & robotic solutions, which increase productivity and yield as well as ensure workers safety across various industries like meat processing, mining, material handling, logistics, appliances, and industrial automation, etc.
As the international markets are beginning to recover from the devastating pandemic, Scott had recently released a market update on securing several significant multi-million dollar projects across Europe, the US, China, and Australia.
On 15 June, Scott Technology ended the trading session flat at NZ$2.58.
Must Read: What is driving the 6 stocks to shine or wane on the NZX?
Mainfreight Limited (NZX:MFT)
Spread across 26 countries and with about 297 branches worldwide, Mainfreight Limited is one of the largest freight companies in New Zealand. MFT is a specialist freight forwarding and distribution business company, which also manages warehouses and boasts a global supply chain team.
Recently, MFT's American region's head, John Hepworth, announced his retirement towards September end 2021. The Company will soon announce his successor.
On 15 June, Mainfreight ended the trading session up by 0.01% at NZ$74.3.
Also Read: Why are these 6 NZX stocks creating a buzz today? TWR, AMP, KFL, BRM, MFT, SKC
What is NZX 10?
NZX 10 measures the performance of the 10 biggest New Zealand companies listed within the S&P/NZX 50 Index, which is New Zealand's benchmark index and calculates the performance of the top 50 largest stocks on the NZX.
On 15 June, by the end of the trading session, S&P/NZX10 was at 12,324.280 points, rising by 1.37%.
Which sectors comprise NZX 10
Below is the sector-wise breakup of NZX 10.
The Healthcare sector weighs the largest with 30.2% of the index, followed by utilities and industrials at 24.2% and 20.3%, respectively.
The other sectors constituting NZX10 are communication services (11.2%), material (8.2%) and consumer staples (5.8%).
Must Read: What is NZX, and what are NZX50 companies?
The following are the top 10 holdings as of 31 May 2021: