Highlights

Transportation stocks are crucial for unwinding supply chain disruptions.
Mainfreight is optimistic for the future with increased freight volumes and improved business performance.
Auckland International Airport expects a solid recovery of air travel with the reopening of the country's borders.
The ongoing pandemic has paralysed the international supply chain, with businesses of all sizes struggling to successfully navigate through them.
Transportation stocks, which play an important role in reducing supply chain disruptions, thereby helping bring prices back down to earth, have fascinated investors.
That said, let us skim through three NZX-listed popular transportation stocks that help battle supply chain backlogs.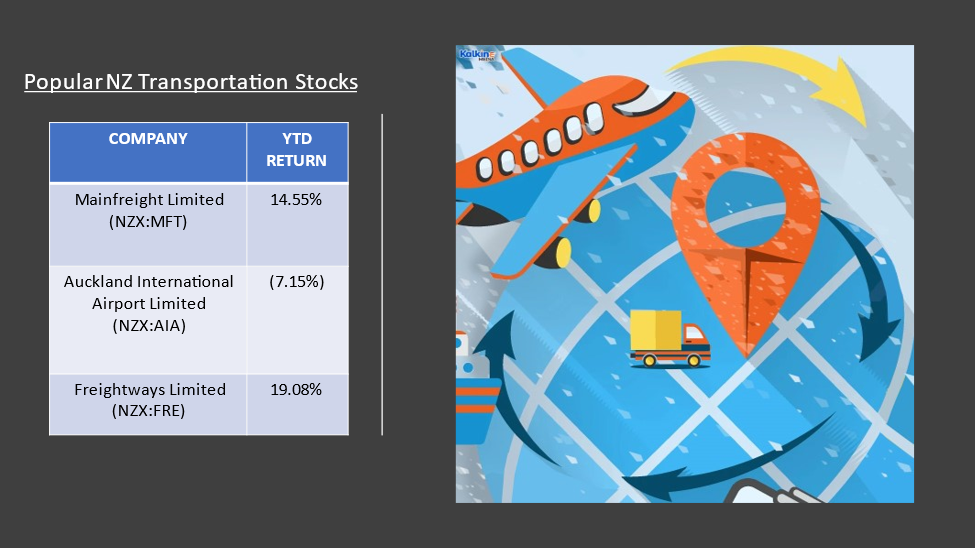 Source: © 2022 Kalkine Media® data source- Refinitiv
Mainfreight Limited (NZX:MFT)
NZ's leading business comprising of supply chain logistics is Mainfreight Limited. The Company has revealed that in spite of supply chain congestion, both domestically as well as globally, MFT maintains a positive outlook as it continues to witness increased freight volumes and improved business performance across its Asian, European and American businesses.
Moreover, Mainfreight focuses on meeting its customer service requirements, along with following necessary safety protocols.
At the time of writing, on 7 March, MFT was down by 3.12% at NZ$79.930.
Do Read: FRE, MFT: How are they faring in 2022?
Auckland International Airport Limited (NZX:AIA; ASX:AIA)
Auckland International Airport Limited has recently announced its FY22 interim performance, wherein its revenue stood at NZ$126 million, down by 4% and operating EBITDAFI of NZ$60 million, a decline of 31% on pcp.
Must Read: Earnings Season: AIR, SKT & 2 others declare half-year results
Moreover, the Company incurred a net underlying loss after tax of NZ$11.5 million, majorly because of the challenging conditions arising from the outbreak of the Omicron variant and continued border restrictions.
However, AIA expects a solid recovery of air travel across overseas markets with the removal of isolation requirements pertaining to travellers.
At the time of writing, on 7 March, AIA was declining by 0.70% at NZ$7.140.
Freightways Limited (NZX:FRE)
Freightways Limited is a leading name in package and business mail services across the country. A few days ago, the Company had published its HY22 results, wherein its revenue, EBITA and NPAT, grew by 7.7%, 5.6% and 7.4%, respectively, underpinned by solid recovery after COVID-19-related lockdowns.
Interesting Read: Why did Freightways (NZE:FRE) shine despite supply chain disruptions?
On 1 April, FRE will distribute 18.0 cps as interim dividend and is well placed to optimise its business opportunities bolstered by loyal customers, a strong balance sheet and customer-centric teams.
At the time of writing, on 7 March, FRE was down by 0.33% at NZ$12.160.
Bottom Line
NZ transportation stocks are focused on delivering enhanced long-term value to all its stakeholders by undertaking various short-, medium-, and long-term initiatives.