Highlights

Growth stocks are the companies that are anticipated to grow at a faster rate than the industry growth rate.
Steel and Tube Holdings provided its employees with an incentive scheme on Friday to become vaccinated against COVID-19 before 15 November.
NZME revealed that it might get involved with global digital platforms immediately for fair payment for its news content.
A growth stock is the stock of a company that demonstrates high potential and expects to grow earnings more rapidly than the industry average. These stocks typically trade at a high P/E ratio and typically do not provide dividends as these companies reinvest their earnings into the business.
However, investing in growth stocks can prove to be risky as investors might have to bear a loss if the company does not do well at the time of stock sell.
Let's glance through the performance of these 5 NZX growth stocks.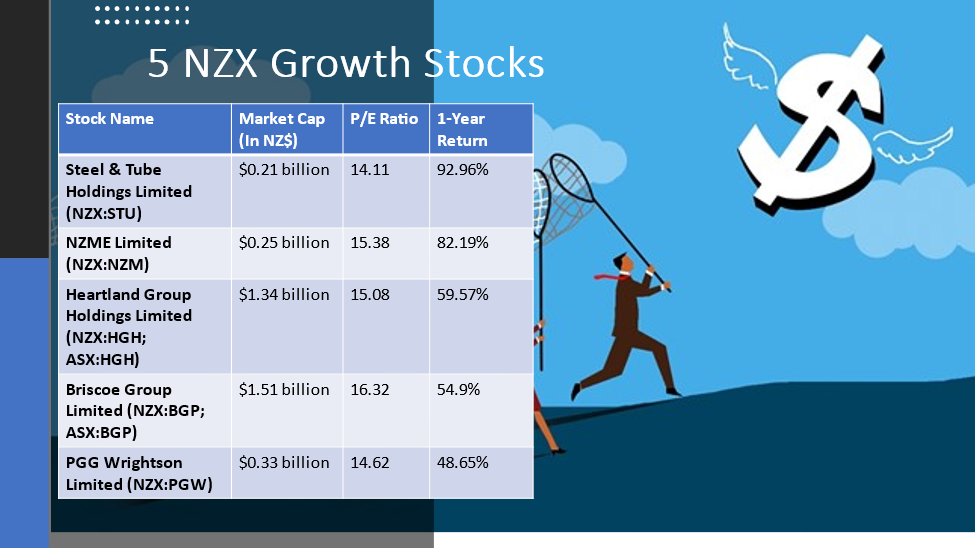 Image source: © 2021 Kalkine Media, Data source- Refinitiv
Steel & Tube Holdings Limited (NZX:STU)
New Zealand's leading provider of steel products and services, Steel and Tube Holdings, provided its employees with an incentive scheme on Friday to become vaccinated against COVID-19 before 15 November.
ALSO READ: How are 5 NZX retail stocks doing amid sharp rise in imports?
Employees were given an incentive in the form of STU's shares. This comprised providing financial assistance related to the purchase of STU shares.
STU ended the day 2.22% in green to close at $1.38.
NZME Limited (NZX:NZM)
Integrated media company NZME revealed on Friday that the News Publishers Association had filed an application with New Zealand Commerce Commission (NZCC) to get consent to collectively bargaining with Google and Facebook for fair payments for the news published on their websites.
RELATED READ: How have 5 NZX retail stocks been faring amid falling sales?
NZME is also engaging directly with Google and Facebook for fair payment for accessing its editorial content. It also stated that it would choose on its own discretion on participating in the collective bargaining scheme while NZCC analyses the application.
NZM ended the day 3.1% in green to close at $1.33.
Heartland Group Holdings Limited (NZX:HGH; ASX:HGH)
Heartland delivered an NPAT of $87.9 million, excluding the impact of a one-off payment, in FY21, up by $11 million in FY20. The Group also increased its finance receivables by 8% to $5 billion during the year.
DO READ: A look at 5 NZX banking stocks as RBNZ cast rate hike
HGH's absolute reported GHG emissions for FY20 were 17% lower than the emissions for FY19. The total dividend for the year stood at 11cps.
HGH ended the day 0.45% in green to close at $2.25.
Briscoe Group Limited (NZX:BGP; ASX:BGP)
Leading homeware and sports goods retailer, Briscoe, posted a strong trading performance with its total group sales rising by 9.52% to $496.9 million for the 39 weeks to 31 October 2021. The Group had begun Q3 on a strong note, but the period of return to normalcy came to a halt after another lockdown was imposed on 18 August 2021.
Related Read: Which 4 NZX Retail stocks have online shopping platforms?
The Group expects its NPAT to be greater than last year's $73.2 million and up to $85 million.
BGP ended the day flat at $6.8.
PGG Wrightson Limited (NZX:PGW)
Agricultural supply company, PGG Wrightson, delivered a strong trading performance in Q1 FY22. PGG expects the FY22 operating EBITDA to be in line with its EBITDA of $53 million in 2020.
The Group will provide an updated forecast on the same after its half-year results are out in February 2022.
PGG ended the day 0.23% in green to close at $4.4.
Bottom Line
Investors need to properly analyse companies and present conditions in which the company is operating before purchasing growth stocks.
(NOTE: Currency is reported in NZ Dollar unless stated otherwise)