Highlights

Nationwide consumer spending slumped significantly during the quarter ended September 2021, majorly because of the lockdown imposed in the Auckland region.
The Warehouse Group to pay an impressive dividend next month, owing to its solid performance.
Hallenstein Glasson Holdings to conduct its Annual Meeting on 21 December.
As per the latest report by Stats NZ, consumer spending across the nation declined in the September 2021 quarter, majorly influenced by a significant drop in Auckland's retail sales.
The total sales dipped by 7% to NZ$2 billion when compared to the previous quarter, cites the report.
Further, the Auckland region witnessed a record fall of 15% in its sales owing to the lockdown situation across the city, which was imposed for more than 90 days.
With the above overview, let us explore the five NZX retail stocks.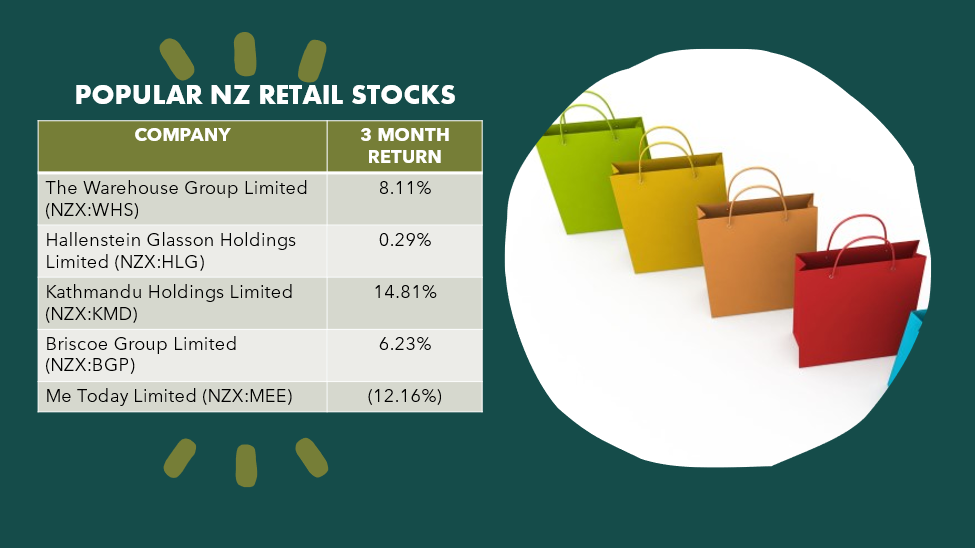 Image source: © 2021 Kalkine Media, data source- Refinitiv
The Warehouse Group Limited (NZX:WHS)
The Warehouse Group Limited had reported its Q1 FY22 sales a few days back. The Group sales clocked NZ$630.7 million, a dip of 14.6% on pcp.
However, digital sales jumped by 118.2%, which constituted almost 30% of the entire Group sales.
Related Read: Which 4 NZX Retail stocks have online shopping platforms?
Further, WHS launched its new loyalty programmes, namely New MarketClub and MarketClub+, in October.
The Group has confirmed a final dividend of 17.5 cps, payable on 3 December, thus bringing the total dividend for the year to 35.5 cps.
On 24 November, at the time of writing, The Warehouse Group was trading flat at NZ$4.000.
Hallenstein Glasson Holdings Limited (NZX:HLG)
Hallenstein Glasson Holdings Limited is a renowned retailer of menswear and womenswear. It has notified its shareholders of planning to hold a hybrid Annual Meeting on 21 December, i.e., the meeting would be held both in-person as well as online.
Do Read: Hallenstein (NZX:HLG): How did Hallenstein Brothers segment perform in annual results?
However, it may elect to conduct the said meeting virtually, subject to the ongoing pandemic situation.
On 24 November, at the time of writing, Hallenstein Glasson Holdings fell by 0.57% at NZ$6.97.
Kathmandu Holdings Limited (NZX:KMD; ASX:KMD)
Known for offering quality clothing and sports equipment is Kathmandu Holdings Limited. On 23 November, the retailer organised a virtual Annual Shareholder Meeting, wherein resolutions were passed for the election of Michael Daly and Abby Foote as well as for the re-election of David Kirk as Directors of the Company.
Must Read: Kathmandu (NZX:KMD): Its online sales soars amid pandemic in Q1 FY22
Moreover, another resolution was carried out for empowering the Board to determine its auditor's fees and expenses.
On 24 November, at the time of writing, Kathmandu Holdings was unchanged at NZ$1.550.
Briscoe Group Limited (NZX:BGP; ASX:BGP)
One of the famous retail stores of NZ is Briscoe Group Limited. Recently, the Group published its Q3 sales report.
Related Read: How did Briscoe (NZX:BGP) perform in third-quarter 2021?
BGP reported a robust trading performance, with its total Group sales climbing by 9.52% to $496.9 million.
Further, online sales represented a growth of 38% of all the sales during the quarter.
The Group anticipates an NPAT between NZ$73.2 million and NZ$85 million, based on Q3 results.
On 24 November, at the time of writing, Briscoe Group was up by 0.73% at NZ$6.870.
Me Today Limited (NZX:MEE)
Another retailer focusing on health and wellness products is Me Today Limited. When the Company held its Annual Meeting, its shareholders voted in favour of empowering MEE's directors to determine the remuneration of its auditors.
The said resolution was supported by the Board too.
On 24 November, at the time of writing, Me Today dipped by 1.54% at NZ$0.064.
Bottom Line
NZ retail companies have been impacted by lockdown restrictions across the country; however, with the ease of restrictions, they look optimistic.