Asset Management Companies, also known as AMCs, are companies that invests the funds collected from the investors in different securities with the aim of best possible returns. The performance of an AMC is closely related to the sectors in which it has exposure to. As of March 31, 2020, this company's portfolio has 30% exposure to healthcare, 29% exposure to industrials as well as 20% exposure to consumer staples. The stock of this company has delivered a return of ~25.16% in the span of 6 months. However, in the past 3 months, the stock rose by ~14.54%.
Kingfish Limited (NZX: KFL)
Kingfish Limited happens to be an investment company which invests in growing NZ companies. The company provides access to the professionally managed portfolio having diversified exposure towards NZ equity market. KFL focuses towards growing the shareholders' capital via positive portfolio performance as well as it offers regular dividends.
Summary:
KFL's FY20 performance was significantly impacted by COVID-19 pandemic.
Amidst uncertain times, KFL paid dividend amounting to 3.25 cents per share to shareholders on September 25, 2020.
The philosophy of the company is to remain highly invested in the equities and not to hold substantial cash at bank.
Portfolio Allocation of KFL
The company has divided its portfolio into four risk brackets due to COVID-19.
Bucket 1: Bucket 1 consists of the companies that should trade well through the COVID-19 crisis. The companies include FPH, ATM, PPH and DGL.
Bucket 2: Bucket 2 consists of the companies that typically have more defensive earnings streams. These companies are IFT and MEL.
Bucket 3: Bucket 3 consists of the companies that have economically sensitive earnings streams but impacted by COVID-19. These companies are POT, FRE, SUM, RYM and MFT.
Bucket 4: Bucket 4 consists of the companies that were caught in the eye of the storm of COVID-19. These companies include VGL and AIA.
Portfolio Holdings As At 31st March 2020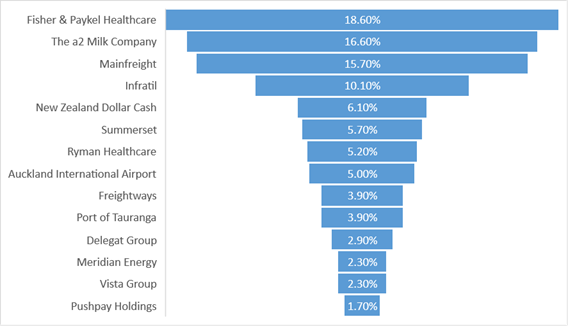 Kalkine Image (Data Source: Company's Annual Report)
KFL's FY20 Results Impacted by COVID-19
The COVID-19 pandemic significantly impacted the FY20 result of KFL as the share market of NZ reacted to an uncertain economic environment from mid-February onwards.
Despite having companies possessing robust fundamentals in the portfolio, Kingfish was not immune to the COVID-19 storm. All the portfolio gains accrued up to the end of January were all eliminated in the last two months of the financial year.
At the end of January 2020, the company was on track for the robust year with net profit for the 10 months at $62 Mn, Adjusted NAV up 18 percent as well as Gross NAV up 22 percent. After two months, net profit decreased to $1.7 million, adjusted NAV was down to +0.4% and gross NAV +2.9%, compared to the S&P NZX50G index which had slipped marginally into negative territory at -0.5% for the year to March 2020.
Because of the strong performance in first 10 months, the company was able to survive the difficult months of February and March to end the year in positive territory, albeit by a small margin. Total Shareholder Return (or TSR), which is calculated by the change in share price, less dividends paid, and adjusted for warrants, stood at +7.2%, certainly down from the +13.5% registered last year.
The key metrics for FY20 were gains on investments of $1.6 million, dividend and interest income of $6.1 million less operating expenses as well as tax of $6.0 Mn.
FUM Witnessed Increase in June Quarter
As per Reserve Bank of New Zealand, during quarter ended 30 June 2020, total funds under management (FUM) increased by 7.3% to $210 billion. The quarterly increase was witnessed because financial market rebounded from late March lows due to coronavirus pandemic.
An Overview of Quarterly Newsletter
Kingfish Limited has gained +3.7% (gross performance) for the quarter ended 30 September 2020, and the Adjusted NAV was up +3.3% for the period. S&P/NZX50G benchmark index witnessed a gain of +2.6% for the same period. The top performers of the quarter were Summerset Group (NZX: SUM), Mainfreight Limited (NZX: MFT) and Delegat Group (NZX: DGL), that gained +40%, +18% and +16%, respectively.
The company paid dividend of 3.25 cents per share to the shareholders on 25 September 2020 under the quarterly distribution policy.
Quarterly Performance (Source: Company Reports)
Outlook
Coronavirus pandemic has impacted many developed and developing countries as business activities were halted. Economic activity has decreased substantially and has also affected income level and capital. The asset management companies also felt the impact of slowdown in activities. However, as economies have started operating, business activities are coming back on track.
The global markets have recovered strongly after a great turmoil in March and April. However, the equity markets are expected to remain volatile moving forward. It can be said that the performance of the equity markets would be influenced by the news related to COVID-19 vaccine.
The stock price of Kingfish Limited ended the trading session at NZ$1.890 per share, reflecting a decline of 0.53% on an intraday basis.