Summary

Dividend growth investors generally design investment portfolio by looking for the companies possessing respectable track record of paying growing dividends.
Dividend yield can be used to measure the company's dividend payments; however, it changes with the change in share price.
Companies like SPK, GNE and CEN have a long and proven history of dividend payments.
You must have heard of dividends and why many companies pay them. However, the question arises is what is dividend growth investing? While some investors invest for the purpose of capital appreciation, some market players invest only to get dividends.
Dividend growth investing happens to be an investment strategy in which market participants buy and hold shares. Dividend growth investors generally make up an investment portfolio by searching companies that are having a decent track record of paying growing dividends.
The most difficult part is to find companies that have solid track record of growing their dividends on a yearly basis. Generally, the companies that increase their dividends with time are considered to be well-managed and financially sound. The company's ability to increase and maintain the dividend payout every year is an indication that it has been generating respectable cash flows.
Dividend yield is calculated by dividing the company's annual dividend by its current market price. It is generally said that higher the dividend yield, the better it is. However, to check the dividend's safety, one can look at the pay-out ratio.
Benefits of Dividend Growth Investing
Dividend growth investing can be considered as the best way of investing in the market. The main advantage of investing in dividend growth stocks is that one can get a growing passive income that he/she can either reinvest or use for personal needs. However, picking up companies having a track record of paying growing dividends can sometimes be difficult.
Let us look at few examples of dividend growth companies
Spark New Zealand Limited (NZX: SPK)
For the year ended 30 June 2020, the company reported total revenue of $3,623 million, up by $90 million or 2.5% y-o-y driven by rise in cloud, security and service management revenue, outstanding performance in mobile segment with growth in high margin service revenue and growth in emerging revenue streams via Spark Sport and Qrious data analytics business. It was stated that FY 2020 marked completion of 3-year plan, transforming the company from traditional telco to an end-to-end digital services company and managed to deliver compounded annual growth in the shareholder returns of 13 percent.
The company announced dividend of 12.5c per share, 100% imputed, for 2HFY20, bringing the total FY20 dividend to 25c per share. The company also has a good history of paying dividends in the past.
Dividend History (Source: Company Reports)
Genesis Energy Limited (NZX: GNE)
For the full-year ended 30 June 2020, the company's EBITDAF stood at $356 million and the company's Net Profit stood at $46 million, with underlying earnings of $53 million. The company's overall hydro generation fell by 491 GWh as compared to the prior year.
Its retail business has sustained its momentum from the 1st half, aided by improved uptake of digital products and promotions, like Power Shout, which witnessed a record 141,000 customers participate in May. The company now has 121,000 dual fuel customers, an increase of 3%.
The company has managed to declare a final dividend amounting to 8.675 cents per share, which takes full year dividend to 17.20 cents per share.
Key Data (Source: Company Reports)
Contact Energy Limited (NZX: CEN)
For 12 months to June 30, 2020, the company reported statutory profit amounting to $125 Mn. Notably, this was $220 million lower than FY 2019. However, last year consisted $170 Mn gain with respect to the sale of Rockgas business as well as the Ahuroa gas storage facility.
EBITDAF from continuing operations decreased $54 million or 11% y-o-y to $451 Mn, led by a combination of lower renewable generation, lesser wholesale prices as well as impact of increasing costs of thermal generation along with restricted gas supply.
Despite the decline of 26% in profit, the company has decided to pay an annual dividend of 39 cents per share this year, which is in-line with previous year. The company stated that the results were supported by operational efficiency, high quality as well as flexible portfolio of the gas-fired and renewable generation assets, along with the balance sheet strength.
CEN Reported Operating Performance for August 2020
For the month of August 2020, the company has provided operating performance. The customer business recorded mass market electricity and gas sales of 450 GWh and mass market electricity and gas netback of $96.91/MWh. With respect to the wholesale business, contracted wholesale electricity sales, including that sold to Customer business, totalled 783 GWh. However, electricity and steam net revenue stood at $90.37/MWh.
The Board has approved final ordinary dividend amounting to 23 cps (imputed by up to 15 cps for the qualifying shareholders). An interim ordinary dividend amounting to 16 cps was paid in the month of April 2020, taking annual dividend for FY20 to 39 cps.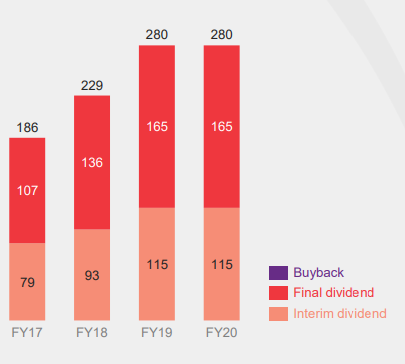 Distributions ($ Million) (Source: Company Reports)