Highlights

New Zealand is known for its well-developed and highly mechanised agriculture sector.
Allied Farmers publishes its Annual Report for 2021 and is focused on optimising its business operations.
Seeka to acquire Orangewood Limited, Northland's famous kiwifruit business.
New Zealand is known for its highly developed and market-oriented agriculture sector. In fact, its agricultural industry has cemented itself as the country's economic powerhouse.
Apart from traditional farming, NZ farmers make use of highly mechanised machines and equipment and deploy the most innovative farming techniques.
One of the latest trends in the Kiwi agriculture industry is the use of vertical farming, where food is produced on vertical surfaces, unlike traditional farming where food is grown on a single-level field.
This new framing trend is not just about piling plants on the top of another, but making use of expert technology, thereby greatly enhancing the yield of the crops.
Here in this article, we would skim through the five NZX agriculture stocks with a 6-month yield.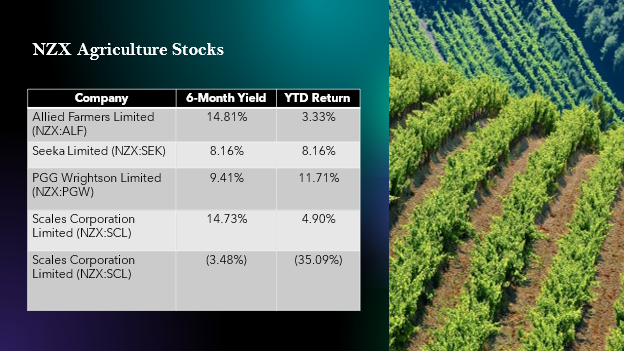 Image source: © 2021 Kalkine Media New Zealand Ltd, data source- Refinitiv
Allied Farmers Limited (NZX:ALF)
Allied Farmers Limited invests in NZ's agriculture sector. Earlier this month, the Company had released its 2021 Annual Report for the year ended 30 June 2021, wherein it revealed an NPAT of over NZ$2 million, reflecting an improved performance from its livestock business amid the pandemic.
However, the said improvement was offset by a reduced contribution from ALF's veal business, reflecting the impact of COVID-19 on the market pricing as well as returns. As a result, ALF's tax losses stood nearly at NZ$40 million.
The Company is focused on optimising its business operations and is evaluating new growth opportunities.
It is going to hold its Annual Meeting in November this year, wherein the Board would provide an update on dividend distribution.
At the time of writing, on 22 September, Allied Farmers rose by 1.64% at NZ$0.620.
Related Read: 10 hot NZX penny stocks for September 2021
Seeka Limited (NZX:SEK)
Seeka Limited was founded in 1980 and is a famous kiwifruit supply company. Recently, the Company declared having signed an amalgamation agreement to take over Orangewood Limited, which is a well-known Northland-based kiwifruit business.
The said amalgamation is in line with SEK's growth strategy as the Company aims to expand its service delivery in the Northland region.
Moreover, SEK would greatly benefit from synergies and cost savings arising from this amalgamation.
At the time of writing on 22 September, Seeka was trading flat at NZ$5.2.
Must Read: Which are the 5 most sought-after NZX listed agriculture stocks?
PGG Wrightson Limited (NZX:PGW)
Another company functioning in the agricultural space is PGG Wrightson Limited, which is based in Christchurch. Recently, the Company published that its Annual Report for the year ended 30 June 2021 would be made public by the end of this month.
PGW has urged its shareholders to opt for electronically receiving communications and reports from the Company, as they are environmentally friendly as well as more efficient.
At the time of writing on 22 September, PGG Wrightson was 1.41% at NZ$3.600.
Also Read: 5 consumer stocks that have been performing well on NZX
Scales Corporation Limited (NZX:SCL)
Boasting a diversified agribusiness portfolio, Scales Corporation Limited offers essential services to NZ's primary sector. The Company recently announced that it had appointed Sun Qiang (Alex) as its non-executive director a few days ago.
It is noted that as per SCL's rules and regulations, Mr Sun would retire in the next Annual Meeting and would be eligible for re-election at that time.
At the time of writing, on 22 September, Scales Corporation gained 1.51% at NZ$5.380.
Related Read: Which are 5 NZX stocks with the highest monthly returns?
Synlait Milk Limited (NZX:SML)
Canterbury-based Synlait Milk Limited integrates expert farming with high-quality processing to produce a wide range of nutritional milk products. The Company has disclosed to organise its Annual Meeting on 1 December.
Hence, it has advised its shareholders to send director nominations latest by 4 October.
At the time of writing, on 22 September, Synlait Milk was trading up by 1.58% at NZ$3.210.
Interesting Read: New Zealand's Dairy Sector fuels the Country's Economic growth
Bottom Line
New Zealand's agriculture sector, which has a vast market for its produce both domestically as well as globally, contributes significantly to the country's economic growth.