Highlights

ATM witnessed a tough FY21 due to COVID-19-related disruptions and a rapidly changing China infant nutrition market.
The Group plans to focus on China market prospects, review its brand position, assess its route-to-market for English label IMF to address COVID-19 disruptions.
ATM is also exploring prospects for adjacent category growth in China, ANZ and the USA.
The a2 Milk Company Limited (NZX:ATM; ASX:A2M), an NZ-based dairy nutrition company, experienced a challenging FY21, impacted by unmatched volatility levels amid COVID-19 and the rapidly changing infant nutrition market in China.
ATM posted a drop of 79.1% and 30.3% in its net profit and revenue to $80.7 million and $1.21 billion, respectively, in FY21. Gross margin percentages fell to 42.3% while inventory levels at the end of FY21 due to stock write-downs of $108.6 million.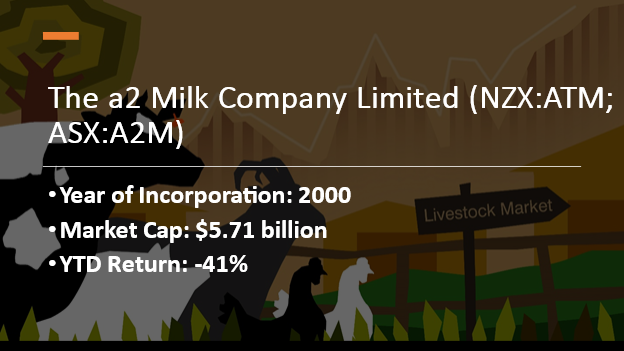 Image source: © 2021 Kalkine Media, Data source- Refinitiv
The business fared well in certain areas with gains in the market share in China label infant nutrition and Australian fresh milk. However, ATM saw a substantial drop in cross-border English label infant nutrition and other nutritional sales through daigou/reseller and e-commerce channels.
The challenging market conditions highlighted the need to review elements of ATM's long-term strategy and execution. ATM recognised the changing China's infant nutrition market structure, the shift towards China label infant nutrition, the increased rate of new product innovation, altering channels to market and increased competitive intensity with domestic players continuing to gain the market share.
ALSO READ: a2 Milk (NZX:ATM): Why is it facing class action lawsuit?
The Company recognised the need to further evolve its routes to market and brand marketing programmes in parallel in order to adjust to the changing environment in which it operates apart from the diagou/reseller channel.
ALSO READ: Do 4 NZX penny stocks have potential to be multibaggers?
ATM hosted its Investor Day on 27 October, which highlighted issues faced by the company in FY21 and key actions taken by ATM.
Key actions taken to address disruptions caused
A2 Milk has undertaken a holistic review of its growth prospects and enhanced its focus on key business opportunities.
RELATED READ: What are the effects of changing China infant nutrition market structure on The a2 Milk (NZX:ATM)?
ATM has undertaken some key actions to address COVID-19-related disruptions that include the following:
Identified stock write-downs and intentionally slowed sales in Q4 FY21, as well as other planned measures to decrease inventory levels and rebalance English label IMF pricing across channels.
Replaced older distributor inventory with newer supply to increase product freshness on-shelf.
Increased brand expenditure in 4Q21, with a large campaign to stimulate consumer demand and new entrants in the market.
New internal and foreign talent, strengthening the leadership team.
Restructured the Asia-Pacific division to focus more on strategic business opportunities.
DO READ: Which are 5 best NZX dividend stocks under NZ$5?
ATM ended the day 11.34% in red to close at $6.33.
Bottom Line
ATM's strategy is designed to propel growth across multiple horizons. ATM plans to pursue a stabilise and reset strategy in FY22 with a full-scale roll-out of growth & other initiatives in FY23-24. ATM plans to deliver next-wave growth from innovation and supply chain transformation in FY25-26.
(NOTE: Currency is reported in NZ Dollar unless stated otherwise)