Summary

Fonterra is an NZ-based dairy co-operative.
It buys milk from its farmers and processes it for exports.

Fonterra expects its forecast Farmgate milk price at $7.25-$8.75 per kgMs.
Fonterra Co-operative Group Limited (NZX:FCG) is a NZ multinational dairy co-operative. It is engaged in the manufacturing and sale of milk, milk products, milk powders, cheese and butter.
It runs through 5 divisions: Global Ingredients and Operations (GIO), Asia, Oceania, Latin America and Greater China.
The Fonterra Co-operative Group was established in 2001 after the 2 largest co-operatives, New Zealand Dairy Group and Kiwi Cooperative Dairies merged along with the New Zealand Dairy Board.
What is a Co-operative?
A Co-operative is an independent organisation of people who have come together willingly to satisfy their shared needs and goals through a freely managed and collectively owned company.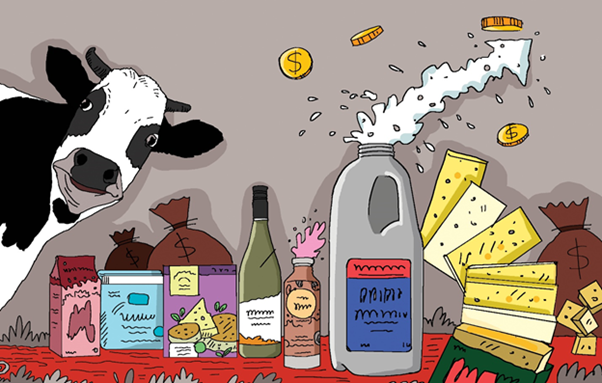 Source: Copyright © 2021 Kalkine Media Pty Ltd
The 'one member, one vote' norm governs Co-operatives fairly. Members have equal voting rights regardless of how much money they invest in the Company.
Why is Fonterra a Co-operative?
Fonterra is owned by over 10,000 dairy farmers who provide over 14 billion litres of milk every year.
It purchases milk from its farmer shareholders and processes it for export purposes.
RELATED READ: How big is New Zealand's dairy industry? Which are prominent companies?
Fonterra farmers' products are sold under Anchor, Anlene, Mainland, Anmum, and Chesdale. These brands cater to customers in nearly 140 countries through New Zealand Milk Products (NZMP), the Group's marketing arm.
Fonterra's FY21 Performance
Despite the obstacles posed by COVID-19, the Company maintained its focus and reported a total Group normalised EBIT of $648 million (+17%) in its interim results (6 months ended 31 January 2021).
Fonterra showed strong performance in Q3 ended 30 April 2021, but margins narrowed with high input costs.
ALSO READ: Which are the top 10 consumer stocks listed with NZX?
Global demand for dairy, especially NZ dairy, has been witnessing growth, with China taking the lead as its economy continues to improve. The Group's July update showed that the monthly exports of Australia, New Zealand and the US continued to grow.
For the first month of the 2021/22 season, FCG's NZ milk collection stood at 14.6 million kgMS (-0.9%) while Australia's collection also fell 1.8% to reach at 105.8 million kgMS.
Farmgate Milk Price range forecast
In May 2021, Fonterra reduced its forecast farmgate milk price (FMP) range for 2020/21, that lowered the midpoint by 5 cents to $7.55 per kgMS. Though the Group posted strong 9 months ended 30 April 2021, earnings are expected to be strained in the last quarter of 2021 due to seasonal reasons and tightening margins.
ALSO READ: New Zealand's Dairy Sector fuels the Country's Economic growth
The Group also announced the Farmgate Milk Price range of $7.25 - $8.75 per kgMS for the 2021/22 season. This would mean a midpoint of $8 per kgMS amid a better economic atmosphere globally and solid demand for dairy. Fonterra is expecting its earnings somewhere in the mid of 25-35 cent range.
Bottomline
A higher midpoint of $8 per kgMS shows stability in milk supply globally and continued current dairy prices with strong demand for dairy (China driven). However, pandemic challenges, price volatility and declining trade relations are some of the risks to dairy prices.
ALSO READ: Which are the 5 popular dairy stocks listed with NZX?
On 12 August, FCG ended the trading session at $3.16, up 0.32% from its previous close.
(NOTE: Currency is reported in NZ Dollar unless stated otherwise)