Summary

Tourism Holdings' share price has surged by more than 341%, from $0.55 on 23 March to $2.43 on 21 October 2020.
The entity reported NPAT of $27.4 million in FY20, down by $2.4 million due to COVID-19 impact, but the profit showed responsive cost control, determined alternative revenue generation and reliable marketing by THL.
THL significantly reduced its costs, managed reduction in fleet levels and preserved cash, as well as capital to sail through the COVID-19 impact.
THL plans to use a blend of costs and debt reduction to tackle the uncertainty in FY21
Tourism Holdings Limited (NZX:THL) is an international tourism operator and biggest provider of RVs for rent and sale in Australia and New Zealand and second largest in North American region.
After an indiscriminate selling in March this year amid COVID-19 outbreak, Tourism Holdings' shares gave a return of above 340% amid $0.55 on 23 March to $2.43 on 21 October 2020.
On 22 October 2020, Tourism Holdings last traded at $2.40, decreasing by 1.23% from its previous close.
FY20 Performance
The financial year of 2020 had been good for the global rental business of THL, posting revenue growth in NZ and Australia and stable revenue in the US.
Further, THL was beginning to witness positive effects of its focus on Future-Fit business in NZ. However, there was an abrupt loss of income from international travellers as COVID-19 struck in March.
The Group reported a statutory NPAT and statutory EBIT of $27.4 million and $48.6 million, down by 8% and 22% on pcp, respectively. The decline in profit was due to the impact of COVID-19 and implementation of travel restrictions, as well as quarantine measures.
Nevertheless, the Group was able to record a profit due to responsive cost control, determined alternative revenue generation and solid marketing.  
ALSO READ: How is the Travel Sector shaping up in New Zealand, any New Year cheers?
THL acted proactively in each country, which helped in mitigating the severity of coronavirus. It also refocused its digital strategy to a regional, cost-effective approach through THL digital and investment in triptech.
Some of the highlights of the Group's results for FY20 ended 30 June included of the following:
Underlying NPAT of $20 million, down by 28% compared to $27.9 million last year
Net debt fell from $128 million as on 30 June 2020 to $75 million as on 31 August 2020
During the past 4-month period, vehicle sales business in the US achieved 68% increase in revenue of FY20 relative to pcp
THL did not declare any final dividend for FY20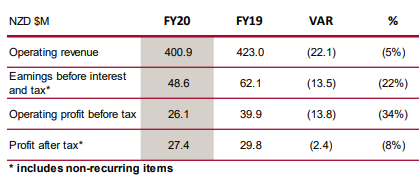 Source: THL FY20 Annual Results Presentation, dated: 18 September 2020
Mr Grant Webster, THL Chief Executive, stated that the Group had prepared itself to function in the current domestic business setting, with reasonable balance sheet management and substantial, persistent demand for RV sales to date. THL is suitably positioned to rebound at pace as tourism from overseas resumes.
THL's response to COVID-19
Tourism Holdings undertook a range of cost reduction measures that involved lowering variable costs due to reduction in volumes and lowering labour expenses to match staff numbers with activity levels and deployment of Government support packages.
Source: THL Market update Framework for FY21, dated: 31 July 2020
The Group also reduced its fleet levels to fulfil its objectives of maintaining the optimum fleet for any expected post-coronavirus activity levels in the near term and earn revenue from fleet asset base to propel debt repayment.
THL also took initiatives to preserve cash during the period. The Group cancelled its non-committed fleet capital expenditure and FY20 interim, as well as a dividend for the full year.
ALSO READ: 3 dividend paying Mid-Cap stocks- RYM, FPH, ANZ listed with NZX
It also obtained support from banking partners in completing new funding arrangements. The new arrangements and the business outlook helped the Company to decide that it did not need any additional equity.
In June, THL's banking partners made guarantees for about $225 million in debt financing, consisting of a variety of tranches maturing between September 2021 and July 2022.
FY21 Framework
The RV rental industry has been substantially impacted worldwide by the COVID-19 induced travel restrictions. The focus of the RV rental market is now shifting towards laying emphasis on and fostering domestic tourism in the short term as international travel remains muted.
THL's major cost reduction programme has decreased its cost base to a more sustainable level for the economic environment in FY21. The Group is operating under the assumption of vehicle sales volumes in FY21 that are at least similar to normal pre-COVID levels, given the firm's robust sales activity.
DO READ: Three Key Trends Defining Travel Sector's Recovery from COVID-19 Storm
The Group is presently operating on the assumption that THL will work in a domestic-only environment in all domestic provinces for the majority of FY21. THL has designed different strategies in each country as its reaction to the anticipated environment in FY21 in a particular region.
 Below are some of the assumptions and expectations of THL for FY21.
THL expects that sans the global market, it has roughly 35-45% excess fleet capacity on worldwide basis.
Reaching maximum achievable vehicle sales with the vehicle sales assumption for FY21 of about 500-800 vehicles in NZ, 200-350 vehicles in Australia and nearly 800-1,200 vehicles in the USA.
THL plans to use extra capacity at leasing branches by re-using car sales and service locations, both of which target the domestic market.
(NOTE: Currency is reported in NZ Dollar unless stated otherwise)
Perception around gold has been undergoing a paradigm shift and is now seen as a crucial strategic asset, with changing macroeconomic conditions. A vibrant gold market has a positive impact on companies that are involved in the exploration and mining activities.
CLICK HERE FOR YOUR FREE REPORT!