Source: PJ photography, Shutterstock
Summary

The Senior Trust Retirement Village Income Generator ("Income Generator") operates exclusively within the retirement village and aged care sector, in order to capitalise on the continued expanding demand for quality senior housing in New Zealand.
Income Generator's objective is to provide investors a stable, consistent, and attractive returns by taking advantage of the growth in the NZ retirement village and aged care industry.
Quail Ridge, The Grove, The Glen, Ranfurly Residential Care, Clyde and Roys Bay are just some of the retirement villages that the Income Generator lends to.
Housing plays a significant role for older Kiwis as many elder people are living either alone or with their respective spouses amid a rising trend of parents living away from their children.
New Zealand has a globally acclaimed retirement village model. Aging population and shifting preferences in retirement living has led to an increased acceptance of retirement villages. Living in RVs also comes with benefits of security, socialisation, and health-related support services, which makes retirement villages more attractive to the senior Kiwis.
The Company considers that the demographic trend of 'baby boomers' looking for living in Retirement Villages has generated a strong demand for loan funds.
DO READ: Senior Trust is in a strong position to leverage the opportunities within the retirement village sector
The demand for Retirement villages rose even more during and after the COVID-19-induced lockdowns as Kiwis took notice that village residents were being taken care of.
Senior Trust's current portfolio of loans
The Senior Trust management team has a strong track record lending to Retirement Villages.
The Income Generator currently lends to a number of well located, soundly run retirement village developments. This includes "The Grove" which is a boutique retirement village with modern amenities situated in Orewa, North Shore of Auckland. Roys Bay is a high end development, located by the lake in Wanaka offering expansive views to mountain ranges. Quail Ridge is aimed at the higher-end retiree market, located in Keri Keri, Bay of Islands.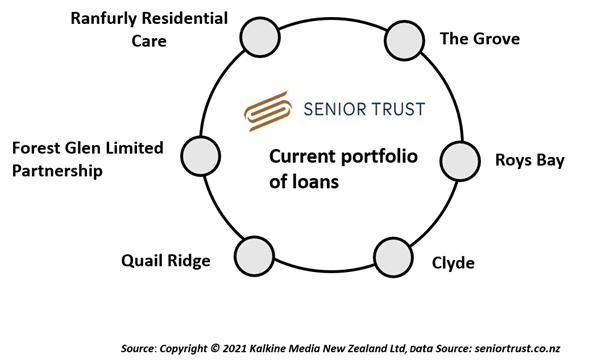 The Group also provides funding to other retirement village developments and continues to assess other potential lending opportunities.
ALSO READ: A Bird's-Eye View Of Senior Trust's Key Investment Principles
Senior Trust Retirement Village Income Generator Limited is the issuer of the products. The Product Disclosure Statement for the offer is available and can be obtained on our website at www.seniortrust.co.nz or at www.business.govt.nz/disclose under Senior Trust Retirement Village Income Generator Limited's offer number (OFR12802).