Highlights

Comvita delivers resilient performance in its 2021 annual report.
4 CPS fully imputed dividend offered by the Company.
The company focused on delivering its FY22 guidance.
Comvita Limited (NZX:CVT) is a Company known for producing premium, natural honey. Manuka Honey is the brand produced by CVT by having close collaboration with beekeepers with the aim of delivering good health to people.
On Wednesday, CVT released its annual report in which it stated that its journey had been good so far and that it was looking ahead to strengthen its business. Considering the hardships that last year brought upon the industry, the company has shown resilience and is on a path to future growth.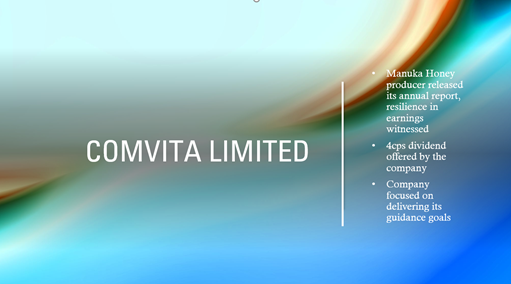 Image source: © 2021 Kalkine Media New Zealand Ltd
The company further said its focus was on delivering on performance using its three-part plan to bring momentum to the business. It is currently in the process of building trust among stakeholders by offering a stable foundation to the business for its long-term growth.
Don't miss: 10 best food and beverage stocks of New Zealand
What was achieved?
Digital revenue growth of 17% from pcp makes up for 34% of the total revenue of the group. The net debt stood at NZ$4.6 million, while the NPAT recorded was NZ$9.5 million. The EBITDA recorded was NZ$25.5 million, which was 511% higher than pcp. GP has increased by 730 bps, while TRIFR is 9%. There has been an increase in brand investment by NZ$8.7 million, while the Company is well on track within sustainability goals too.
Read now: Which are 10 major healthcare companies trading on NZX?
Dividend
The company offered a fully imputed 4cps dividend, which was indicative of the fact that the company had earned well enough to share gains with the shareholders.
Guidance
The company further added there it was on track for its 2025 goal of bringing digital sales to 50% of the total business. David Banfield, the CEO of the company, said that the company was going out to deliver on its FY22 guidance and to deliver its new 60:15:50 model of function by the year 2025. He further said that the entire team had worked really hard to deliver those results and that was what had led to the profits.
Read now: Comvita (NZX:CVT) announces partnership with Caravan to extend its reach in North America
Bottom line
Despite multiple challenges that the company faced in the previous year owing to the pandemic, from border closures to lockdowns, to everything that meant business losses for non-essentials, it survived. Rising concerns relating to the spread of the new Delta variant of COVID- 19, which has led to level 4 lockdown in the country, the company is making efforts to safeguard its business in order to weather this storm as well.
On 15 September 2021, the Company traded at NZ$3.640, down by 1.09%, at the time of writing.