Highlights

NZ's inflation reaches a record high of 5.9%.
Retail prices can shoot up to 10%, triggered by inflationary pressures.
WBC's top official joins the RBNZ.
Let us walk through the five latest updates from Kiwiland, which are grabbing the attention of NZers.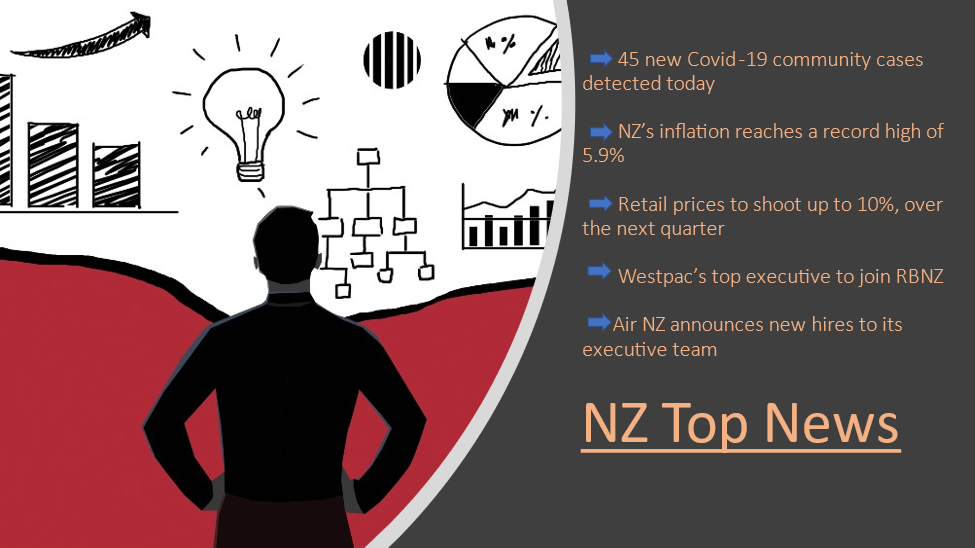 Source: © 2022 Kalkine Media®
COVID-19 continues to spread in the community
Reports reveal the emergence of 45 new community cases today, thus bringing the total to 90 community cases across the country.
Related Read: NZ moves to Red light settings, businesses switch to off-site model
In a significant milestone achievement, NZ health officials have stated that over four million first doses of the COVID-19 vaccines have been given to Kiwis aged 12 years and above.
NZ's inflation reaches a record high
As per reports of Stats NZ, the country's inflation rate reached 5.9% at the end of 2021, the highest ever since June 1990.
The main reason is being attributed to the housing and household utilities group, where construction prices and rentals are continuously increasing.
It is noted that numerous other OECD countries too are witnessing a spike in their inflation rates.
Retail prices can shoot up to 10%
Retail NZ has mentioned that the country's retail prices could go as high as 10%, owing to increased inflation rates, pressurising the retail market, thus passing increased costs to customers.
A recent survey among Retail NZ members suggests that average prices could surge around 7% to 10% over next quarter.
Westpac's top executive to join RBNZ
Westpac Banking Corporation (NZX:WBC; ASX:WBC) has announced the departure of its NZ division's top executive, Karen Silk.
Karen would soon join the Reserve Bank of New Zealand and take up the role of assistant governor. He would oversee the economics, financial markets and banking segments at the bank.
Also Read: Which 4 NZ banks can be watched out for in 2022?
Air NZ announces new hires for its executive team
Air New Zealand Limited (NZX:AIR; ASX:AIZ) has announced appointing two new members, Alexandria Marren and Mike Williams, to its executive team.
Related Read: Air NZ (NZX:AIR): Why did it defer equity raise until Q1 2022?
In order to oversee the airline's operations and transformation activity as it prepares for the recovery of air travel in the country, AIR will be joined by Alexandria Marren as its Chief Operating Officer in late March, while Williams will take charge as Chief Transformation & Alliances Office from 1 February onwards.