Highlights

COVID-19 cases in the country continue to rise; NZ PM announces lockdown to end when 90% of the Kiwis are fully vaccinated.
NZ's primary sector bags the top spot among 32 nations in decarbonising.
An earthquake with 5.9 magnitude hits North Island.
As another week draws to a close, let us skim through the top headlines pertaining to the country.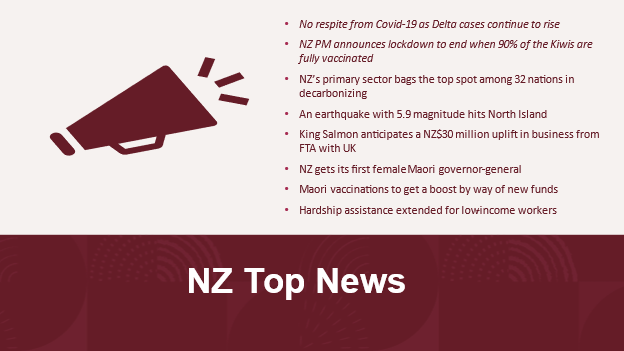 Source: Copyright © 2021 Kalkine Media
Image description: Covid-19, NZ news
No respite from COVID-19
As per the latest updates, new Delta cases amounting to 129 have cropped up, out of which 120 are from Auckland, while the remaining belong to Waikato, thereby bringing the current cases pertaining to the Delta outbreak to 2,389.
Interesting Read: NZ gearing up for 5,000 Delta variant cases each week
Further, a total of 41,294 doses of vaccine were administered Thursday.
Lockdown to end when 90% of New Zealanders get fully vaccinated
Jacinda Ardern, the NZ PM, stated that the country's lockdown would come to an end and freedom would be restored only when 90% of the country's eligible population is doubly vaccinated.
Related Read: How is Air NZ (NZX:AIR) sustaining amid COVID-19 lockdown?
NZ's primary sector ranked No. 1 in decarbonising
As per a recent survey conducted by KPMG, New Zealand's primary sector has bagged top honours for tackling climate change.
The country has been placed at the top spot out of 32 nations in the survey.
Also Read: Here's a look at 9 NZX-listed energy stocks pursuing climate change goals
King Salmon anticipates a NZ$30 million uplift in business from FTA with the UK
Owing to a recent significant FTA deal between NZ and the UK, New Zealand King Salmon Investments Limited, Nelson-based aquaculture producer of King salmon, is expecting a NZ$30 million boost in business.
Related Read: Jacinda Ardern Optimistic About NZ's Growth With Possible FTAs With UK And EU In Future
The said deal will increase the country's exports to the UK by 40%.
Tremors felt in North Island
A 5.9 magnitude earthquake hit the central North Island today. The quake caused light shaking and was recorded at a depth of 210km.
NZ gets its first female Maori governor-general
Dame Cindy Kiro has been named the first Māori woman to become the governor-general of New Zealand.
After her swearing-in ceremony, Dame Cindy stated that she aimed to reach out to marginalised communities and work for their upliftment.
Public views invited for changing NZ's mental health legislation
Views are sought for New Zealand's mental health bill to get the right legislation.
Andrew Little, the country's Health Minister, stated the public consultation was being undertaken to address the issues pertaining to inequalities related to the existing mental health legislation.
Maori vaccinations to get a boost by way of new funds
As per the latest reports, the NZ Government has allocated funds worth NZ$120 million to speed up the Māori vaccination rate and support communities.
Must Read: NZ provides instant help to Maori and iwi groups hit by the pandemic
The said funds are aimed at supporting the communities that do not have permanent housing and are not well-connected to health services.
Hardship assistance extended for low-income workers
Carmel Sepuloni, NZ's Social Development and Employment Minister, has revealed that income limits had been temporarily lifted so that most of the eligible people can avail of assistance for Hardship Support.
The Government has raised the income limit to NZ$800 per week or 40 hours at the minimum wage. Also, for a couple, it would be NZ$1600 per week.
Related Read: Government offers additional support for COVID-19 relief
The new criterion would come into effect from November onwards for four months.