On 14th January 2022, the equity market in NZ closed the session in red as huge selling pressure was witnessed on the IT and consumer discretionary sectors. On the same day, NZX 50 Index and NZX 20 Index declined by 0.29% and 0.35%, respectively.
Data Source: NZX, Table Source: Copyright © 2021 Kalkine Media
Performance of Indices:
NZX 50 Index closed at 12,790.16 which implies ~2.48% decline in the time frame of the past 1 year. MidCap Index and SmallCap Index ended at 6,389.95 and 23,482.78 points, respectively.
S&P/NZX 50 Index vs SmallCap Index vs MidCap Index – Performance Over One Year
Source: REFINITIV
Gainers and Losers:
Steel & Tube Holdings Limited (NZX: STU) recently released its shareholder newsletter. The company stated that its strategic focus revolves around deploying for growth.
ArborGen Holdings Limited (NZX: ARB) rose by 4.17% to $0.250 per share.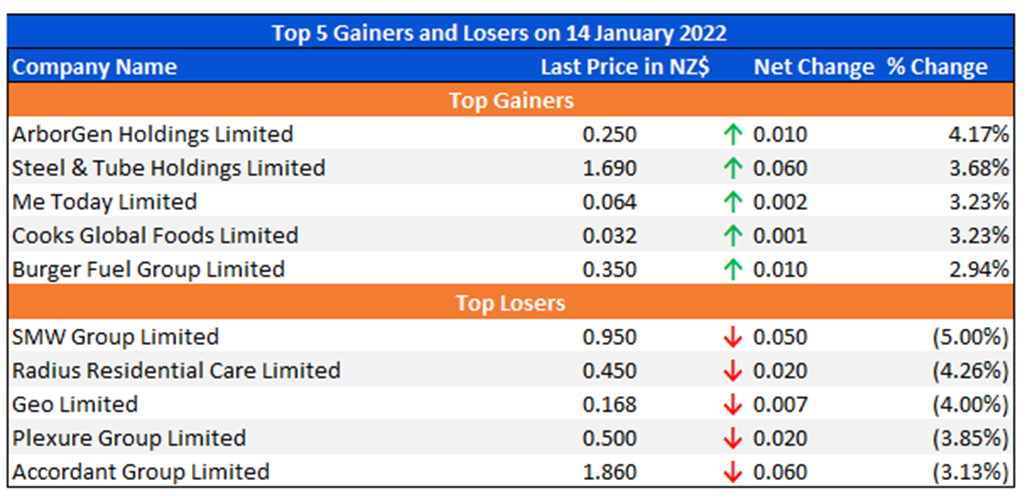 Data Source: NZX, Table Source: Copyright © 2021 Kalkine Media
Movement on Wall Street:
On 13th January 2022, NASDAQ Composite declined by 2.51% to 14,806.81. Notably, Dow Jones Industrials Average fell by 0.49% to 36,113.62
Note: The reference data in this article has been partly sourced from REFINITIV