On June 23, 2020, S&P/NZX50 ended the session in red as the index witnessed a fall of 0.23% to 11,133 while S&P/NZX20 fell by 0.26% to 7,414. On the other hand, S&P/NZX10 encountered a rise of 0.17% to 11,561.
On June 23, 2020, S&P/NZX All Communications Services rose by 1.30% while S&P/NZX All Energy witnessed a fall of 3.07%. Let us now have a quick look at the performance of individual stocks.
The stock of TRS Investments Ltd (NZX: TRS) rose by 50% on an intraday basis to NZ$0.003 per share. Also, on the same day, the share price of PaySauce Limited (NZX: PYS) witnessed a rise of 10.59% to NZ$0.470 per share.
The following image provides a broad overview as to how the stock price of DGL has trended in the span of past 90 days: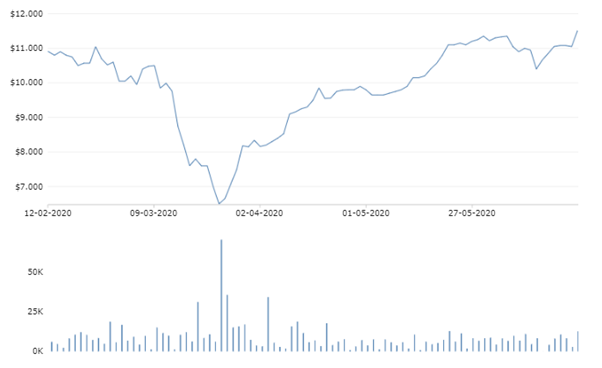 Stock Performance (Source: NZX)
DGL Ended the Session in Green
Delegat Group Limited (NZX: DGL) came forward and made an announcement with respect to its earnings expectations for the year ending June 30, 2020. The company stated that it expects to achieve global case sales of 3,279,000 cases for the year, a rise of 9% as compared to last year. It has revised its guidance on operating net profit after tax to $59.0 Mn for the year ending June 30, 2020, up 16% as compared to previous year. The company had previously set guidance for operating net profit after tax of $52.4 Mn.
SPY Released Audited Results for Full Year to March 31, 2020: A Brief Look
Smartpay Holdings Limited (NZX: SPY) released its full-year results (audited) for the year ended March 31, 2020 and it posted revenue amounting to $28.3 Mn, reflecting a rise of 34% on the prior year. As was previously stated, after making some difficult decisions with regards to the cost base at the outset of coronavirus and with the benefit of government assistance packages, the company was able to largely offset the cash impacts to its business and it managed to come through the difficult period largely unaffected at the cash level.
The growth in EBITDA to $7.4 Mn reflects 15% rise on the prior period. As per the release, lower % growth at EBITDA than revenue reflects deployment towards additional resource into Australian business, primarily in the areas of sales, marketing as well as systems to scale for growth and approximately $400k of the cost related to terminated sale of the company's NZ business.