On 27th July 2021, NZ market witnessed the impact of the selling pressure in Consumer Staples stocks, followed by Health Care stocks. However, buying in energy sector limited the fall. NZX 50 Index declined by 0.65% and NZX 20 Index fell by 0.77%. NZX All Consumer Staples witnessed a fall of 2.70% while NZX All Energy increased by 1.60%.

Data Source: NZX, Table Source: Copyright © 2021 Kalkine Media
Performance of Indices:
NZX 50 Index ended at 12,590.31, which implies ~8.67% increase over the previous 1 year. Also, MidCap Index and SmallCap Index claimed 6,339.57 and 22,427.47 points, respectively.
S&P/NZX 50 Index vs SmallCap Index vs MidCap Index – Performance Over One Year
Source: REFINITIV
Gainers and Losers:
In the release dated 27th July 2021, ikeGPS Group Limited (NZX: IKE) provided an update for the quarter ended 30th June 2021. It reported revenue of ~$2.6 Mn in the quarter (~12% higher as compared to pcp and 30% higher than pcp on the constant currency basis). The company's total Cash and Receivables (as on 30th June 2021) stood at ~$11.2 Mn with zero debt.
Radius Residential Care Limited (NZX: RAD) declined by 19.74% to $0.610.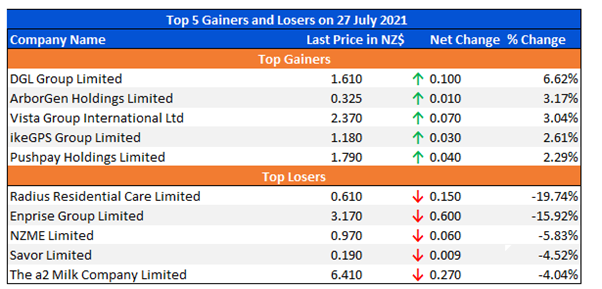 Data Source: NZX, Table Source: Copyright © 2021 Kalkine Media
Movement on Wall Street:
On 26th July 2021, NASDAQ Composite rose 0.03% to 14,840.71. Notably, Dow Jones Industrials Average increased by 0.24% to 35,144.31.
Note: The reference data in this article has been partly sourced from REFINITIV