If you ever had a chance to look at the most traded stock of May 15, 2020, you will find Z Energy Limited (NZX: ZEL) has topped the list with 8,029,303 volumes traded. The second number in this list is grabbed by Kiwi Property Group Limited (NZX: KPG), with traded volumes coming at 2,744,948. So, the question arises here is: What does this number mean?
Trading volume generally means the total amount of trades a stock has done on a particular day. Higher the trade number, higher is the liquidity on the stock.
In this article, we are going to look at 5 most traded stocks on May 15, 2020.
Key Numbers (Source: NZX)
Z Energy Limited (NZX: ZEL)
Z Energy Limited (NZX: ZEL) supplies fuel to retail and many large commercial customers like trucking companies, airlines, mines, vehicle fleet operators and shipping companies.
ZEL's Weekly Volume Increased Materially
For the week ended 10th May 2020, Z Energy Limited reported volume increases of 31% compared to last week. This is still down by 42% as compared to pre-lockdown levels. The table given below is important in this regard: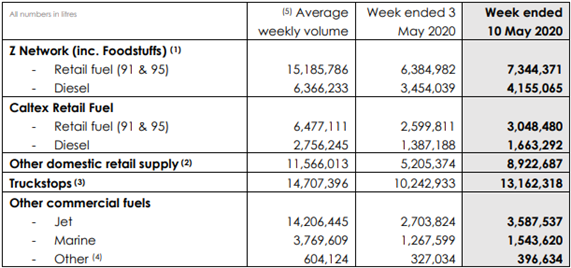 Key Data (Source: Company Reports)
Share Purchase Plan of ZEL
The company launched its NZ$60 million non-underwritten SPP (share purchase plan). It is a part of the company's equity raising, which was announced on 11th May 2020. As per the release, the eligible shareholders would be receiving their application forms.
They can apply for up to a maximum of NZ$50,000 (or AU$47,000) of the new shares per shareholder.
ZEL Successfully Completes NZ$290 million Placement
Z Energy Limited (NZX/ASX: ZEL) has successfully wrapped up NZ$290 Mn fully underwritten placement of the new shares. As per the release, the placement was fully underwritten at $2.75 per share. Following are the key points:
Allotment was done to existing shareholders as well as new investors at NZ$2.90 per share.
Issuance of 100 Mn new fully paid ordinary shares was done.
The proceeds from the share placement will primarily be used:
To pay down the existing bank term debt Facility A;
To enhance the company's balance sheet, liquidity and provide financial flexibility.
Kiwi Property Group Limited (NZX: KPG)
Kiwi Property Group Limited (NZX: KPG) is the largest property company which has been listed on New Zealand Stock Exchange. It is focused towards delivering superior returns for its investors with the help pf active management of the high-quality portfolio of shopping centres as well as office buildings.
Portfolio Valuation Update
The company reported a decrease of about $290 million in the fair value of its property portfolio. As at March 31, 2020, its mixed-use, office, retail as well as other property assets amounted to $3.1 Bn, post independent revaluation. The company stated that valuations were heavily affected as a result of coronavirus pandemic.
The company's mixed-use portfolio, which comprises Sylvia Park Lifestyle, Sylvia Park, LynnMall and The Base, saw fair value fall of $177 Mn or -10.6% to $1,499 Mn.
Its retail portfolio decreased in fair value by 20.8% or $126 Mn to $481 Mn. The values of Regional shopping centre was most impacted by pandemic, contributing to a capitalisation rate expansion of 58 basis points to a weighted average of 8.11%.
The company's office portfolio was most resilient of its asset classes. There was an increase in the value by $15 Mn or 1.6% to $910 Mn.
Air New Zealand Limited (NZX: AIR)
The company, which is listed on NZX, is operating the global network which gives cargo and passenger services to, from and within NZ. Airline's competitive advantage and strategic focus lies within the Pacific Rim where the network reach extends from NZ into Australia, Asia, as well as the Americas.
In the release dated April 8, 2020, the company stated that, before COVID-19, it had annual revenue amounting to approximately $5.8 Bn. Unfortunately, as a result of coronavirus, revenue has been shaping up to be lower than $500 Mn annually given the booking patterns. That is a drop of over $5 Bn dollars.
The Air New Zealand employed 12,500 people pre-COVID-19 around the world. Clearly, it will be smaller for some time and the company will need fewer staff. The company assumes that in a time period of one year, it will be at least 30% smaller than its current size.
The company's monthly labour cost stands at $110 million, and currently the airline has $960 million in cash reserves, but as the company is generating very less revenue, cash balance is expected to reduce by tens of millions of dollars each week.
Kathmandu Holdings Limited (NZX: KMD)
Kathmandu Holdings Limited (NZX: KMD) happens to be a marketer, designer, wholesaler as well as retailer of clothing, footwear and equipment for travel and adventure.
Strong Growth in Online Sales
During the month of April, the online sales of the company increased by 2.5 to 3 times as compared to last year. The highest growth rate was witnessed in Australian market, which is the company's largest market.
Fletcher Building Limited (NZX: FBU)
Fletcher Building Limited (NZX: FBU) manufactures building products and happens to be a major investor in the local manufacturing in New Zealand.
In the release dated March 25, 2020, the company stated that it has decided to cancel the FY20 interim dividend and has also suspended the on-market share buyback programme. The Board of the company has also decided to withdraw FY20 EBIT guidance.
---
Disclaimer
The website has been prepared for informational purposes only and is not intended to be used as a complete source of information on any particular company. The above article is NOT a solicitation or recommendation to buy, sell or hold the stock of the company (or companies) under discussion. Kalkine does not in any way endorse or recommend individuals, products or services that may be discussed on this site.