The Government of New Zealand has decided to move out of Alert Level 4 on Monday 27th April at 11:59 PM. The Alert Levels are determined by the Government and specify the public health and social measures to be taken in the fight against COVID-19. The COVID-19 pandemic has caused a clear adverse impact on global economic growth. The full impact of the pandemic will not be known till the effects of the pandemic reaches its height. The spread of coronavirus has generated extraordinary challenges and interrupted many businesses. Moreover, the impact of coronavirus has been felt on the stock markets as well. When the global growth comes into question, generally the investors deploy their capital towards safer asset classes.
There are few companies which have started their operations or part of their operations after Alert Level 4 and one of them is SkyCity.
SkyCity Entertainment Group Limited (NZX: SKC)
SkyCity Entertainment Group Limited is New Zealand's leading leisure, tourism and entertainment company with iconic status and it is listed in both New Zealand (NZX) and Australia (ASX) stock exchanges.
In NZ, all the SKC's properties will remain closed after the decision of New Zealand government to shift to Alert Level 3. However, the company has restarted work on various key development projects at Alert Level 3, which were not allowed during the Alert Level 4 lockdown.
Key development projects reactivated by the company this week include:
renovation of premium gaming rooms on Levels 8 and 9 of the major site in Auckland;
development of new food and beverage venues (which will be called 'Food Republic') adjacent to main casino floor in Auckland;
renovation of the Aces Bar, and establishment of a new entertainment zone, on the main casino floor in Auckland;
ongoing refurbishment and maintenance works on the AA Building in Auckland;
refurbishment of part of the main casino floor, including a new Baccarat area, in Hamilton.
The company has been anticipating to again open its properties in New Zealand at Alert Level 2, in a staged manner with decreased operating hours initially based on expected demand of the customers. Specific re-opening plans include:
opening gaming facilities, particularly for premium customers;
opening both the Grand by SkyCity and SkyCity Hotel in Auckland;
main gaming floors to open progressively, subject to demand, with limitations around mass gatherings;
opening most dining facilities in Auckland;
opening the Sky Tower and the main site car park in Auckland;
infrastructure established to support contact tracing, primarily through surveillance, guest registers, identity scanning and use of loyalty cards.
South Australia's Adelaide Casino Will Remain Closed
In South Australia, Adelaide Casino continues to remain closed. However, development of the expansion project of Adelaide Casino and associated master planning projects were continued as per the schedule over the past 2 months. Notably, the construction has been classified as the "essential service" in the country.
Online Casino has continued to operate
The company's Online Casino has remained operational and has traded positively in the time frame of last 2 months. Customer registrations saw a strong growth with more than 15,000 registered users now on site.
Cash Position of SKC
SkyCity Entertainment Group Limited is possessing a robust liquidity position with circa $400 Mn of cash and undrawn debt facilities currently available. After recent restructuring initiatives, the company's operating cash requirements are about $12 million per month.
SKC continues to progress development of the funding plan in order to help the business over medium-term as it recovers.
The plan would be finalised after trading performance of NZ properties has been assessed following expected re-openings by the end of the month of May.
Performance Driven by Domestic NZ Businesses
For the six months ended 31st December 2019, the company's reported revenue stood at $721.7 million, up by 75.4% and reported EBITDA stood at $407.5 million, up by 174.7%. The key drivers of the company's 1HFY20 result were a positive performance from domestic NZ businesses on a like-for-like basis. It was offset by significantly weaker IB activity and higher ICT costs.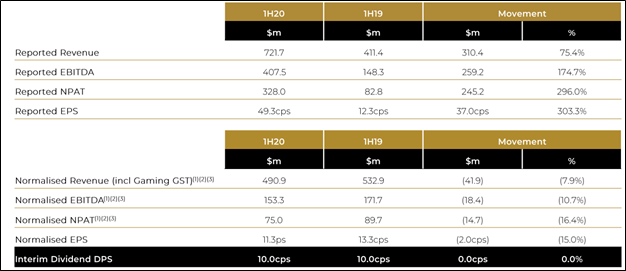 1HFY20 Results Overview (Source: Company Reports)
Suspension of FY20 Guidance
In the release dated April 3, 2020, the company stated that coronavirus has caused unprecedented impact on the people, businesses as well as global economy.
The company is also in full support of the measures taken by NZ and Australian Governments and would play any role it can to help in dealing with current crisis.
The company has decided to reduce stay-in-business capital expenditure of $15 million for the rest of the FY20. The company has withdrawn updated earnings guidance for year ending June 30, 2020.
Also, there have been salary cuts of executive in the range of 20%-40%, undertook by the leadership team at the company and property level for the rest of FY 2020. The Board of Directors of SKC has also decided that they would be cutting their fees by 50% for the remainder of FY 2020.
Let us now have a look at how the stock has performed on May 1, 2020.
Stock Performance
The stock of SKC closed the day at NZ$2.550 per share on May 1, 2020, down by 4.14% on an intraday basis. The company has a market capitalisation amounting to $1.701 billion.
---
Disclaimer
The website has been prepared for informational purposes only and is not intended to be used as a complete source of information on any particular company. The above article is NOT a solicitation or recommendation to buy, sell or hold the stock of the company (or companies) under discussion. Kalkine does not in any way endorse or recommend individuals, products or services that may be discussed on this site.