Summary

Business insurance provides a safety shield to businesses by giving coverage to a firm against any damage related to thefts, natural calamities, income loss, death, or any type of judicial proceedings.
Product liability, Professional liability insurance, Property insurance and Business Interruption insurance are some of the types of business insurance.
Business insurance helps firms to safeguard against unexpected losses, risk management, cover third-party liability and copyright security.
Before buying business insurance, the organisation should understand about the risks faced by it, the type of insurance it would need, estimate the true value of its assets to get the right insurance and must ensure to fulfil all insurance obligations.
Business insurance is a particular type of insurance that protects businesses from unexpected events or losses during tough times.
It supports the businesses against any damage or loss arising due to thefts, natural disasters, income loss, death or injuries, which can act as a major impediment to the business and may threaten the survival of the firm in few cases.
DO WATCH: How Covid19 pandemic will cost US $200 billion to the Insurance Industry? | Market Update
Firms frequently face a possibility of operational failures, which can often lead to financial deficits. This highlights the importance of business insurance to safeguard a company from any mishappening.
Business insurance particularly protects small and medium enterprises from fire, professional liability, theft, workers compensation, medical expenditure, etc.
Types of business insurance
There are many types of business insurance that SME owners can find useful to protect their firms.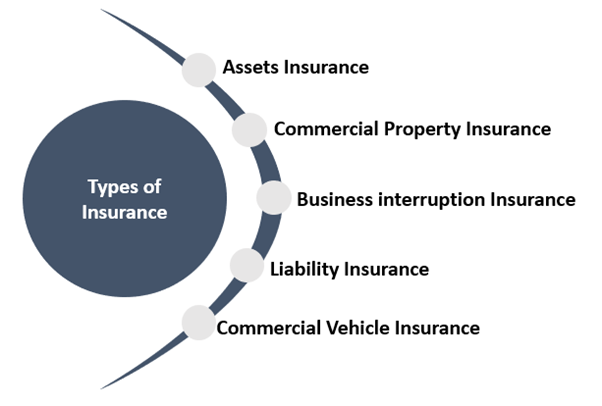 Kalkine Image, Data source: business.gov.nz
Some of them are as follows:
Product Liability insurance
The insurance can be opted by firms that are operating a business to sell and manufacture goods and services in the market. Any expenses related to legal issues that arise because of damages caused by products will be covered by this insurance.
Professional Liability Insurance
The insurance is also known as Errors and Omission Insurance offering coverage to a business affected due to negligence caused by errors or failures to act. Every business has its own set of unique challenges that can be tackled in a certain way.
Property Insurance
This insurance can be opted to protect the business from any theft or loss of property and covers business location, damaged tools, documents, assets, or other interior portion. However, it does not cover natural calamities like floods and earthquakes.
Home-based business Insurance
This insurance can be chosen by homeowners who have begun their businesses in their houses. It provides coverage for facilities and supplies in unfavourable circumstances.
Business Interruption Insurance
Any unforeseen event or destructive incident can disturb the activities of an ongoing business that makes it hard for the staff to generate business in the form of production of goods and services, selling products, etc, which can further lead to an income loss. This insurance is needed for businesses located in natural areas.
Benefits of business insurance
A business insurance plan preserves an organisation from losses because of an interruption of the normal path of business by covering disasters like fire or natural calamity and extends credibility to the company by getting its business insured.
ALSO WATCH: NZD 20 Million Tourism Loan Scheme To Safeguard Jobs And Businesses | NZ Market Update
Business policies compensate for the income loss, secures employees in case of medical issues, and improves the credibility of the company. Clients look for businesses that are well-insured with business insurance.
Business insurance also protects a firm against copyright issues. This insurance will defend the legal obligations towards claims if a business interferes with the copyright laws of some other business.
Berkshire Heathway tops the list of global insurance companies by 12-month lagging revenue as of 3 August 2020, followed by Ping An Insurance Group and AXA.
ALSO READ: Primary Things to Know About Insurance Industry in New Zealand
State Farm, Hiscox, Nationwide and Travelers are some of the best small business insurance companies in New Zealand.
ALSO READ: Lens on NZ's Insurers – Tower, Insurance Australia and Turners Automotive
Things to consider before buying business insurance
A few things must be considered before buying a business insurance plan, which are as follows:
One must do a survey of the business insurance plans before choosing one of them and not buy any insurance plan randomly.
Assess the risks surrounding the business to get a notion of what one wants to get covered under the insurance policy.
If the business possesses some specific valuable items like artworks, antiques, etc one should make sure to get them covered separately, as not all items get coverage under the general liability insurance.
One must estimate the true value of the assets to get sufficiently insured and should resist from estimating wrong asset value as it can leave the business underinsured, making the business to suffer losses during adverse times.
One should take advice from experienced and trained professionals to get a better picture of the potential risks associated with the business in case of any doubt.