Source: Viacheslav Lopatin, Shutterstock
Summary

Uber's gross bookings touched record high in March as consumer demand revives.
Mobility business' annualised gross bookings crossed a $30 billion run rate, up 9% on a month-over-month basis.
Delivery segment breached a $52 billion annualised gross bookings in March, growing over 150% YoY.
Ride-hailing app Uber Technologies, Inc. (NYSE: UBER) has reported strong growth in gross bookings last month, with the mobility and delivery segments setting new records.
The American technology firm has stated that its gross bookings in March "reached the highest monthly level in the company's nearly 12-year history", supported by the COVID-19 vaccination drive in the United States which prompted more people to get out of their homes.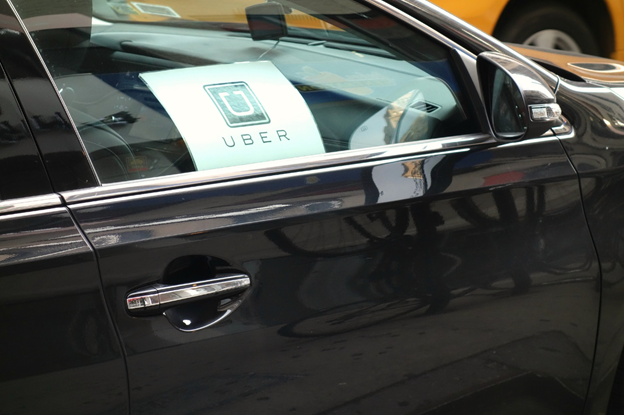 Image Source: © Bigapplestock | Megapixl.com
Mobility and Delivery Segments Setting New Records
Segment wise, Uber's mobility business, which manages ride-hailing services, saw its annual gross bookings cross a $30 billion run-rate in March 2021. Average daily gross bookings increased by 9% on a month-on-month basis, the highest since March 2020.
The consumer demand for mobility is recovering faster than driver availability with an increase in vaccination rates in the US, the San Francisco-based company said in a regulatory filing on 12 April.
Image Source: © Silverv | Megapixl.com
In a similar trend, the delivery business breached a $52 billion annualised gross bookings rate in March as consumer demand for delivery continues to surpass courier availability. The delivery segment registered a year-on-year growth of 150% in March 2021.
Accrual to Impact First Quarter Results
Commenting on the United Kingdom business operations, Uber said that private-hire drivers using its mobility platform will be treated as workers as per change in employment law of the country.
The company has also announced a historical claims settlement process to classify its drivers as workers. These historical claims and other related costs will lead to a significant rise in accrual which is expected to be reflected in its first quarter 2021 results. It is notable that the UK mobility business contributed about 6.4% of total mobility gross bookings in Q4 2020.
As per the company, a major portion of the accrual, a charge for work which is yet invoiced, is projected to reduce reported first quarter total company and mobility revenues and revenue take rates. However, this will be excluded from adjusted EBITDA (Earnings before Interest, Taxes, Depreciation, and Amortisation) result.
Image source: © Jirsak | Megapixl.com
Uber is set to release its first quarter 2021 financial results on May 5, 2021.
Stock Performance
Reacting to the news, shares of Uber Technologies rose 2.91% to settle at $59.44 a piece on Monday. During the day's trade, the New York Stock Exchange-listed stock hit an intraday high and low of $60.77 and $58.75, respectively, against previous close of $57.76. The market cap of the company surged to $110.61 billion.
Note: All the currencies are in US Dollars.