Summary

Retail sales in July increased by 12% than July last year, even after a quiet and vacant shopping centres.
NAB Online Retail Sales Index surged rapidly in July by 6.7%, with a rise in online sales activity in Victoria contributing majorly to the top line by 16% increase in sales during July.
Australians have spent A$37.4 billion on online retail in 12 months to July, as per NAB.
Retailers demand for dark stores has been rising, as shoppers demand faster delivery times, and physical store assets become less sustainable as traditional retail businesses.
Consumer aversion is expected to stay in dining, shopping, and gathering in public spaces until they gain some confidence in terms of safety from the coronavirus.
Retail sales witnessed record-breaking upswing in 2020 amid COVID-19. Australia majorly curbed the spread of coronavirus (except for Victoria) and reopened its economy earlier than expected in May, while permitting retail outlets and restaurants to get back in business.
ALSO READ: Is retail sector getting out of the woods? | Australia Retail Sales
Nonetheless, the virus resurged in the state of Victoria on 29 June. Subsequently, Australia imposed a 6-week lockdown in Victoria which forced major retailers in Melbourne to close hundreds of stores as the state underwent lockdown to contain coronavirus outbreak.
Did You Miss Reading; NSW-Victoria Borders to Close from Tuesday Midnight Due to Fresh COVID-19 Cases
Coronavirus has jacked up the growth of online retail while forcing renovation of the retail sector, depicted by once lively shopping stores now lying vacant.
Retailers witness a rise in sales in July
As per a recent ABS' Retail Trade data, Australian seasonally adjusted retail turnover increased 3.2% to A$30.7 billion in July 2020 from the previous month and witnessed a rise of 12% (year-on-year).
Ben James, Director of Quarterly Economy Wide Surveys, stated that the retail sales for July 2020 were 12% up on pcp, with a 29.4% surge in the sales of household goods compared to pcp.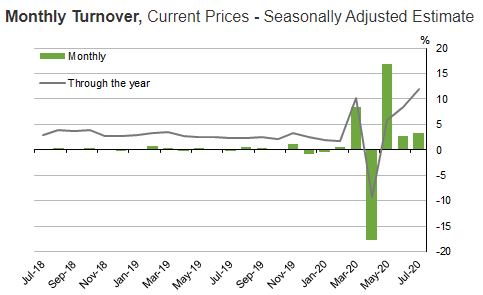 Source: ABS, dated: 4 September 2020
Some of the highlights of the ABS retail data for July 2020 comprise of the following:
Household goods retail led the July rise with an increase in the purchase of large items used at home like furniture, white goods, and electrical items
Turnover in clothing, footwear, and personal accessory retailing as well as cafes, restaurants surged across the country except for Victoria where stage 3 restrictions in July partially compensated these rises
Online sales made up 9.8% of the total retail turnover in July 2020, a minor rise from 9.7% in June
DO READ: Australian retailers witness solid sales in July: A look at 2 ASX retail stocks
However, the retail sector outlook remains gloomy as millions of Australians are out of work with a 22-year high unemployment rate of 7.5% noted in July, low growth in wages and a cut in government welfare payment amount.
Did You Miss Reading; Unemployment rate slips to 6.8% in August, Beacon of Hope on Economic Charter?
NAB July Index Data shows a rise in online shopping
There was a 6.7% jump, in July on a month-on-month basis, as per NAB Online Retail Sales Index July 2020 data driven by Australians renewing their wardrobes, binging on takeaway food, and relying on games and toys while staying at home.
Online retail sales soared 62.6% year-on-year, led by an increase in spending on games and toys, fashion, and takeaway food of 15.2%, 12.7% and 11.2%, respectively.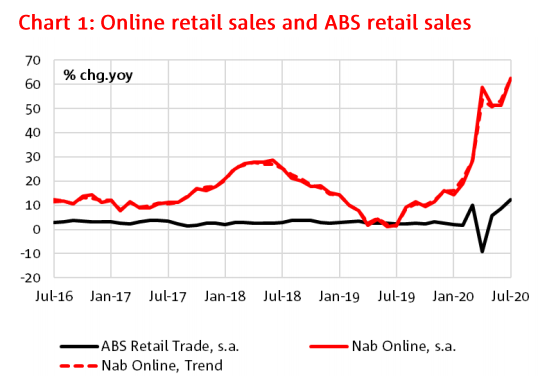 Source: NAB Online Retail Sales Index, dated: 3 September 2020
The online retail sales jumped 16% for Victoria, 3.5% for NSW, followed by a 2.6% rise in the Australian capital territory.
However, the figures captured by NAB included only the effect of Stage 3 restrictions and did not depict the impact of Stage 4 restrictions in Victoria.
NAB has estimated that Australians have spent A$37.4 billion on online retail in 12 months to July.
Alan Oster, NAB's Chief Economist, stated that Stage 3 restrictions added strongly to the rise in online sales as shoppers had little choice but to buy online.
Dark stores gaining traction
The pivot towards online shopping has created a demand for dark stores that are stores without customers.
A dark store is a distribution centre or small functional space that are laid out as a supermarket or warehouse to pick and dispatch online orders quickly.
ALSO READ: E-commerce Boom & Stocks Benefitting from Online Shopping Surge: CCX, BBN, APT, KGN, GMG
Some of the examples include the Accent Group, which turned some of its retail locations into dark stores to cater to increased online demand. Kmart also transformed 3 of its locations into dark stores to support its rising online business.
Woolworths had opened its first dark store in Sydney in 2014, followed by Coles in Melbourne in 2016.
Dark stores help in increasing their proximity to consumers and subsequently, help in lowering transport costs and providing quick services. They can also track stock levels and product availability more accurately, as everything is tracked in real-time. These advantages can make physical stores less viable.
Replanning shopping centres
As online shopping has gradually started to provide more significant revenue streams for retailers, more physical stores are expected to get closed in future. The closure of these physical stores will add to the miseries of shopping centres.
INTERESTING READ: Robinhood the new wall-street piped piper drawing retail investors in hoards, What is driving this trend?
Further, consumers are likely to restrict themselves from shopping, dining, and gathering at crowded public places until they feel safe.
Hence, shopping centres are expected to try to improve aspects like sensory elements and entertainment, in response to these challenging times, which online shopping cannot provide.
Consumers are likely to increase spending as restrictions come to an end, and when a vaccine is available worldwide.