Summary

Amid rising ransomware attacks, most of the businesses are opting to pay the ransom amount. Australia and Singapore are two such nations where the attacks have compelled victims to dish out money to get their data back.
Since the outbreak of COVID-19, Scamwatch has reported over 5050 scam reports, resulting in losses worth more than A$6.126 million.
Because of digitisation, cloud usage and remote working, experts fear that the ransomware attacks will grow in number in the future.
Ransomware, a malicious software that can infect your system, typically displays several messages demanding a specific fee to ensure your system starts functioning properly again. This malware category is an illegal moneymaking scheme that enters the system after the user clicks on deceptive links shared via email, messages, or on a website.
Lately, there has been an increase in the ransomware attacks in the APAC region. These attacks have forced most of the businesses to pay up after becoming victims.
Cyberattacks Statistics in Australia
As per ACSC Annual Cyber Threat Report, from July 2019 to June 2020, phishing and spear-phishing were the most common techniques used by cyber enemies to collect personal information or user credentials to get access to networks, or to dispense malicious content. During the period, ACSC noted the real-world impacts of ransomware cases which happened after the user executed a file received as part of the phishing campaign.
ACSC also highlighted that ransomware is amongst the most significant threats impacting operations of various businesses as well as the government. During this time, the Australian Cyber Security Centre (ACSC) answered to 2,266 cybersecurity cases. Below are the statistics provided by ACSC for the same.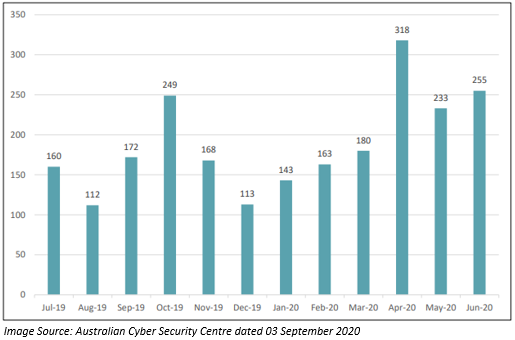 Since the pandemic, Scamwatch has reported over 5k scam reports which have led to nearly A$6,126,000 worth of losses. Common scams during this period have included phishing for personal information, online shopping, and superannuation scams. Of the total scams, 51.1% of cases were reported by females, 47.2% by male and 1.6% by Gender X.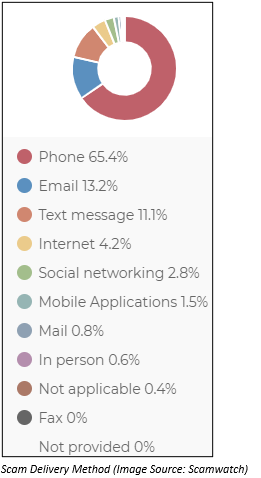 A report released by Australia Government dated 06 August on Australia's Cyber Security Strategy 2020, highlighted that Australia would be investing A$1.67 billion over ten years to ensure a more secure digital world for the citizens, their businesses and essential services upon which people depend. It would be done through:
Action by governments to improve the protection of Aussies, companies, and critical infrastructure from the highly complex threats.
Efforts by businesses to safeguard their products & services and shield their clients from known cyber exposures.
Step by the community to put into practice secure online activities and make informed purchasing choices.
DO READ: WhiteHawk (ASX:WHK), Tesserent (ASX:TNT) Under Spotlight as Cybersecurity Stocks Continue to Boom
Cyberattacks in Other Countries
Singapore is another country that has become a victim of ransomware attacks. Experts believe that with the rise in the digitisation, usage of cloud and remote working, there are chances that the number of attacks would increase.
According to a report released by Veritas Open Exchange, ransomware attacks have become more complex and sophisticated in the present times. The Veritas' 2020 Ransomware Resiliency Report, released on 17 November 2020, highlighted that there are around 45% of the businesses in Singapore that would take 5 to 10 days to recover from the ransomware attack, as compared to India (11%) and China (35%).
The biggest challenge of a ransomware attack is that the victims find it difficult to restore their data from backup, and thus have to pay the hackers to retrieve their data.